Restarting the low-carb way of life for me has been much more challenging than ever expected.
My first time starting low-carb was five years ago. It was all new and exciting back then, and the weight melted off my body.
I expected the exact same thing to happen after restarting... and it has not.
Life was excellent, and I kept the weight off for almost four years.
Please stick with me; this is an important story you may relate to as well.
About a year ago, I was foolish enough to think that my body physiology had somehow changed after I lost over 130LBS. I was cocky enough to believe that since I was "thin," I could eat anything I wanted, as much as I wished, and could slow down my exercising without any negative consequences.
I had this unreal BELIEF that I somehow BEAT a lifetime struggle with being overweight.
I had a BELIEF that since I had achieved my GOAL WEIGHT, my body would miraculously start working as it "should" and naturally keep me at my optimal self-image.
Now, I have the intimate knowledge that this is not how my body works. I've gained back so much weight and am so disappointed in myself.
THE BACKSLIDE
For months, I've watched in silent desperation as my clothes tighten around my expanding body. I know it's been happening, but I held onto the BELIEF that my body could "right the ship" on its own.
I noticed I was avoiding the camera again for the first time in years. I don't like seeing that double chin returning that I worked so hard to burn off. I can't stand to see my belly hanging over my waistline...the same belly that just a year ago was at its flattest since high school.
I feel DEFEATED. I feel EMBARRASSED. I feel ANGRY, LOST and CONFUSED as to why I let this happen.
The worst part is the sheer DISBELIEF that it is happening and that I'm having difficulty stopping the momentum from rebuilding my obese self again.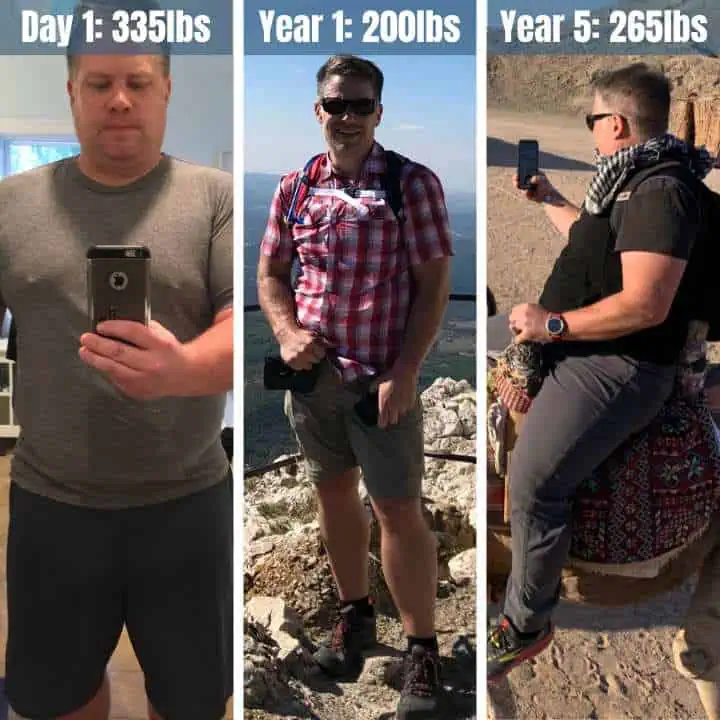 False Starts and empty promises
I tried "kick-starting" myself time and again over the past several months, but each time failed faster than the time before. I tried with exercise first, then with changing my diet... I felt even more demoralized, overwhelmed and hopeless.
Then, I started making "half-promises" to start tomorrow. When it didn't happen, I punished myself. After punishing myself, I would soothe myself with the comfort foods that make me feel so good in the moment.
When I realized recently that I was caught in this crazy cycle, everything inside me screamed out: "SOMETHING HAS TO CHANGE! WHAT THE ACTUAL FUCK AM I DOING?"
But still, nothing changed. In fact, I went out and bought an entire grocery bag of chips, snacks and chocolates. The weight of restarting just feels too damn hard.
Stories, Articles & Recipes
Weekly notifications of stories about this low-carb journey along with all the freshest new recipes and articles.
Unsubscribe at any time.
After five "false starts" in the last nine months, I needed to do an accurate self-assessment and find the actual reason, the true purpose in wanting to restart low-carb... and so the tough work began.
I made a plan. And it wasn't a plan to just START. I made a plan to figure out the body that I want. The reasons I want it. I took time to list how my weight gain impacts my health, family and mind. It was so eye-opening.
I made a plan. I picked a date when I would start. I had conversations with people in my community, including my wife, kids, friends and more. I must be clear that this was not a "public declaration" letting people know I was doing this. It was a candid conversation about why I am doing this and the support I will need.
The positive response was overwhelming.
I'm now almost three weeks into my new, lifelong way of eating, and I'm going to be sharing exactly what I did to move past the roadblocks that seemed to pop up out of nowhere. Maybe this will help even one reader.
So, if you're interested in the journey, take a minute to sign up for my newsletter. It will only be weekly, with updates on the restart and a summary of new recipes that I will be sharing.
I am confident that together we are stronger. Together, this journey can be more than just a conversation about macros, calories and carbs.