If you're looking for the absolute best pork belly recipes, you've found them. Stop looking. They are all right here. In this pork belly recipes round-up, we will explore braising, roasting, frying, pressure cooking and more. Take a look and get ready to drool.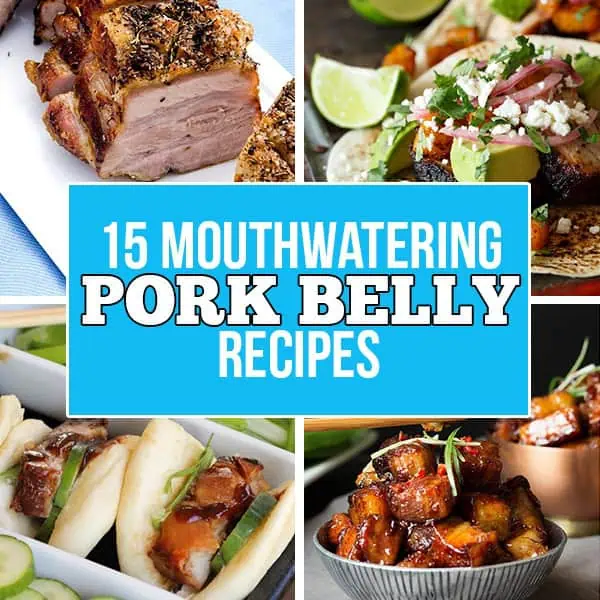 Awesome Pork Belly Recipes crafted by Food Bloggers
Early in my life I was served pork belly that was tough, flavorless and completely uninspired. It may have been boiled for all I know. Since then, I have come to love the nuanced flavors, soft texture and luscious mouth feel that pork belly recipes have to offer which is why I put together this collection of recipes for everyone to experience.
In this post you will find so many incredible pork belly recipes written by very talented food bloggers. Please be sure to click till your heart is content and share the recipes with other food lovers.
Mouthwatering Pork Belly Recipes Roundup
---
A simple roasted pork belly with herbs and a delightfully crusty skin that will melt in your mouth. Get the Crispy Roasted Pork Belly Recipe or take a look around at the other recipes at I'd Rather Be A Chef.
---
Wow. Look at how delicious this Pork Belly Tacos with Ancho Chili & Roasted Pineapple Recipe is from Chris over at Shared Appetite. Awesome.
---
We love the idea of infusing the pork belly with apple. Try these Apple Infused Korean Pork Wraps from Sue at My Korean Kitchen.
---
Don't you just want to take a bite of this Shanghai-Style Braised Pork Belly from Sarah over at The Woks of Life? I know that I do.
---
One of my favorite pork belly dishes is Sticky Chinese Pork Belly. It is just delicious and you'll love the recipe from Nicky at Kitchen Sanctuary.
---
The sound of pomegranate-honey glazed pork belly makes my mouth water. Let's give this recipe a try from Michelle at The Complete Savorist.
---
Pork belly is just so versatile. In this Chicharron Colombiano Fried Pork Belly it is deep fried and delicious. Try the recipe from Jorge at the Hispanic Kitchen.
---
Always high on my list of delicious is a potato hash… but add in kimchi and pork belly and wow. Try this Kimchi Potato Hash from Julie and Kimchi Chick today.
---
Here's another delicious recipe for Roast Pork Belly (Siew Yoke) that looks crispy and luscious all at the same time. This is from Biren at Roti n Rice.
---
Oh BBQ Pork Belly, how I love thee. Take a look at this awesome pork belly recipe from Marcus at Country Wood Smoke and try not to drool.
---
If I were to make a pork belly taco, I would want to make these Smoked Pork Belly Tacos with Chipotle-Guajillo Sauce from Sarah over at Drool Worthy Daily. Yes, these are divine.
---
Stir fry is always yummy, but when you add in pork belly as shown in this Korean Spicy Pork Stir Fry recipe it flies off the charts to delicious. This recipe is brought to us by Sue at My Korean Kitchen.
---
Just look at these delicious pillows of goodness, stuffed with pork belly. You're going to love this recipe for Pork Belly on Chinese Steamed Buns from Cara at Homemade Italian Cooking.
---
If putting pork belly in the pressure cooker with beer sounds just about perfect to you, then you have to make the Pressure Cooker Pork Belly Beer Braise recipe from Mike at Dad Cooks Dinner.
---
So there are a lot of pork belly recipes in this roundup. If you have never worked with a raw pork belly before, Cara at Homemade Italian Cooking will show you How to Butcher a Pork Belly, which is really helpful.
---
Final thoughts about the Pork Belly Recipes Collection:
I hope that you liked this collection of pork belly recipes from around the web. One thing is for sure: pork belly is incredibly versatile and lends itself well to many different styles of cooking. There are a number of recipes that I have yet to try from this collection, but I plan on starting soon!
When you decide to try one or more of these pork belly recipes, please be sure to come back and let me know how you liked it. Happy eating!