Fresh Egg Salad Recipe
This egg salad recipe is: Gluten Free, Paleo, Primal, Low Carb and Wheat Belly Friendly!
Simple and satisfying… always leading to a smile.  Yum.  Egg salad is just so good any time of the year.  I know, in the winter it is always nice to have something warm, but for lunch this is a great option.  The best part is that they are now selling perfect hard boiled eggs in the store, which makes this recipe a snap to put together.  Today this was done, start to finish, in under 5 minutes.  That's fast!
I like my egg salad in more of a rustic style with larger egg pieces.  For me, it just tastes better this way.  Also, since I'm gluten free and not eating bread, it seems to fill me up more if that makes any sense at all.  If you were putting the more rustic style in a sandwich, the large chunks of egg might make a mess.  Around here it either gets eaten straight out of the bowl or put into a romaine lettuce cup for a little added crunch and freshness.
For this recipe, I used store bought Olive Oil mayonnaise which isn't exactly paleo.  I just didn't have time to make my own mayo today.  Coming up will be a post on making Avocado Oil Mayo with Shallots.  So, slap me on the wrist, but sometimes you just have to use what is on hand.
This egg salad recipe is different from the sea of egg salad recipes floating around in the ethos.  I've always punched up the acidity with both dijon mustard and lemon juice to really knock out the flavors.  With the fat in the mayo, the acid really peaks on your tastebuds.  It's so good.
QUICK COOKING TIP: Celery seed is used in my egg salad recipe.  It's really important to add it in.  It adds a really powerful celery flavor instantaneously to the eggs and helps balance out the acids.  It's pretty inexpensive at the store and can be used in all kinds of different salads where you would add in celery.  It's delicious!
So let's get into this yummy egg salad recipe.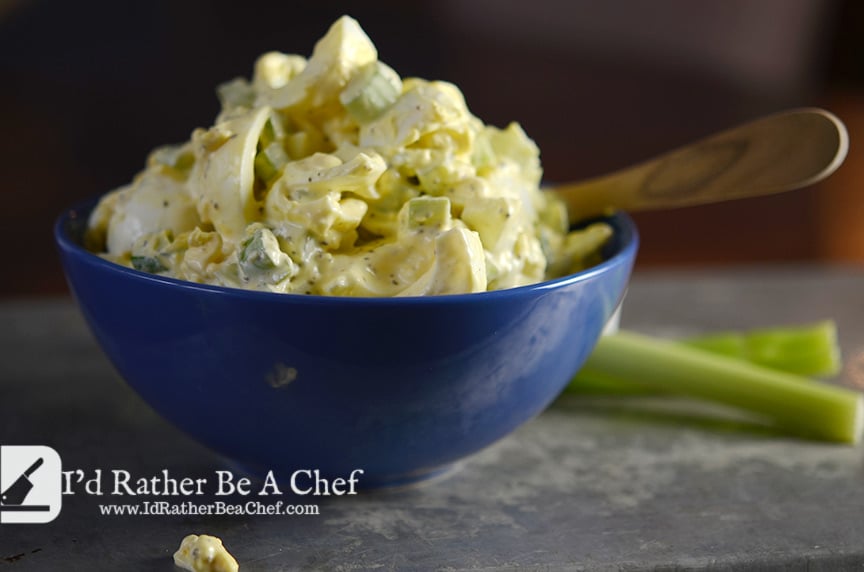 Print Recipe
THE BEST EGG SALAD RECIPE
A rustic egg salad recipe. Easy to make, delicious to eat. Make this in under 10 minutes.
Ingredients
12

Hard Boiled Eggs

sliced

4

Stalks Organic Celery

sliced lengthwise and chopped

½

Cup

Mayo

1

TSP

Celery Seed

1

TSP

Kosher Salt

2

TBSP

Sliced Green Onion

just the green part

1

TBSP

Dijon Mustard

2

TSP

Lemon Juice

Fresh Cracked Pepper
Instructions
In a bowl, combine all the ingredients. Mix well until the yolks have broken and incorporated with the mayo.

Taste. Adjust Seasoning. Taste again.

Serve in a lettuce leaf for a delicious lunch!
Notes
This recipe can be made ahead, but I wouldn't recommend making more than a couple hours in advance. The salt will continue to make the celery weep (it is almost all water!) and the consistency will change.   Want to make the
EASIEST HOMEMADE MAYO
? There's even a video! It is so easy you'll never need to buy store bought mayo again.
Nutrition
PLEASE NOTE: The nutritional data is provided by NutriFox and may not be 100% accurate.
Final thoughts on the best egg salad recipe:
When I think about what makes something the best, it is really a subjective issue.  This egg salad recipe is my best that people have always enjoyed.  At my catering company, we made hundreds of pounds of this recipe and people kept coming back for more.  Is it the best?  Well, my taste buds seem to think so!
Thinking about some other great lunch options?  Check out this super easy bacon avocado salad… or add some color to your day with my roasted beet salad with goat cheese.  Love cheese and tomatoes with basil?  This caprese salad recipe is simple and delicious.
If you have a favorite egg salad recipe that you would like to post up in the comments, please do so.  Or, if you have any questions, give me a shout!