Creamy, tangy and impossibly luscious… You'll use this homemade blue cheese dressing on salads, as a steak topping or as a dip for wings, veggies and more. It is sour cream based with some really tasty ingredients that will make you come back for more and more and then again for some more. It's just so good you have to check out the recipe.
This homemade blue cheese dressing recipe is: Gluten Free and truly divine.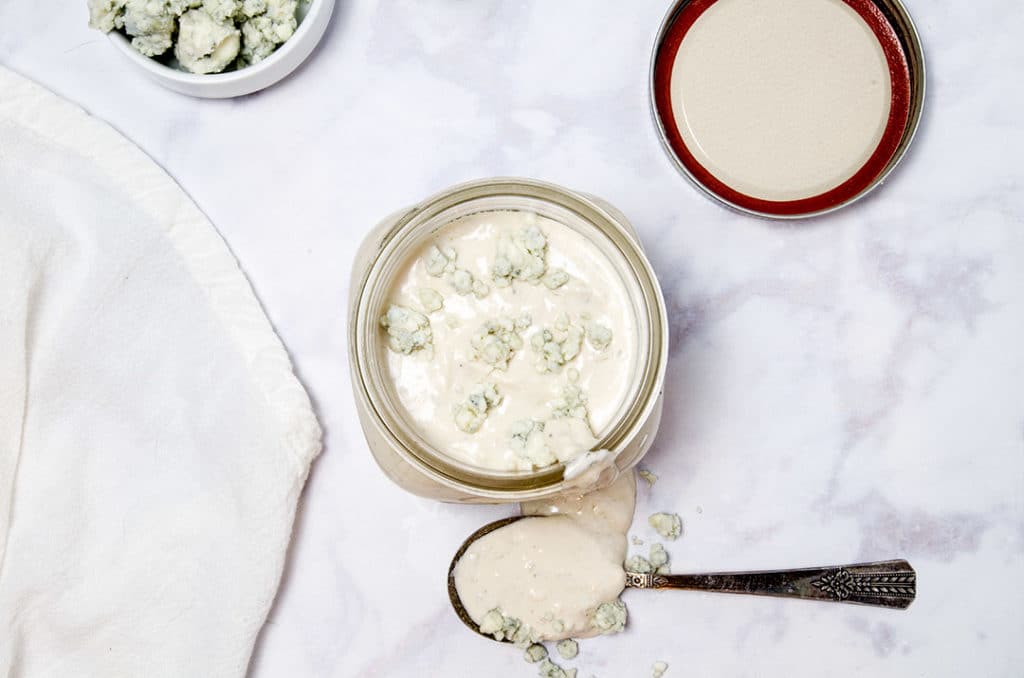 A Creamy Homemade Blue Cheese Dressing
I've had a love affair with blue cheese for my entire life. When I was little I couldn't get enough of it. The same stands today. When we go to a steakhouse, I'll order a wedge salad with blue cheese dressing and extra blue cheese crumbles. My cocktail of choice is a dirty martini with blue cheese stuffed olives. I'll always get a strip steak, charred rare, with a smoldering hot and bubbly blue cheese crust. It's safe to say that blue cheese is one of my favorite foods.
When I created this recipe years ago, I wanted it to do two things: first, it needed showcase the blue cheese flavor. Second, it should have enough acid to elevate a dish rather than just sit flat with a fatty overtone. It took a lot of attempts to get it right, but I was okay testing every last batch. The final recipe for my homemade blue cheese dressing is just incredibly good. I can't wait for you to try it.
QUICK COOKING TIP: I have made this so many times now that I have a bunch of tips that will help you to get the creamiest dressing possible.  Here they are:
Make sure that you are using a thick sour cream. There is no room for reduced fat or low fat sour cream in this homemade blue cheese dressing. I've used it in the past and it always comes out just a bit thin and a little grainy.
Try to use the best blue cheese you can find. I always use Maytag because I love the brightness and punchy flavor it imparts on the dressing. Make sure that you break up any big clumps before measuring the blue cheese.
For the mayo, you can use your own homemade mayo or the off the shelf variety. As with other recipes where we are using off the shelf mayo, just make sure that it doesn't have high fructose corn syrup and that there are as few ingredients in there as possible. Also, no "whips" should be used with this blue cheese dressing recipe.
If your dressing starts to break, add in more mayo. Make sure to just add a little at a time.
Alright. Now it's time to get into the thick of this creamy homemade blue cheese dressing. I can't wait to share with you.
Homemade Blue Cheese Dressing
This homemade blue cheese dressing pairs perfectly with crispy baked chicken wings, an iceberg wedge salad or as a dipping sauce for vegetables!
Ingredients
1 Cup Sour Cream (no low or reduced fat)
2 TSP Worcestershire Sauce
¼ Cup Red Wine Vinegar
¼ Cup Mayonnaise
½ Cup Olive Oil
1 Cup Blue Cheese Crumbles (preferably Maytag)
2 Cloves Roasted Garlic (mashed up) or 1 TSP Granulated Garlic Powder
½ TSP Kosher Salt
¼ TSP Fresh Cracked Pepper
Instructions
Add all of the ingredients to a large bowl.
Mix well, breaking up any blue cheese clumps.
Taste, adjust seasonings and taste again.
Enjoy and happy eating!
Final thoughts on the creamy homemade blue cheese dressing recipe:
If you have been looking for a simple and delicious blue cheese dressing recipe, you have hit the jackpot with this one. I left our fresh jar of dressing on the counter and found my daughter grabbing a quick spoonful after dinner. It's good enough to eat right out of the jar.
Why not try this homemade blue cheese dressing with some crispy baked chicken wings or some smoked wings (if you have a smoker handy)? I love to add it as a sauce to any grilled or pan seared steak too. If you check back in a couple days, I'm working on my Ultimate Iceberg Wedge Salad post. The combination of flavors are mind blowing for a simple wedge salad.
We Think You'll Love These Posts Too!!