Oven baked chicken tenders are fantastic as appetizers, a delicious addition to a big lunch salad or make a super fun dinner for kids. We are going to keep it simple with just a few ingredients and some skewers.  You'll love how easy this recipe is, with a five minute prep time and a world of possibilities.
This oven baked chicken tenders recipe is: Gluten Free, Paleo, Low Carb and on a stick!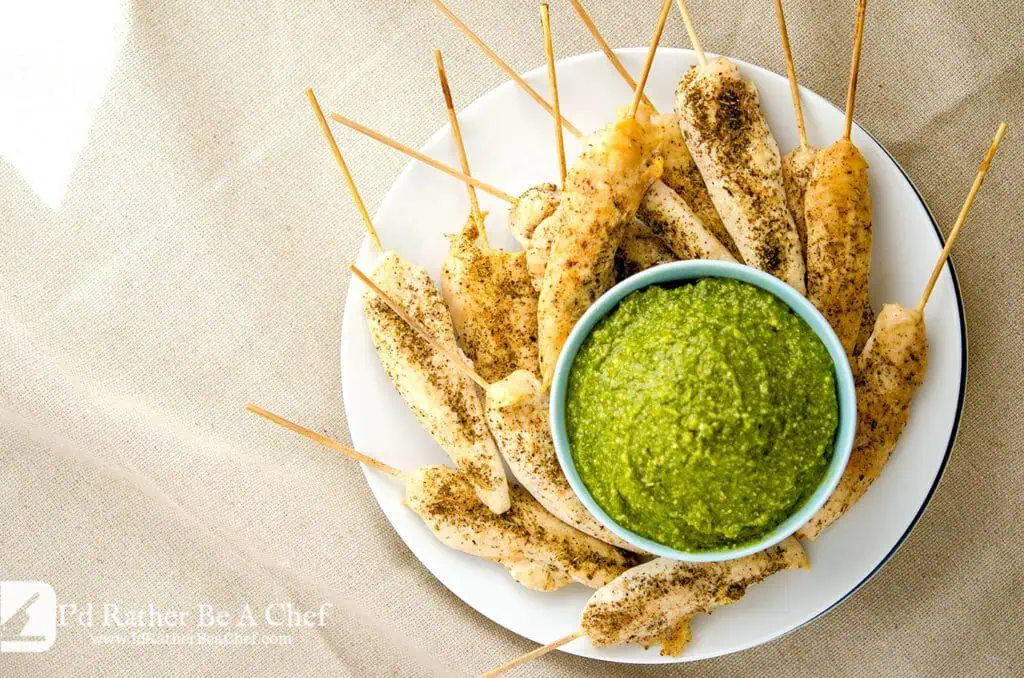 Delicious Oven Baked Chicken Tenders Recipe
Sometimes recipes are born out of necessity. We recently had a house full of friends and their kids.  I didn't have enough of my Country Coq au Vin in the slow cooker, so it was time to get creative for the kids. I had three packs of chicken tenderloins, some 8″ bamboo skewers that I use for my dirty martinis and some herbs.  With that, the oven baked chicken tenders recipe was created.  I made it again the next day simply because all the tenders were gone before I could try one.  It is really tasty!
Baked Chicken Tenderloins
The chicken tenderloin lives just under the breast of the chicken, above the ribs.  If you have ever made a split chicken breast or the perfect roast chicken then you have seen the tenderloin right under the breast meat.  These little loins are very tender and the best part about them the limited prep to get them ready.  All I do to get them ready is slice off as much of the little white tendon as possible.  Then skewer them, apply the seasoning and bake them. This really may be one of the easiest chicken recipes.
I'm working on another post now solely on how to saute, bake and fry chicken tenderloins.  I'm a fan of the tenderloin.  Chicken tenders cook quickly, love seasoning and work with a ton of different dipping sauces.  When I served these recently, I made my honey mustard dipping sauce for the kids. It always goes over well with them.  The next day when I made them again, I whipped up some delicious pesto. Although I haven't posted my pesto recipe yet, I think that with this oven baked chicken tenders recipe it beats the honey mustard hands down.
How long to bake chicken tenders
When I was running my cooking school, there were lots of question about how long to cook chicken.  As with cooking anything, it depends on the temperature of the oven and the thickness of the chicken.  The chicken tenderloins I was using for this recipe were average in size.  I've seen HUGE chicken tenders that look like small chicken breasts and there are tiny chicken tenders that usually come from organic birds. You are going to have to adjust how long you bake your chicken tenders based on the size.
I think that the best way to cook a chicken tender is at 400 degrees for about 12 minutes.  There is no need to rotate them during the cooking process.  After 12 minutes, turn on the broiler so they get a little toasty brown for an additional 3 minutes or so.  It's at least a good rule of thumb the next time someone asks you how long to bake chicken tenders. Not sure how many people go around asking this question, but now you know.
QUICK COOKING TIP: One pound of chicken tenderloins has about 10 tenderloins in the package.  When I recently made these oven baked chicken tenders, I made about 30 of them.  I found that you can fit about 20 onto a rimmed baking sheet.  If you need to make more than 20, I would not recommend adding 2 batches to the oven at the same time.  The batch that is lowest in the oven will be very pale.  Go ahead and cook them in separately.  The first batch of chicken tenders will stay warm under some foil while the second batch is cooking.
Print Recipe
Oven Baked Chicken Tenders
A perfectly simple oven baked chicken tenders recipe that works great as an appetizer or the perfect topping to a hearty salad.
Ingredients
1

LB

Chicken Tenders

trimmed

1

TSP

Kosher Salt

1

TSP

Pepper

1

TBSP

Granulated Garlic

1

TBSP

Herbs de Provence

Olive Oil Spray

10

Bamboo Skewers

optional
Instructions
Preheat the oven to 400 degrees and move the rack to the second highest placement inside the oven.

Mix the spices together in a small bowl.

Line a rimmed baking sheet with foil. Spray the foil with a light coating of olive oil. If you are going to have these baked chicken tenderloins on a stick, skewer them now.

Lay the chicken tenders on the baking sheet. Spray the tenders with olive oil. Sprinkle half the seasoning over all the tenderloins. Using tongs, flip the tenderloins and repeat.

Bake for 12 minutes. Change the oven settings to broil. Broil for 3 minutes until the tenders are nicely browned.

Serve hot with your favorite dipping sauce. Happy eating!
Notes
You can make these chicken tenders a couple days in advance of when you need them. They reheat wonderfully in the oven at 350 degrees for about 5-6 minutes. Looking for a wonderful dipping sauce? Try my
Incredible Basil Pesto Recipe
!
Nutrition
Final thoughts on the Oven Baked Chicken Tenders recipe:
Here's something else cool about this yummy chicken on a stick: they pack really well for school lunches. My kids love picking out their sauce in the morning knowing that there is going to be something a little different in their lunchbox for later.
If you're looking for a delicious pesto to go with these chicken tenders, you can check out my non-traditional basil pesto recipe made with cashews and other delicious ingredients. It's not only good on these chicken tenders, but pork chops, seafood and grilled chicken wings!
Tomorrow I am going to chop up a few of these to add to a delicious spring salad I'm working on for a future blog post. The herbs de provence give the tenders a really sophisticated flavor profile that will work perfectly with the leek vinaigrette I'm currently fiddling with.  It will be paired up with some crumbled goat cheese and lardon. Not sure what else is going into this yummy salad yet, but anything that starts with these oven baked chicken tenders is going to be a winner.