Welcome to your next kitchen revelation: Clarified Butter. Ever wonder how chefs manage to make their dishes so decadently rich? The answer lies in this easy-to-make recipe.
Clarified butter is a game-changer for those living the keto or low carb lifestyle. With our step-by-step guide, you're about to unlock a world of culinary possibilities beyond your typical stick of butter. This is your all-access pass to easy cooking, from high-heat sautéing to frying foods without a hitch.
Once you go clarified, trust us, you won't want to go back. Let the adventure begin!
This recipe is low carb, keto, and gluten free.
Updated on October 5, 2023.
What is Clarified Butter?
Clarified butter is simply butter that has been purified by removing the milk solids and water. What remains is pure butterfat—a flavorful, heavenly liquid that's free from the elements that can cause butter to smoke and spoil.
Here's why to make clarified butter: the absence of milk proteins gives Clarified Butter a higher smoke point than regular butter. Have you ever tried to sauté with normal butter, only to have it brown and smoke within seconds? When butter is clarified, this doesn't happen.
Clarified butter is terrific for those on keto and low-carb diets. It's gluten free and rich in healthy fats, giving you a nutritional boost while keeping your carbs in check.
So, whether you're new to the kitchen, looking to enhance your skills, or a carb-conscious foodie wanting to elevate your game, Clarified Butter is the answer.
Is Clarified Butter Healthy?
Is Clarified Butter a healthy choice? The answer largely depends on how you're using it and what dietary path you're on.
Compared to regular butter, Clarified Butter is a concentrated source of fat since the milk solids and water have been removed. But remember—fat isn't the enemy, especially when it's quality, unprocessed fat like you find in Clarified Butter.
How does it stack up against other oils for sautéing?
Extra virgin olive oil is often lauded for its health benefits but has a lower smoke point, making it less ideal for high-heat cooking.
Avocado oil has a high smoke point but can be expensive and lacks that classic buttery taste we all love.
Canola and vegetable oils are options, but they often come highly processed and don't bring much to the table regarding flavor.
But here's where Clarified Butter shines: It has a high smoke point, perfect for sautéing and frying without breaking down into unhealthy compounds.
Nutritionally, it's also rich in vitamin A and offers a better omega-3 to omega-6 fatty acid ratio than most vegetable oils.
And let's not forget that for those on a keto or low-carb diet, Clarified Butter is a great way to get in those healthy fats without jacking up your carb intake.
In other words, clarified butter can be a healthy and flavorful addition to your cooking arsenal. Just like any other ingredient, moderation is key. And when it comes to flavor and versatility, clarified butter is fantastic.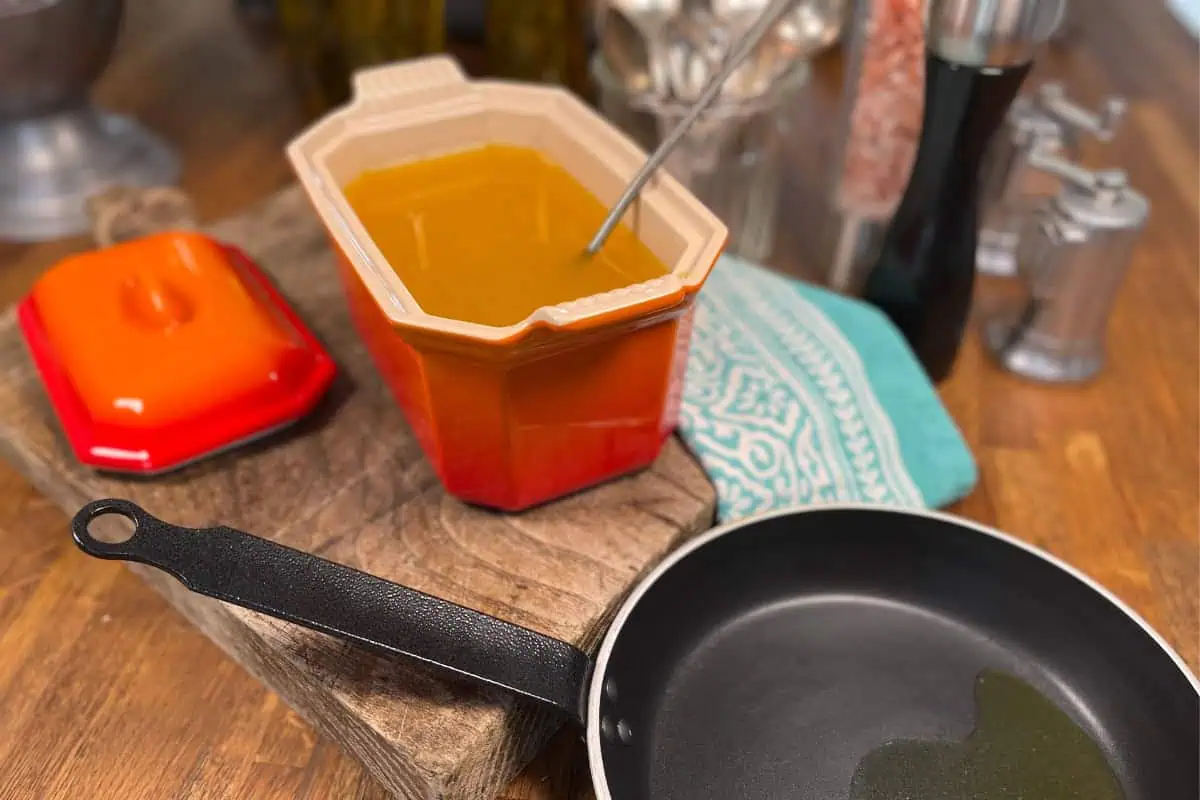 Why Is My Clarified Butter Not Clear?
Ever end up with a batch of clarified butter that looks more like a foggy morning than a golden sunrise? You're not alone. The clarity—or lack thereof—is usually all about the heat you use when melting the butter.
The Heat Factor:
Clarified butter is supposed to look like liquid gold, not a murky mess. The key to achieving that golden hue? Slow and low. A gentle simmer is what you're shooting for. If your clarified butter isn't clear, you've probably cranked the heat too high.
Once the water in the double-boiler has come to a boil, reduce the heat WAY down.
Cloudy Butter Happens:
For the first batches that I ever made, I got impatient. I let the water in the double boiler boil too hard. Result? Cloudy clarified butter that looked granular and strange. Lesson learned. A lower, more gentle heat always works.
A Few Pro Tips:
Don't Rush: If you're in a hurry, clarified butter might not be the project to tackle. Slow down and let the heat do its magic.
Double Boiler Double Check: Make sure the bowl sits above the water, not in it. And don't forget to bring the water to a gentle simmer, not a raging boil.
Keep It Covered: As you're clarifying, use a lid partially covering the pot. This keeps unwanted particles from settling in your butter while still allowing steam to escape. Do not cover completely.
Cut the Butter: I often cut the butter into smaller pieces. It melts more quickly due to the increased surface area.
Room Temperature: If you want it to go faster, leave the butter out on the counter for an hour to bring it to room temperature before adding to the double boiler.
Visual Cues: Look for the milk proteins to rise and form a foamy layer. Once that happens, it's skimming time.
Water Level Watch: Keep an eye on the water level in your double boiler. The last thing you need is for it to run dry, causing the temperature to spike and mess up the clarity of the butter.
The art of clarified butter is all about patience and control. Keep an eye on that heat, and you'll end up with golden butter worthy of any master-chef's kitchen.
What is Clarified Butter Used For?
Wondering how to make the most out of your jar of liquid gold? Clarified butter is a versatile powerhouse in the kitchen. But remember, it's generally not recommended for baking as the absence of milk proteins can lead to greasy results.
Great Uses:
1. Sautéing: Clarified Butter offers a higher smoke point. You can sauté your veggies or proteins without worrying about burned butter.
2. Frying: Clarified Butter has you covered with a smoke point around 400 degrees. As long as you monitor the temp, you're in the clear for some high-heat frying action.
3. Braising: Looking to lock in the flavor and juices of your meat? Start by searing it in a hot pan with Clarified butter. You get the browning without the burning—a total win-win.
Foods that Love This Butter:
Eggs: Imagine a fluffy morning scramble or a folded omelet. It practically floats off the plate. Clarified butter takes your egg game to a whole new level. Fried eggs with clarified butter are a game-changer!

Lobster and Crab Legs: Elevate your seafood feast by dipping those succulent pieces into a ramekin of warm, clarified butter. It's decadent.

Steak: Searing your steak in clarified butter? The flavor locks in, creating a fantastic sear on the outside. You're in for a mouthwatering experience.

More: Think grilled cheese, popcorn, and even your morning toast. The options are endless, and the flavor is unbeatable.
Is Ghee Clarified Butter?
Ghee and clarified butter are often confused, but they're not the same thing. Both originate from butter but undergo different cooking processes that result in distinct flavors, textures and uses.
Clarified Butter:
Clarified butter is created by melting regular butter and removing the water and milk solids, leaving a clear, golden liquid. It has a clean, buttery taste and is excellent for its high smoke point, making it ideal for frying and sautéing.
Ghee:
Ghee is also derived from clarified butter but is cooked longer to remove all moisture and brown the milk solids before being strained. This gives ghee its unique, nutty flavor. Because of this additional step, ghee has a slightly higher smoke point and longer shelf life than clarified butter.
Key Differences:
Flavor: Clarified butter has a pure, buttery taste, while ghee has a more complex, nutty flavor.
Smoke Point: Both have high smoke points suitable for cooking, but ghee is slightly higher.
Shelf Life: Ghee generally lasts longer when stored at room temperature.
While ghee and clarified butter are valuable cooking fats with high smoke points, they differ in flavor, shelf life, and specific culinary applications. Choose the one that best fits your cooking needs and taste preferences.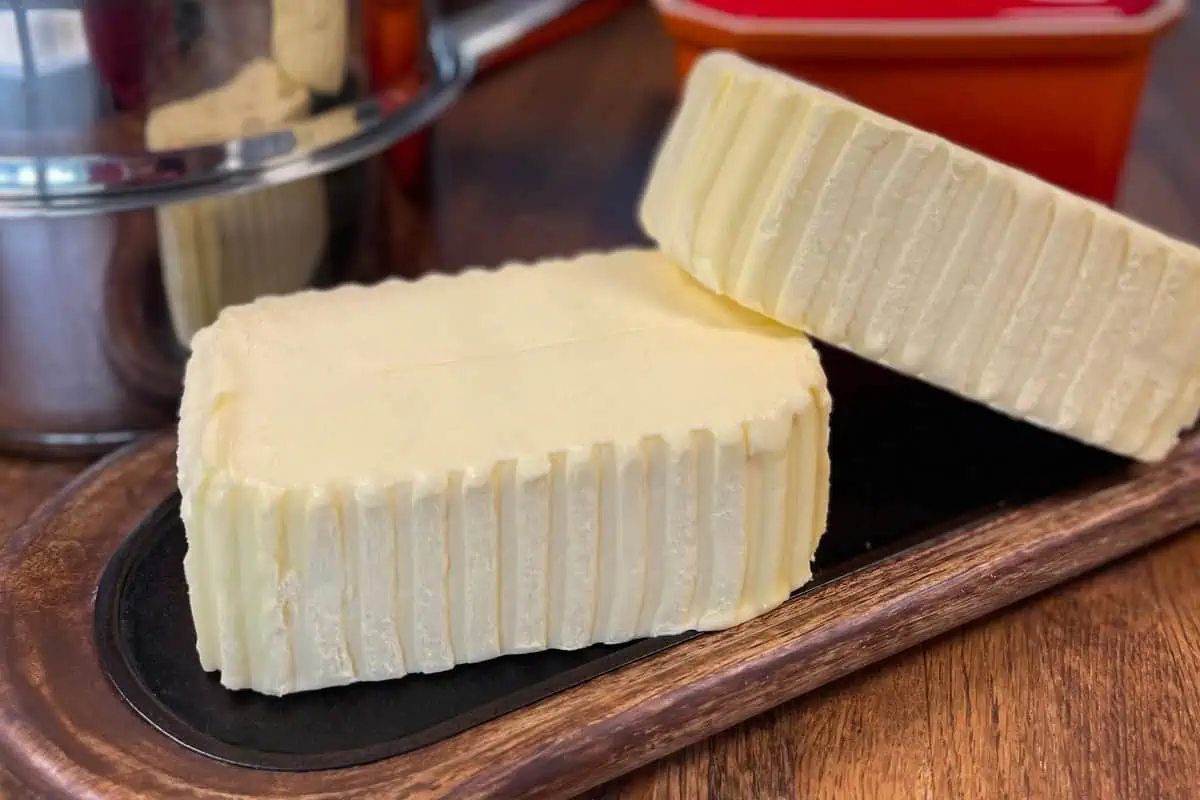 How to Clarify Butter
Making clarified butter is simpler than you might think. Just follow these easy steps:
Set Up a Double Boiler: Place a pot on your stove and add about an inch of water. Set a heatproof bowl on top of the pot, making sure it's above the water, not submerged in it. Bring the water to a gentle boil.
Add the Butter: Pop your butter into the heatproof bowl. It'll start melting pretty quickly, so keep an eye on it.
Skim the Top: Milk proteins will rise to the surface as the butter melts. Use a spoon to skim them off. Don't sweat it if you can't get every last bit.
Safely Remove the Bowl: Use oven mitts to lift the bowl off the double boiler. Wipe water from the bottom to avoid dripping it into your clarified butter.
Strain: Using a cloth, coffee filter, or cheesecloth, strain the butter to catch any remaining milk proteins. IMPORTANT NOTE: Keep the cloudy water at the bottom separate; it shouldn't go through the filter. This will make the butter go rancid quickly.
Store: Transfer the clarified butter to a separate container with a lid and store it in the fridge.
Step-by-Step Guide to Clarifying Butter
For a seamless cooking experience, follow the easy step-by-step instructions in the upcoming series of pictures. These process shots are designed to make every stage of the recipe as straightforward as possible.
How to Store Clarified Butter: Best Practices
Once you clarify butter, you will want to keep that liquid gold fresh. So, what are your options?
Refrigeration: The safest bet is to keep it in the fridge in an airtight container. Cold storage will give you the longest shelf life; we're talking months if properly handled.

Freezing: For an even longer life, it freezes beautifully. Portion it into ice cube trays, freeze it, and then transfer it to a Ziploc bag. Just grab a cube as you need it.

Room Temperature: If you're a fan of easy spreading, keep it on the counter in a sealed container for about a week. But beware—this is a bit risky. Even though it is more stable than regular butter, you risk spoilage. Check for changes in color, texture, and smell. If it looks or smells funky, it's time to chuck it.

Moisture Alert: No matter where you store it, ensure no water enters your container. Even a drop can invite bacteria and spoil your entire batch.
Ready to Cook? Check These Recipes Out!
Have you made some clarified butter and are looking to put it to work? I have some great recipes for you. These dishes are tasty, and each one perfectly matches that jar of golden goodness you just whipped up.
If you are thinking of clarifying butter, go ahead and swap it in any of these recipes, and you're not just cooking—you're creating culinary magic. Enjoy!
Over the last year, I've fallen off the low carb way of eating and I know I'm not the only one. I've gained back over 50lbs and have tried desperately to kick-start myself back into ketosis... but it hasn't worked so far.
It's been a long and painful journey gaining so much weight back. I've learned that restarting low carb is so much harder than I'd ever imagined, but I have a plan that I want to share.
I will be documenting my return to the low carb lifestyle on this site. If you're interested in following along, be sure to subscribe below.
This website provides approximate nutrition data and information for convenience and as a courtesy only.