Today, we're diving into a roasted red pepper and tomato soup recipe that combines roasted red peppers' smokiness with fresh tomatoes' natural sweetness.
Toss in some fresh mascarpone and aromatic basil, and you've got a creamy soup that bursts with delicious flavor. This isn't just another soup; it's a cozy, comforting experience that'll make you see red peppers and tomatoes in a new light.
This recipe is low carb and gluten free. The carb and natural sugar content is high for keto.
The Inspiration Behind the Recipe
I was in Tuscany about a year ago and tried a version of this roasted red pepper and tomato soup. It was straightforward but packed with flavor... enough to declare it was now my new favorite soup! I was so impressed that I asked the restaurant what went into making it. I guessed if it had tomato paste or parmesan cheese in it. Nope. What about a splash of heavy cream or smoked paprika? Nope. What about a little heavy cream, feta cheese, or pine nuts? Nope. The server was having a good time with me.
She said the following: keep it simple. Get a large pot, vegetable stock, fresh tomatoes, yellow onion, roasted red bell peppers and a little mascarpone cheese. I love the Italians for the simplicity of it all. As she served more hot soup with fresh cracked black pepper, I knew I would figure out a homemade version that would become a staple in my kitchen.
Armed with those core ingredients, I started experimenting in my kitchen to capture that delicious blend of red peppers and tomatoes. The result has been such a hit with the family that we've affectionately started calling it "The Magic Soup." I love this soup any time of year, but particularly when the winter months are approaching. The red peppers are inexpensive and at their most ripe. Just delicious.
Is the Roasted Red Pepper Soup Low Carb or Keto?
This roasted red pepper and tomato soup is a stellar choice for anyone looking to cut down on carbs. Rich in veggies and low in starch, it fits nicely into a low-carb lifestyle coming in right around 16-18g of carbs per cup. Perfect with a salad for lunch.
But, if you're strictly following a ketogenic diet, tread a bit more cautiously. The roasting process concentrates the natural sugars in red peppers, making them more carb-dense than expected. At just below 20g of carbs, just about ½ of the daily carb intake is used with just 1 cup of this soup depending on your daily goals.
Combine the concentrated red pepper sugars with the natural sugars found in onions and tomatoes, and you've got a recipe that, while low-carb, might spike your blood sugar levels just enough to knock you out of ketosis potentially.
As always, moderation is vital, and make sure to factor this soup into your daily carb limit to keep your diet on track.
Building a low-carb community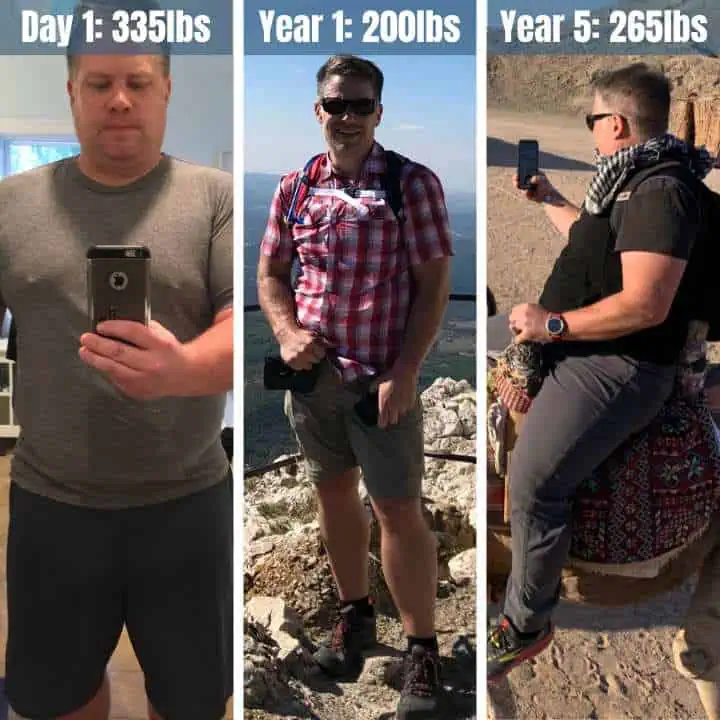 I thought this journey could be done alone. I thought I was strong enough to maintain the weight loss for the rest of my life.
I was wrong.
Subscribe below and keep in touch. Join the conversation. I'm here to support your journey too.
Here are the only updates I'll ever send: New Recipes with Low-Carb Tips. That's it. For updates on my Journey, expanding community etc... please visit my subscriptions page.
Unsubscribe at anytime from anything I send.
The Ingredients
For this roasted red pepper and tomato soup, each component plays a crucial role in elevating the recipe from good to "I need another bowl, stat!"
Roasted Red Peppers: The smoky, charred aroma of roasted red peppers isn't just a flavor. It's an experience. They bring depth and a layer of complexity that's hard to achieve otherwise.

Delicious Tomatoes: Whether fresh or canned, they offer sweetness and acidity, balancing the rich flavors in this soup.

Mascarpone Cheese: A soup can be hearty, but to achieve that luxurious, creamy texture, a dollop of mascarpone is our secret weapon.

Fresh Basil: An herb that needs no introduction. Fresh basil adds a bright, aromatic touch that contrasts beautifully with the deep flavors of the red peppers and tomatoes.

Additional Players: You'll also need basics like onions, garlic, and a good chicken broth (or either a beef or vegetable broth) to create a solid foundation that ties all the star ingredients together.

Bring the Heat: So much flavor can be added to this soup with just a bit of red pepper flakes. The subtle undertones of heat elevate this soup.

Toppers & Finishing: A drizzle of olive oil, some chopped fresh herbs (fresh parsley, chives, or even cilantro pair nicely), or a dollop of sour cream make this soup just sing.
Each of these ingredients contributes its unique qualities to make a bowl of soup that's comforting yet surprisingly sophisticated. So, gather your ingredients, and let's make some magic happen!
Fresh vs. Canned Tomatoes: The Great Debate
When making our roasted red pepper and tomato soup recipe, the type of tomato you use can significantly impact the flavor. Are fresh tomatoes always best? What about the merits of canned tomatoes? Let's break it down:
Fresh Tomatoes
Pros:
Flavor: Nothing beats the vibrant, natural taste of a fresh, ripe tomato. This does not apply to mealy, hard, and flavorless tomatoes.
Nutrients: Fresh tomatoes maintain all their nutrients, including vitamin C, vitamin K, and potassium... all of which are good for the immune system.
Cons:
Time-Consuming: Fresh tomatoes require extra prep work. They need to be peeled... which means blanching and peeling. That's a lot of additional steps.
Seasonality: Quality can vary depending on the time of year and where you live. Plum tomatoes are always a good bet if soft and nicely red.
Canned Tomatoes
Pros:
Convenience: They're already peeled and ready to go. Open the can and add to your pot.
Consistency: Canned tomatoes offer a reliable flavor and texture, making them a good option for year-round cooking. My favorite brands are Mutto and San Marzano tomatoes... they have lower acidity and great taste.
Flavor Boost: If you want an extra kick without the fuss, consider using fire-roasted tomatoes. They bring a smoky depth that can elevate your soup.
Cons:
Acidity: Cheap canned tomatoes can be overly acidic and may require some balancing, usually with a pinch of sugar, cubed carrots, or balsamic vinegar.
Preservatives: Some canned tomatoes include extra sodium or other preservatives, so always read the label.
Note: This recipe doesn't call for cherry tomatoes, which are great for salads but not ideal here due to their sweetness and the amount of skins that need to be removed.
How to make this creamy red pepper tomato soup:
The magic starts with roasting your red peppers. It is as simple as placing them on a baking sheet and popping them into a hot oven. The roasting process is an essential step to intensify their natural flavors.
The charred skins add a smoky undertone that's key to this dish and is integral to removing the skins. Some prefer charring their peppers on an open flame rather than using the oven. See more tips on roasting red peppers on the recipe card.
While the peppers cook, it's time to shift to your stove-top action. Cooking your onions and garlic on medium-high heat sets the foundation for the soup's rich flavor profile. After combining the roasted veggies and sautéed aromatics in a large pot, you have a couple of blending options.
If you're a fan of keeping your kitchen gadgets to a minimum, an immersion blender makes the soup creamy right in the pot. For those who prefer an ultra-velvety texture, transferring the mixture to a high-speed blender can give your soup an incredibly smooth finish. Just be cautious when blending hot liquids—nobody wants a soup explosion!
Pro Tip: If you're a big fan of soups like I am, you know that most soups taste best the next day. Store this soup overnight in an airtight container and gently heat it on the stove top the next day, being careful not to turn the heat too high.
Storage, Freezing, and Reheating
​This recipe is likely large enough to have some leftover soup. Here's how to store it either in the refrigerator or the freezer:
In the Fridge: This roasted red pepper and tomato soup keeps well in the refrigerator for 4-5 days. Store it in an airtight container to maintain its freshness and flavor.
Freezing: If you'd like to save some for later, this soup freezes beautifully. Portion it into airtight containers, leaving some room for expansion, and store it in the freezer for up to 3 months.
Reheating:
From the Fridge: Reheat the soup in a saucepan over medium heat until it reaches your desired temperature. Stir occasionally to ensure even heating.

From the Freezer: For best results, thaw the frozen soup in the refrigerator overnight before reheating. If you're in a hurry, you can reheat it directly from the freezer. Just place the frozen soup in a saucepan over low heat with a bit of water or stock, breaking it apart and stirring as it thaws and heats up.
Culinary Journey through Pictures:
For a seamless cooking experience, follow the easy step-by-step instructions in the upcoming series of pictures. These process shots are designed to make every stage of the recipe as straightforward as possible.
If You Love This Soup, Try My Other Easy Soup Recipes!
If this roasted red pepper and tomato soup hit the spot, then you're in for a treat. I've got a bunch more easy and remarkably delicious soups that you won't want to miss:
If you're digging this roasted red pepper tomato soup recipe, then you absolutely have to check out my Easy Broccoli Cheese Soup. It's another simple yet mouthwatering recipe that takes comfort food to the next level. Don't just take my word for it; click the link and experience the goodness for yourself! You won't regret it.
So there you have it, folks! Our roasted red pepper and tomato soup is more than just a meal; it's an experience—a symphony of creamy soup, robust red peppers, ripe fresh tomatoes, and irresistible flavors that stand out among your favorite comfort foods. Trust me; once you take that first spoonful, you'll understand why we call it "magic soup."
Over the last year, I've fallen off the low carb way of eating and I know I'm not the only one. I've gained back over 50lbs and have tried desperately to kick-start myself back into ketosis... but it hasn't worked so far.
It's been a long and painful journey gaining so much weight back. I've learned that restarting low carb is so much harder than I'd ever imagined, but I have a plan that I want to share.
I will be documenting my return to the low carb lifestyle on this site. If you're interested in following along, be sure to subscribe below.
This website provides approximate nutrition data and information for convenience and as a courtesy only.