Want to know how to make easy homemade bacon bits? Well, I'm calling all bacon lovers to get ready to elevate your keto and low-carb lifestyle with these easy-to-make bacon crumbles!
Toss those store-bought vegetable protein imposters aside; our crispy bacon bits are gluten free and 100% authentic bacon goodness. This is where real bacon meets real flavor—no carbs attached.
This recipe is GLUTEN FREE, LOW CARB and KETO-FRIENDLY.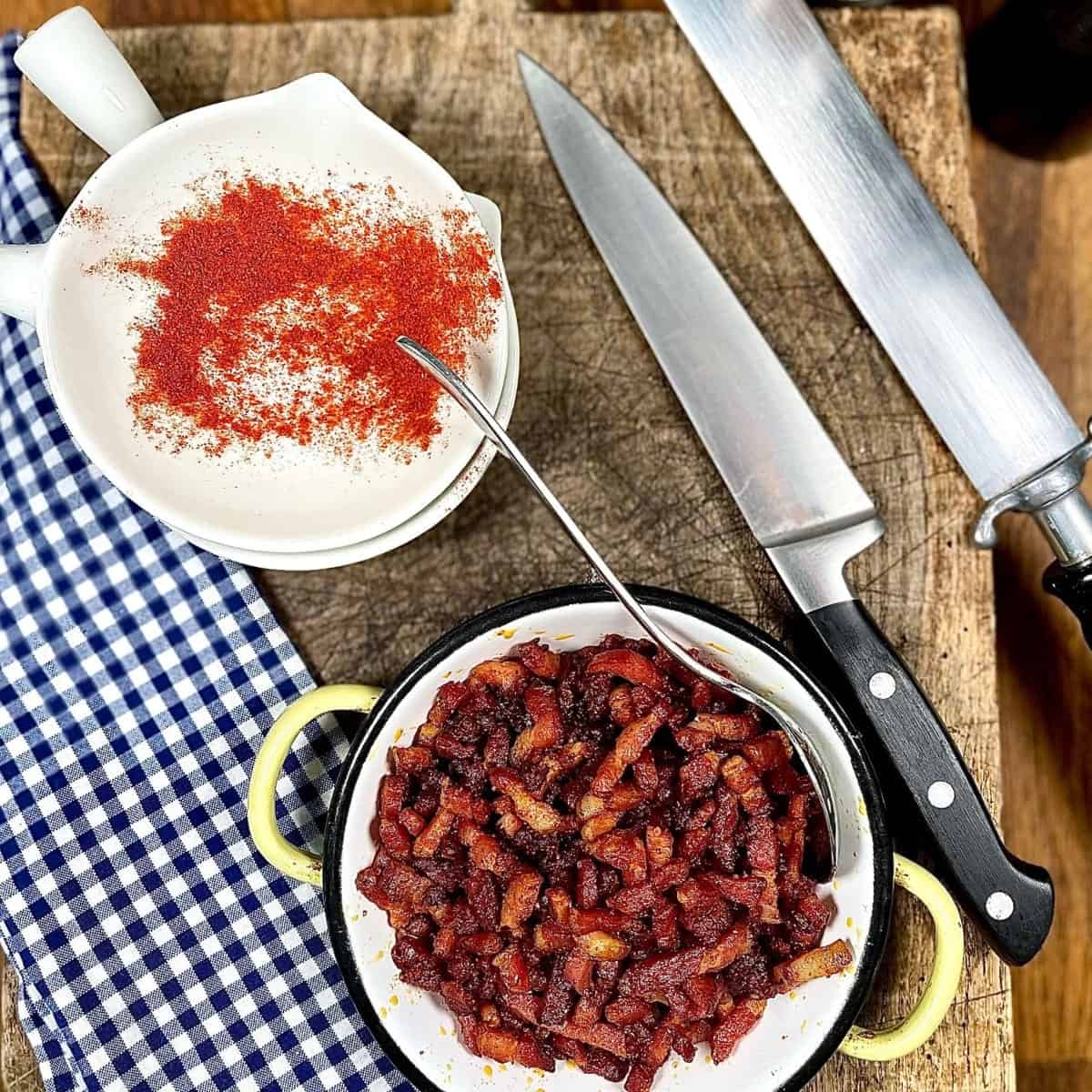 What are bacon bits made of?
Bacon bits (crumbles) are more than just chopped bacon; they're the culinary confetti of the food world, brought to life with a dash of herbs and spices. Imagine taking all the joy in a strip of bacon and elevating it with a little herbal magic and a kick of spice.
Each crumble becomes a mini explosion in your mouth—a medley of crispy, salty, smoky, and aromatic flavors. Ideal for a keto or low-carb lifestyle, these enhanced bacon bits are a multi-layered taste experience as a versatile topping that transforms salads, casseroles, and just about any egg breakfast options.
Homemade bacon crumbles just absolutely beat the pants off of store-bought bacon bits. Why settle for artificial flavors, additives, vegetable proteins, and that unsettling shade of red when you can have the real deal?
Making your own bacon bits at home gives you total control over the quality, flavor profile, and ingredients. Plus, your taste buds and your body will thank you for the all-natural, nitrate-free deliciousness. It's a win-win.
What are simulated bacon bits made of?
Simulated bacon bits, also known as imitation bacon bits or "bac'n bits," are typically made from textured soy protein. These are designed to mimic the flavor, texture, and appearance of real bacon bits but without any animal products involved.
The textured soy is often flavored with artificial bacon flavoring, salt, and sometimes color additives to give it that signature red-brown bacon look. These are a staple in many grocery stores, and they're often marketed as a more shelf-stable, vegetarian, or vegan alternative to real bacon.
However, it's worth noting that while they may be plant-based, these bits often contain a lot of additives and artificial ingredients. They're not always the healthiest choice, especially when compared to homemade bacon bits made from high-quality, nitrate-free bacon.
Step-by-step Guide for real bacon bits:
Follow this simple picture guide to see exactly how to make easy homemade bacon bits.
Tools You'll Need for the Hot Pan Method
Hot pan & wooden spoon
Bowl for the rendered fat
Colander
Knife to cut the raw bacon
Building a low-carb community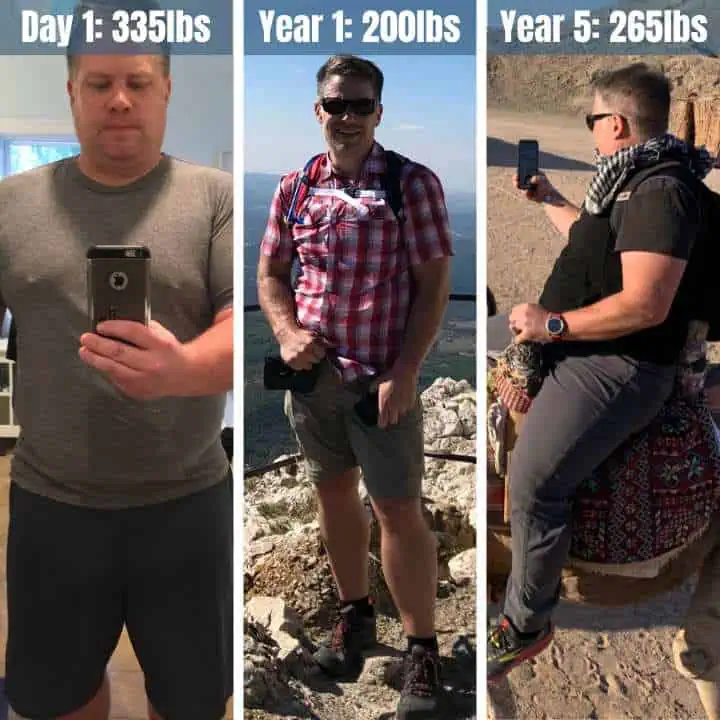 I thought this journey could be done alone. I thought I was strong enough to maintain the weight loss for the rest of my life.
I was wrong.
Subscribe below and keep in touch. Join the conversation. I'm here to support your journey too.
Here are the only updates I'll ever send: New Recipes with Low-Carb Tips. That's it. For updates on my Journey, expanding community etc... please visit my subscriptions page.
Unsubscribe at anytime from anything I send.
Alternative Oven Baked Method:
Baking Sheet Method
This is the perfect alternative for the Hot Pan method that I use in this recipe. The only difference is that this oven method results in pure bacon bits... no additional spices. If we were to add spices for this method, they wouldn't get heated and deglazed as with the Hot Pan method, resulting in more dominant flavors.
Tools You'll Need for the Baking Sheet Method
Baking sheet
Parchment paper
Paper towel for draining
Knife to cut the raw bacon
Tongs
Preheat your oven to 375°F (190°C).
Line a baking sheet with parchment paper.
Lay bacon slices on the paper.
Bake for 10-15 minutes until crispy.
Remove the bacon from the tray and lay on paper towels to drain.
Reserve the rendered fat in a bowl. Store for later use.
Chop the bacon into crumbles.
How many calories are in bacon bits?
If you're counting calories but still want to indulge in some bacony goodness, I get it! The calorie content in bacon bits can vary depending on how they're made and the type of bacon used. However, a tablespoon of real, cooked bacon bits generally contains around 42 calories for a ballpark figure. You're looking at around 25-30 calories per tablespoon for store-bought or simulated bacon bits.
Keep in mind that homemade bacon crumbles made from high-quality, nitrate-free bacon are not just about the calories; they're about quality ingredients and amazing flavor. When you make them yourself, you know exactly what's going in there, making it a bit easier to manage those macros.
Are bacon bits low carb?
Yes, bacon bits are low carb. These crispy little bits generally contain less than 1 gram of carbohydrates per tablespoon when you make them at home from real bacon. Store-bought versions can vary, but most are still low in carbs.
So add a sprinkle (or two) to your salads, soups, or whatever you're whipping up. They're a flavor-packed way to stick to your low-carb or keto lifestyle.
Why Choose Homemade Bacon Crumbles Over Store Bought?
Homemade bacon crumbles are a game-changer for the bacon lover who craves quality and flavor, offering a fresh, natural alternative to the generic store-bought versions. Here's my list of reasons why I love making homemade bacon bits:
Real Bacon Pieces: Unlike many store-bought options from vegetable protein, you get 100% real bacon.

Gluten-Free: Ideal for those with dietary restrictions.


Choose the Size: Each slice of bacon can be chopped to whatever size you want. Love bacon croutons? Chop the strips of bacon really thick!

Lower Chemical Factor: Choose your own bacon that has no sodium nitrite or sodium nitrate.

Customizable: Add in any additional flavors or spices you'd like.

Great Shelf Life: Store in an airtight container for an extended period in the refrigerator.
Storing Your Homemade Bacon Bits
Refrigerator Storage: You've made these amazing, keto-friendly, nitrate-free bacon bits (crumbles). Now what? Don't let them go to waste! Storing your bacon bits is easy,
A great way is to pop those delectable morsels into an airtight container and stash them in the fridge. They'll stay perfectly crisp and delicious for about a week to ten days. Trust me, these are so good; they might not even last that long!
Freezer Storage: Yes, you can freeze bacon bits! If you're anything like me, you make bacon bits in batches because, let's face it, they're a staple in the kitchen. Suppose you have more than you can use in a week to ten days. Toss those extra bacon bits into a zip-top bag, remove as much air as possible, and freeze them.
They'll hold their flavor and texture for up to three months. When ready to use them, please take out the amount you need and let them thaw, or toss them frozen into your hot dish. They'll perk right up, and you'll have that savory, crispy bacon goodness at your fingertips whenever you need it.
Room Temperature Storage: Before you leave those bacon bits sitting out on the counter, let's get one thing straight: Bacon is meat, and meat can spoil. Storing homemade bacon bits at room temperature is not recommended due to the risk of bacterial growth.
Unlike store-bought versions packed with preservatives, homemade bacon bits are more susceptible to spoilage. So, to keep them fresh and flavorful, always store them in the fridge or freezer, as mentioned earlier.
Great, Easy Recipes with a Sprinkle of Homemade Bacon Bits
If you've got extra bone broth on hand to make your favorite soup or want to add some pizzazz to a salad... these recipes are sure to love the bacon crumbles from this easy recipe.
Broccoli Cheese Soup: A dollop of bacon bits elevates this classic comfort dish, adding a salty crunch to every spoonful. Now, that's what I call a bowl of soup!
Summer Broccoli Salad: Bacon bits and broccoli are like Batman and Robin—they're better together. Sprinkle a handful on top for a satisfying crunch that'll make this salad your go-to summer dish.
Traditional French Frisee Salad: A classic bursting with flavor gets an extra zing with our homemade bacon bits. Bon appétit!
Roasted Garlic Sautéed Mushrooms: Mushrooms and bacon bits are a match made in heaven. After sautéing your mushrooms, top them with bacon bits for a flavor bomb that will impress.
The Ultimate Iceberg Wedge Salad: The key to "ultimate" is in the details—crispy, savory bacon bits, to be exact. Drizzle them over your wedge and savor the upgrade.
Tomato Feta Salad: The richness of feta pairs beautifully with bacon bits. Sprinkle them generously on top for a Mediterranean salad that's out of this world.
Over the last year, I've fallen off the low carb way of eating and I know I'm not the only one. I've gained back over 50lbs and have tried desperately to kick-start myself back into ketosis... but it hasn't worked so far.
It's been a long and painful journey gaining so much weight back. I've learned that restarting low carb is so much harder than I'd ever imagined, but I have a plan that I want to share.
I will be documenting my return to the low carb lifestyle on this site. If you're interested in following along, be sure to subscribe below.
Homemade Bacon Bits for Breakfast:
These bacon bits love to be served for breakfast. Check out these other recipes on my blog:
Mushroom Leek Frittata: Savor the earthy flavors of Mushroom and Leek in this exquisite frittata, a delightful breakfast option any day of the week.
Bacon Egg Frittata with Broccoli: Combine the heartiness of bacon, the nutrition of broccoli, and the simplicity of eggs in this delectable low-carb Bacon Egg Frittata.
Bacon Lardon Croutons: Experience a crispy, savory twist to your morning meals with these Bacon Lardon Croutons, the perfect low-carb crunch to top off any dish.
Creamy Grits with Cheese (not low carb): Dive into the comfort of Creamy Grits with Cheese, a classic southern delight that's worth straying from the low-carb path.
Brussels Sprouts and Bacon Hash: Revel in the unique combination of Brussels Sprouts and Bacon Hash, a low-carb breakfast hash that's as flavorful as it is nourishing.
Sweet Fennel Sausage Recipe: Start your day with the aromatic and sweet notes of this homemade Sweet Fennel Sausage, a low-carb treat that's bursting with flavor.
This website provides approximate nutrition data and information for convenience and as a courtesy only.