Who says you can't have your taco and eat it too, especially when Taco Tuesday rolls around? Let's face it: life is just better with a dash of Mexican flair, and what better way to dial up the heat than with your very own, from-scratch Homemade Taco Seasoning.
This isn't just a sprinkle of spices; it's a full-on culinary fiesta, tailored to fit your keto and low-carb lifestyle. Best of all, this homemade goodness is ready in less than five minutes with ingredients you probably already have in your pantry!
This recipe is low carb, keto friendly, gluten free and vegetarian.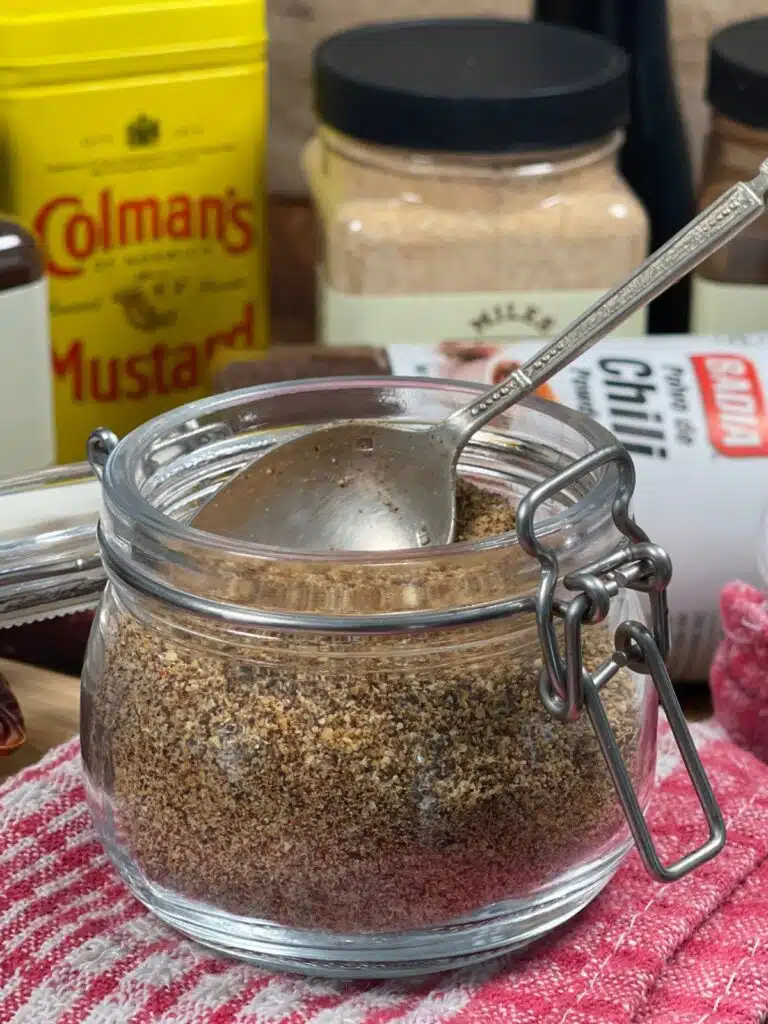 Why I've created this homemade taco seasoning recipe
I love the flavors of Mexican cuisine... but what is in those store-bought packets? It's easy to buy into the convenience of store-bought seasonings. I used to be right there with you until I took a closer look at those ingredient labels. Confusing names, mysterious fillers, preservatives—you name it.
And let's not even talk about the cost of what you're actually getting. They give you so little spice, and it costs quite a bit! That's when I decided it was time to make my own and share it with you.
Creating this Homemade Taco Seasoning was so easy. Every spice and herb that went into the mix is delicious. It's tailored to my family's tastes and keeps dinner firmly in the low carb lane. Plus, I know exactly what I'm eating—no unpronounceable ingredients in this mix. Just pure, flavorful goodness that'll elevate any Mexican fiesta to the next level.
Is this homemade taco seasoning low carb or keto?
Yes, this seasoning is both low carb and keto-friendly. One of the biggest motivations behind creating this Homemade Taco Seasoning was to make a blend of spices that fits seamlessly into a low carb and keto lifestyle.
Depending on the spices in your spice rack, there should be zero sugars, zero hidden carbs, and absolutely no fillers or preservatives that you'd find in those store-bought packets.
You can enjoy many Mexican recipes without a second thought about derailing your daily carb count. This seasoning blend is all about bold flavors, so sprinkle this seasoning liberally and savor every delicious bite.
What is in homemade taco seasoning?
Chili Powder: The cornerstone of any great taco seasoning. It adds that quintessential heat that wakes up all the other flavors.
Garlic Powder: This isn't just for garlic lovers; it brings a depth of flavor that makes the blend more complex and rich.
Onion Powder: Adds a sweet, tangy kick that balances out the rest of the spices.
Cumin: Gives smoky, earthy notes giving the seasoning an authentic Mexican aroma.
Dried Mustard: Coleman's is our top pick for a reason; it adds a zesty tang that elevates the blend.
Paprika: Whether you go regular or smoked, it's all about that subtle sweetness and color. If you opt for smoked paprika, you're in for a deeper, smokier profile.
Dried Oregano: An herbal note to round things out. If you can get your hands on Mexican oregano, it's even better for that authentic flair.
Ground Chipotle: This brings a smoky heat that's not overpowering. If chipotle's not your thing, try ground adobo for less heat but still great flavor.
Black Pepper: Last but not least, a little pepper to add that final punch and bring out the best in all the other ingredients.
NO SALT: You will want to season whatever meat you are cooking earlier in the cooking process than when you will be adding the taco seasoning! Putting salt into this mix will most likely overpower the dish, throwing off the balance.
How much homemade taco seasoning per pound of beef?
The answer can vary based on personal preference, but a solid rule of thumb is to use about 2 to 3 tablespoons per pound of beef.
Why that amount? Well, it's enough to really flavor the meat and infuse it with those bold flavors without overpowering it. Remember, season the ground beef at the END of the cooking process for best results!
If you're still unsure, start with 2 tablespoons and adjust as needed. For those who like to live on the spicier side of life like me, feel free to kick it up a notch with an extra tablespoon and some cayenne to boot!
Remember, you're in control here. This seasoning is all about elevating your Mexican recipes while keeping the carbs in check.
Building a low-carb community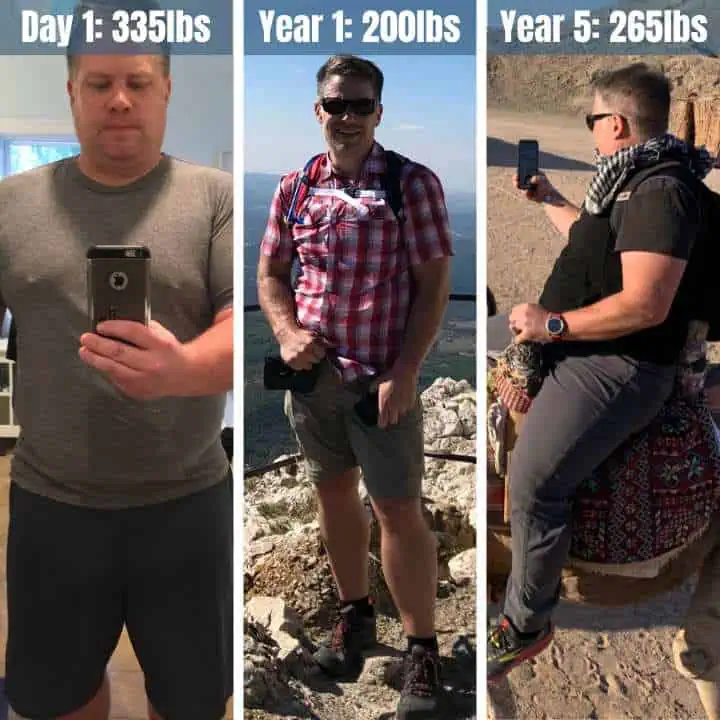 I thought this journey could be done alone. I thought I was strong enough to maintain the weight loss for the rest of my life.
I was wrong.
Subscribe below and keep in touch. Join the conversation. I'm here to support your journey too.
Here are the only updates I'll ever send: New Recipes with Low-Carb Tips. That's it. For updates on my Journey, expanding community etc... please visit my subscriptions page.
Unsubscribe at anytime from anything I send.
How to make your own homemade taco seasoning
First thing's first—round up all those delicious spices you'll be using. Grab a small mixing bowl that's big enough to let you go to town mixing without spilling half of it on the counter.
Now, it's measuring time. You'll want to be accurate here to achieve a nice balance of flavors. It's also the time to get creative if you love other spices in your homemade seasoning mixes.
Once you've got everything in the bowl, give it a thorough mix using a fork or a small whisk. What you're aiming for is a spice blend that has a uniform color and is free from any clumps.
Finally, transfer your spice mix to an airtight container or a sealable jar. Slap a label on it (trust me, the "future you" will be grateful). And there you go, you've just made your very own Homemade Taco Seasoning.
Whether you're spicing up some meat, jazzing up veggies, or adding a zesty kick to just about anything, this seasoning has got you covered.
VISUAL GUIDE TO CREATE YOUR MEXICAN SEASONING BLEND:
Follow along in this step-by-step picture guide to make your own seasoning mix. Get creative and add your own flair too!
Step 1: gather up all the spices needed and a small bowl with a fork or a whisk.
Step 2: Add all the spices to the bowl.
Step 4: Check for clumps and uniformity.
Step 5: Transfer to an airtight or sealable container.
Step 6: Enjoy on whatever Mexican recipes would call for taco seasoning mix!
Storing your homemade taco seasoning
So you've made this incredible Homemade Taco Seasoning, and you're wondering how to keep it in peak condition. Here's a few pointers:
Find an airtight container that is SIZE APPROPRIATE. Using a container that is too large can introduce excess air, potentially messing with the seasoning's shelf stability.
Glass jars with tight-fitting lids are typically the best bet for storing seasonings.
Location matters! Keep spices in a cool, dark place like a pantry, spice drawer, or spice cabinet... away from the oven, stove, or other heat sources.
Let's talk about longevity. If stored correctly, the Homemade Taco Seasoning should stay fresh and flavorful for up to a year. A whole year of low carb-style Mexican dinners is ready whenever the craving strikes! Give it a sniff test before using it; if it still has its aromatic kick, it's good to go.
Recipes that love this homemade taco seasoning
This Homemade Taco Seasoning recipe loves to be added to the following:
Other Mexican-Style recipes you will love:
If you're thinking this Homemade Taco Seasoning is your jam, there's more where that came from! Check out these other tasty recipes that'll keep you on track with your low-carb lifestyle:
Each of these recipes is perfect for adding variety to your dinner table while sticking to the low carb lifestyle. So dig in and discover your next go-to meal.
Over the last year, I've fallen off the low carb way of eating and I know I'm not the only one. I've gained back over 50lbs and have tried desperately to kick-start myself back into ketosis... but it hasn't worked so far.
It's been a long and painful journey gaining so much weight back. I've learned that restarting low carb is so much harder than I'd ever imagined, but I have a plan that I want to share.
I will be documenting my return to the low carb lifestyle on this site. If you're interested in following along, be sure to subscribe below.
This website provides approximate nutrition data and information for convenience and as a courtesy only.