Are you ready to meet the keto taco salad recipe that's about to become your new go-to meal? Imagine this: spiced, savory ground beef mingling with fresh, crunchy veggies, all harmoniously tied together by a creamy, avocado-based dressing. It's not just a salad; it's a feast for the senses that's both low carb and keto-friendly.
Perfect for those busy weeknights when you want something quick yet satisfying, or for meal prepping for a week's worth of lunches that you'll actually look forward to. Dive into this flavorful experience and find out why this isn't just another salad recipe.
This recipe is GLUTEN FREE, LOW CARB and KETO-FRIENDLY.
Inspiration for this Keto Taco Salad
Living in the South of France has its perks—gorgeous scenery, a more relaxed lifestyle, and a vibrant culinary scene. But when it comes to Mexican food, the options are slim to none… and let's face it, the few options available just aren't very good.
My family and I are big fans of Mexican cuisine. I am constantly making fajitas, guacamole, queso, carnitas and more. Yet, the one thing missing from our home-cooked Mexican repertoire was a dish that could serve as a light yet satisfying lunch. That's where this keto taco salad recipe comes in.
It's the answer to our Mexican food cravings while staying true to my low-carb, keto-friendly lifestyle. The best part is that my family didn't even realize that this is a keto-friendly, low carb recipe. They just loved every bite.
Is this Taco Salad Recipe low carb or keto?
You might be wondering: what sets this keto taco salad recipe apart from the traditional taco salad we all know and love?
The answer is in what it lacks, not in what it has. Traditional taco salads often come with carb-heavy ingredients like tortilla strips, nacho chips, and beans. Delicious? Absolutely. Low carb? Not so much.
In my version, I've removed these high-carb ingredients without sacrificing an ounce of flavor or that satisfying crunch. I've amped up the textures and flavors with crunchy veggies and a delightfully creamy avocado dressing that provides the mouthfeel you'd normally get from less keto-friendly options.
And let's not forget the beans. While they're a staple in traditional taco salads, they can push the carb count higher. In this taco salad recipe, the focus is on high-quality proteins and healthy fats, making it the perfect low carb alternative that leaves you satisfied without feeling weighed down.
What are the ingredients to make a great keto taco salad?
We are going to use amazingly fresh ingredients to keep the crunch factor high… but keep in mind that the beauty of this recipe is adding or subtracting ingredients based on your personal preferences!
Ground Beef or Turkey: This is the protein powerhouse. Opt for ground beef, seasoned perfectly with our homemade taco seasoning, or go lean with turkey. High in protein and low in carbs, it's the star of the show.

Taco Seasoning: Forget store-bought packs that can be laden with added sugar and preservatives. Our homemade taco seasoning is a perfect blend of spices that adds authentic Mexican flavor while keeping it low carb.

Romaine Lettuce: Provides a crispy, fresh base that's not just filler—it's a low-carb way to get in fiber and essential nutrients. Romaine also holds up to the other ingredients… other lettuces will wilt under the weight of the ingredients.

Cherry Tomatoes: These little bursts of flavor are lower in carbs than you might think and they add a pop of color and sweetness to the mix.

Shredded Cheddar Cheese: Because cheese makes everything better. Adds creaminess and rich flavor without adding carbs.

Pickled Onions: these add that hit of ZING that is unforgettable. Completely worth the 10 minutes to create!

Avocado: A keto favorite for a reason! It adds creaminess and healthy fats that lead to a feeling of satisfaction.

Red Bell Pepper: Brings in a sweet crunch and a dash of vitamins, all for minimal carbs.

Sour Cream: A dollop adds tanginess and creaminess, enhancing the flavors while keeping it keto-friendly.

Jalapeños: Optional, but if you like a little heat, these pack a punch without packing in the carbs.

Creamy Avocado Dressing: Last but not least, this dressing ties it all together. It's full of healthy fats, making it a dream for anyone on a low-carb or keto diet.
Could this me made into a keto taco salad bowl?
Absolutely, it can easily be transformed into a bowl version for an even heartier and satisfying meal. All the delicious ingredients that go into the salad can be layered or arranged beautifully in a bowl, making it more Instagram-worthy and easier to dig into with a fork.
And here's a bonus tip: If you're missing that crunchy tortilla texture, you could make some keto-friendly cheese crisps to serve on the side or crumble on top. It adds that extra oomph without breaking the carb bank.
Making a keto taco salad bowl is not just aesthetically pleasing; it's another creative way to enjoy this low-carb, flavor-packed dish. So, whether you serve it on a plate or in a bowl, you're in for a treat that keeps those carbs in check!
Building a low-carb community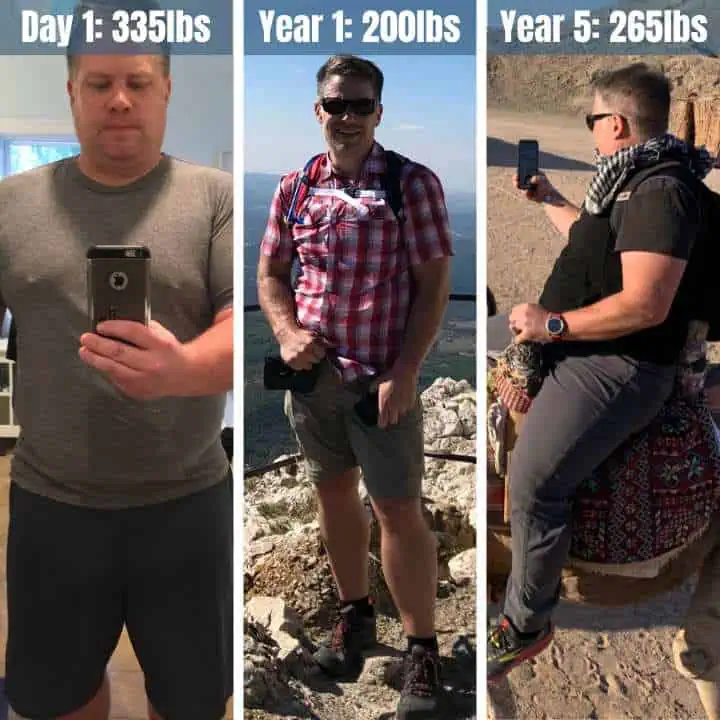 I thought this journey could be done alone. I thought I was strong enough to maintain the weight loss for the rest of my life.
I was wrong.
Subscribe below and keep in touch. Join the conversation. I'm here to support your journey too.
Here are the only updates I'll ever send: New Recipes with Low-Carb Tips. That's it. For updates on my Journey, expanding community etc... please visit my subscriptions page.
Unsubscribe at anytime from anything I send.
HOW TO MAKE YOUR OWN KETO TACO SALAD
Making this keto taco salad couldn't be easier, and trust me, it's worth it! First off, let's talk beef. I start by using 80/20 or 85/15 ground beef. The fat content is a game-changer; it melts down during cooking and blends with the taco seasoning, creating a mouthwatering, juicy seasoned beef that you won't be able to resist.
Trust me on this one- and don't drain that fat off… the taco seasoning will absorb it all!
Step 1: The Salad Base
I always kick things off by laying a bed of chopped romaine lettuce onto my plate or bowl. Romaine is a sturdy lettuce that won't wilt with some heat and the weight of the other ingredients.
Step 2: Add the Meat
Here's where that delicious seasoned ground beef comes in. Make sure it's cooled down for a bit—you don't want it to wilt that hearty romaine. Layer it on.
Step 3: Pile on the Veggies
Next, it's veggie time. I scatter on the quartered cherry tomatoes, pickled onions and diced red bell peppers. If you're in the mood for some heat, don't shy away from adding some sliced jalapeños.
Step 4: Cheese and Avocado
After the veggies, I sprinkle on shredded cheddar cheese and some diced avocado. These add a creamy, rich texture that makes each bite even more satisfying.
Step 5: The Final Touch
Finally, the pièce de résistance: that amazing creamy avocado dressing. Drizzle it generously all over to tie all the flavors together.
Dig in and enjoy every low-carb bite.
A visual guide to make your taco salad
Follow along with me in this visual guide to making your taco salad or taco salad bowl at home. Keep in mind that you can make this in individual portions too!
STORING YOUR KETO TACO SALAD:
Let's talk practicality. If you're like me and love having ready-to-go meals, this keto taco salad is a keeper—but only if it is stored properly. Make sure to cool down that ground beef before you layer it onto the salad. Warm beef is a one-way ticket to wilted romaine lettuce, and that's just not what we're aiming for here.
Now, as much as you might want to get all those flavors blending right away, hold off on adding the dressing. Keep it separate, and only mix it in when you're ready to eat. That way, you keep the lettuce crisp longer and the whole salad fresh.
So, how long is this going to last in your fridge? In my experience, you've got a good 2-4 days before things start heading south, texture-wise. Past that, you're looking at a salad that's lost its mojo.
RECIPES FEATURED IN THIS KETO TACO SALAD:
Want some more guidance on how to make mouthwatering ground beef or quick pickled onions? Find it all right here:
Seasoned Ground Beef:
The heart of this keto taco salad is my seasoned ground beef. It's not just any meat; it adds that extra something that makes the salad really satisfying.
Quick Pickled Red Onions:
For a little kick and a splash of color, I love adding quick pickled red onions. They're tangy and give the salad a bit of extra oomph.
Creamy Avocado Lime Dressing:
And then there's the Creamy Avocado Lime Dressing. It's more than a topping; it ties all the flavors together. Trust me, you'll want to use it on more than just this salad.
Keto Pickled Jalapeno Peppers: Although not featured in this recipe, these amazing peppers would be the perfect addition to this keto taco salad!
Each of these recipes plays its part in making this keto taco salad something you'll want to make again and again. Good food, pure and simple.
MORE MEXICAN-INSPIRED RECIPES:
If this keto taco salad got your tastebuds dancing, then buckle up! Here are some more knock-your-socks-off Mexican-inspired recipes:
Southwestern Salad Bowl:
Not your average salad! We're talking a full-on fiesta of flavors in every bite.
Easy Pulled Pork Recipe:
Slow-cooked to succulent perfection, this pulled pork is the kind of meal that gets everyone around the table.
Homemade Mexican Chorizo Recipe:
Tired of the store-bought stuff? Wait until you try this chorizo—game changer!
Chipotle Chicken Recipe:
Smoky, spicy, and absolutely addictive. This chicken recipe will be a repeat player in your meal plan.
Fajita Frittata Breakfast:
Who says you can't have a Mexican fiesta for breakfast? This frittata brings all the fajita goodness right to your morning table.
Spicy Chorizo Egg Skillet:
Wake up and smell the sizzle! This skillet dish is the ultimate way to kickstart your day with some heat.
If you're like me, you know good food doesn't need to be complicated. Dive in and keep those tastebuds entertained!
Over the last year, I've fallen off the low carb way of eating and I know I'm not the only one. I've gained back over 50lbs and have tried desperately to kick-start myself back into ketosis... but it hasn't worked so far.
It's been a long and painful journey gaining so much weight back. I've learned that restarting low carb is so much harder than I'd ever imagined, but I have a plan that I want to share.
I will be documenting my return to the low carb lifestyle on this site. If you're interested in following along, be sure to subscribe below.
This website provides approximate nutrition data and information for convenience and as a courtesy only.
FOR THIS RECIPE: Nutrition Data does NOT include the dressing.