Looking for an easy way to kick your meals up a notch? Say hello to these low-carb pickled red onions. They're the perfect topper for your Mexican dishes, chicken, pork chops, and more. Simple to make and big on flavor, these onions add that extra zing without weighing you down with carbs. No cooking needed, just a quick mix and you're good to go. So if you're into tasty food without the fuss, keep reading.
This recipe is GLUTEN FREE, LOW CARB and KETO FRIENDLY.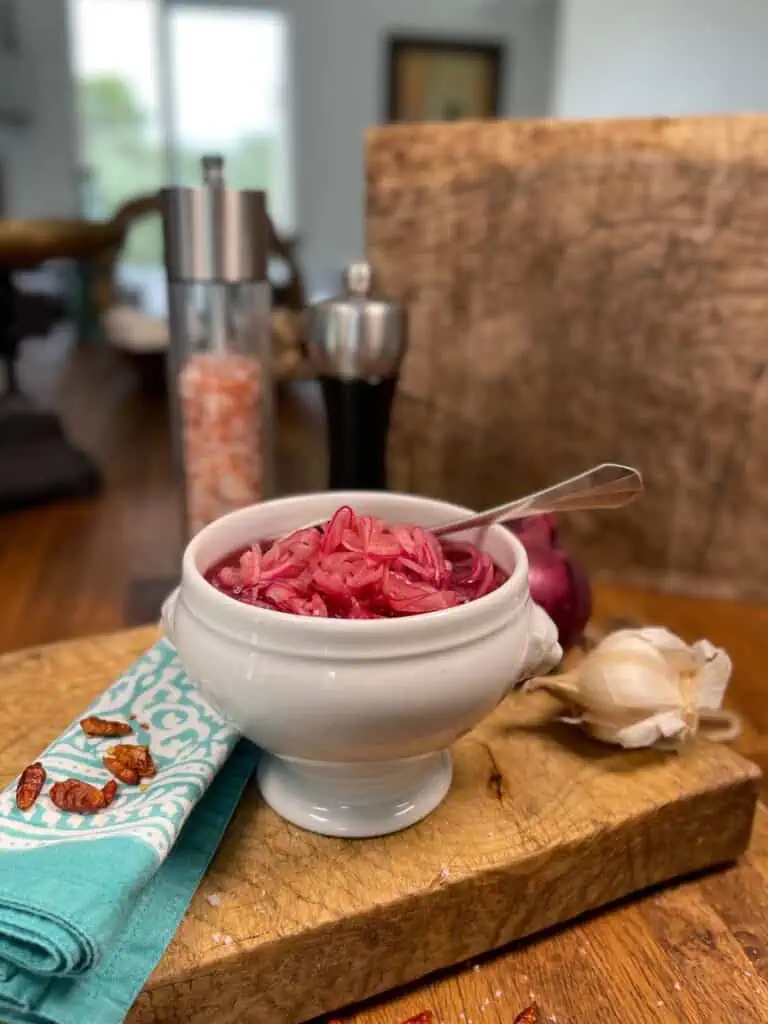 What inspired me to make this pickled red onion recipe
So, the story of my love affair with pickled red onions started about 10 years ago at this hole-in-the-wall spot in Cleveland, Ohio. The place was run by a couple of up-and-coming chefs who were confident enough to tell me they had the best pulled pork tacos in town. Now, that's a pretty big claim, right? But let me tell you, one bite and I was sold.
"What's the secret?" I had to know. And get this—they actually spilled the beans. It was the pickled red onions that made all the difference. The onions brought this zingy acidity that cut right through the rich, fatty pulled pork, making room for all those delicious Mexican flavors to really shine. Since then, these quick pickled red onions have been a staple at every Mexican fiesta I throw.
With just 5 minutes of prep time and an hour to completion, it is totally worth the effort!
Are pickled Red onions low carb or keto?
If you're wondering, "Can I really enjoy these pickled red onions on a low carb or keto diet?" The answer is a resounding yes.
Now, it's true that onions have some carbs, but let's be honest—we are not chowing down on a whole jar in one sitting. That just can't happen. We are using these as a garnish, and a little goes a long way to pack in the flavor without packing on the carbs.
These onions are like the finishing touch, the cherry on top, if you will. Just a few slivers can add a punch of flavor without messing up the overall carb count for the day. So whether on a strict keto or just keeping an eye on carbs, these pickled red onions fit the bill.
What are the ingredients to make pickled red onions?
Don't worry, the list is short and sweet, but every ingredient plays its part:
Red Onion: The star of the show, obviously. Red onions have a milder, sweeter flavor compared to their white or yellow counterparts. Plus, that vibrant color? Looks awesome in the jar and on your plate. You can slice or dice the onions too!

Apple Cider Vinegar: This is what gives your onions that tangy kick. I often use Red Wine Vinegar too, but apple cider vinegar has a softer, fruitier edge that complements the onions well.

Water: A bit of H2O balances out the acidity from the vinegar, making sure your onions are tangy but not puckeringly sour.

Salt: I like using kosher or sea salt. It not only seasons the onions but also helps to preserve them.

Optional Keto-Friendly Sweetener: If you want to cut the edge off the vinegar, a teaspoon of erythritol, stevia or monkfruit sweetener can do the trick without adding carbs.

Optional Flavor Boosters: Think peppercorns or a clove of garlic. These aren't required, but if you're looking to mix it up, go for it. I love adding in some sliced jalapeño if I have it around… the extra kick is amazing!
So there you have it, each ingredient doing its bit to make sure you end up with the most delicious pickled red onions you've ever had.
No Cook Quick Pickled Red Onions
One of the best things about this recipe is that it doesn't require anything other than a bowl and the ingredients. Just mix your ingredients together and you're good to go. No need to dirty another pan, and the onions still turn out crunchy and full of flavor. The main thing to remember is to ensure the onions are fully submerged in the vinegar solution. That's key.
Now, you might be curious about heating the vinegar. While it's totally optional, doing so can have some perks. It slightly softens the onions and speeds up the pickling process. So if you're in a rush or prefer a softer texture, feel free to heat it up.
Building a low-carb community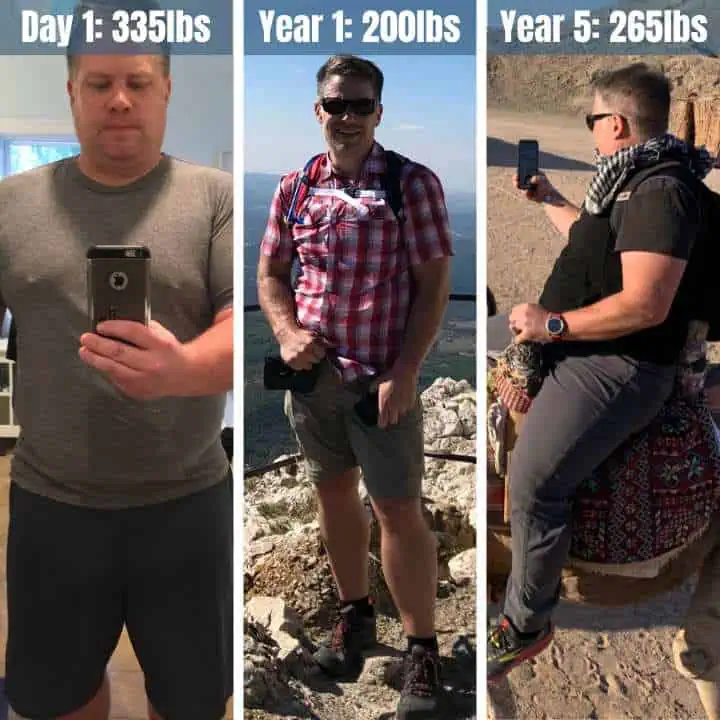 I thought this journey could be done alone. I thought I was strong enough to maintain the weight loss for the rest of my life.
I was wrong.
Subscribe below and keep in touch. Join the conversation. I'm here to support your journey too.
Here are the only updates I'll ever send: New Recipes with Low-Carb Tips. That's it. For updates on my Journey, expanding community etc... please visit my subscriptions page.
Unsubscribe at anytime from anything I send.
How to make Pickled Red Onions at Home:
Making your own pickled red onions is a breeze, and guess what? No need for pans, jars or anything special. I actually prefer using a ramekin, and here's how to make them:
Slice the Onion: Start by thinly slicing your red onion. You'll want to place these slices into a ramekin, which is great because its smaller size means you'll need less vinegar. If you prefer, dice the onion. The smaller the dice the nicer the result.

Prepare the Pickling Liquid: In a separate bowl, mix the apple cider vinegar, water, and salt. If you've got some keto-friendly sweetener or optional flavor enhancers like peppercorns or garlic, throw them into the mix.

Pour and Submerge: Carefully pour your prepared pickling liquid over the onions in the ramekin. Make sure all onion slices are completely covered—that's crucial.

Cover and Chill: You can simply place a saucer or small plate on top of the ramekin and then stick it in the fridge. Let it sit for at least an hour so all those flavors get a chance to mingle.
There you go, a no-fuss way to make pickled red onions right at home. They'll be chilling in your fridge, ready to jazz up your next meal.
A Picture guide to making pickled red onions:
Follow along with me on how to make this recipe easily in your own kitchen.
How long do pickled red onions last?
How long can you expect the pickled red onions to stay fresh? Stored correctly in the fridge, these can last up to two weeks. That's a solid amount of time for all sorts of delicious recipes.
Now, let's talk utensils. It's super important to use a clean utensil every time you dig in. Why? Introducing foreign elements like food particles can spoil the batch quicker by encouraging bacterial growth. You don't want that. Keeping things clean means you get to enjoy your pickled red onions for the full two weeks they're good for.
Can you make pickled red onions with apple cider vinegar?
You bet you can, and it's my go-to for this recipe. Apple cider vinegar provides a slightly fruity undertone that really enhances the red onion's natural zing. It's a delightful culinary pairing.
Now, if apple cider vinegar isn't available or you're just looking to switch it up, red wine vinegar is a fantastic alternative. Unlike white vinegar, red wine vinegar offers a richer, more complex flavor profile that can bring a new twist to your pickled onions.
What Vinegars Can Be Used to Make Pickled Red Onions?
Curious about branching out with your vinegar choices? Awesome—let's talk alternatives. We've already discussed apple cider vinegar, so let's get into some other flavorful options:
Red Wine Vinegar: This one packs a robust, fruity punch. It's a winner for dishes with Mediterranean or European flair, offering a richer depth to your onions.

White Wine Vinegar: If you're looking for something a bit more subtle, white wine vinegar is your guy. It gives a light, crisp tang that works wonders in seafood dishes or lighter meals.

Champagne Vinegar: Elegant and delicate, champagne vinegar brings a soft acidity that's great for delicate dishes where you want a more nuanced tanginess.

Rice Vinegar: A staple for Asian cuisine, this vinegar is milder and a touch sweeter. It tones down the bite of the onions, making them more approachable in your stir-frys or sushi rolls.

Sherry Vinegar: A bit nutty and complex, sherry vinegar adds a refined touch. It complements richer, more hearty dishes and offers a complex backdrop for your pickled onions.
Are pickled Red Onions Good for you?
Yes, pickled red onions offer a variety of benefits in addition to their distinct flavor. Red onions are low in calories yet rich in essential nutrients like vitamin C. The pickling process helps in preserving these valuable nutrients.
Vinegar itself carries its own set of advantages, such as aiding in digestion and potentially lowering blood sugar levels.
However, it's worth noting that this recipe does include salt and an optional keto-friendly sweetener. As such, if you're watching your sodium or sugar intake, you'll want to consume them in moderation.
Storing pickled red onions
When it comes to storing your homemade pickled red onions, you've got a couple of options. The fridge is your best friend here. Stored in an airtight container—like a ramekin covered with plastic wrap—your onions will stay crisp and flavorful for up to 2-3 weeks. Just remember to always use a clean utensil to keep things hygienic and prolong their shelf life.
As for freezing, I wouldn't recommend it for pickled onions. The texture is likely to change, becoming mushy once thawed. Plus, the freezing process could potentially dilute the vibrant flavors we worked so hard to achieve.
Are Pickled red onions easy to make?
Absolutely, making pickled red onions is a breeze. This recipe is so straightforward, it's nearly foolproof. You don't need any fancy equipment or complicated techniques—just a ramekin, some basic ingredients, and about 10 minutes of your time. There's no need to even heat anything up; it's as simple as slicing, mixing, and waiting for the magic to happen.
Other Recipes to Pair with Pickled Red Onions:
Looking for more culinary inspiration? These pickled red onions work wonders as a sidekick to a host of dishes. Check these out:
Core Recipes to Build Low Carb or Keto-Friendly Dishes with Pickled Red Onions
Wondering what other main courses could serve as a canvas for your pickled red onions? Here are some core recipes that can be easily transformed into low carb or keto-friendly delights:
There are just so many ways to incorporate this delightful topping. Let your imagination run wild!
Over the last year, I've fallen off the low carb way of eating and I know I'm not the only one. I've gained back over 50lbs and have tried desperately to kick-start myself back into ketosis... but it hasn't worked so far.
It's been a long and painful journey gaining so much weight back. I've learned that restarting low carb is so much harder than I'd ever imagined, but I have a plan that I want to share.
I will be documenting my return to the low carb lifestyle on this site. If you're interested in following along, be sure to subscribe below.
This website provides approximate nutrition data and information for convenience and as a courtesy only.