Create the breakfast you can't wait to wake up to with my spicy Chorizo Egg Skillet recipe. You're going to find layer upon layer of flavor permeating this Southwestern style breakfast. It's also a low carb start to the day and packed full of protein with eggs, chorizo and Cotija cheese.
This Spicy Chorizo Egg Skillet recipe is: Low Carb, Gluten Free and Paleo Friendly.
Spicy Chorizo Egg Skillet
Here's a different approach to a traditional shakshuka. Instead of classic Mediterranean flavors found in shakshuka, we're going to make this with a wonderful Southwestern flair utilizing chorizo, fire roasted tomatoes, chilis and more.
Recently, I was fortunate enough to take a trip to visit my sister in Arizona. While there, I experienced some of the very best southwest and Mexican dishes I've ever encountered. We went to hole-in-the-wall places and experienced some taste sensations.
In my view, the Chorizo Egg Skillet should have just enough spice to make things interesting, but not so much that you start your day off with burning lips and watering eyes. Instead, there's a nice heat from the chorizo, good acid from the tomatoes and a little fat from the eggs. When it all comes together, it's just delightful to eat. To be honest, I love just placing the skillet on the counter and having everyone dig right in. For some reason, it just feels right.
Homemade Chorizo vs. Store Bought Chorizo
So I just posted up a really nice recipe for how to make Homemade Chorizo. I made the recipe simply due to the fact that I don't love most store bought chorizo. Here are the reasons to take a few extra minutes to make homemade chorizo to use in this Chorizo Egg Skillet:
Homemade Chorizo allows you to control the heat.
Homemade Chorizo is less greasy (typically) than store bought.
There are no preservatives or artificial anything in homemade chorizo.
It just tastes better.
When I first made the Chorizo Egg Skillet a couple years ago, I used a tube of chorizo from the store. I thought it would be the consistency of sausage, but it was more like meaty mush coming out of the tube. The flavor was okay but it had so much grease that it saturated two folded paper towels. Nobody wants that. With homemade chorizo, you'll have a consistently delicious outcome every time without the puddles of orange grease.
The Recipe Redux
I posted my chorizo egg skillet recipe as part of the Healthy Food Challenge. This month we worked to create a healthy take on a protein packed breakfast. What better way than with eggs, homemade chorizo, tomatoes, peppers, onions and more. It's so delicious you'll never know it was low carb and good to eat.
Delicious Breakfast Recipes
Looking for some additional inspiration to get your day started? Give some of these recipes a try:
Broccoli Cheddar Frittata
Heavenly Homemade Hash Browns (not low carb)
Sweet Fennel Sausage
True Southern Style Grits (not low carb)
Sausage Stuffed Zucchini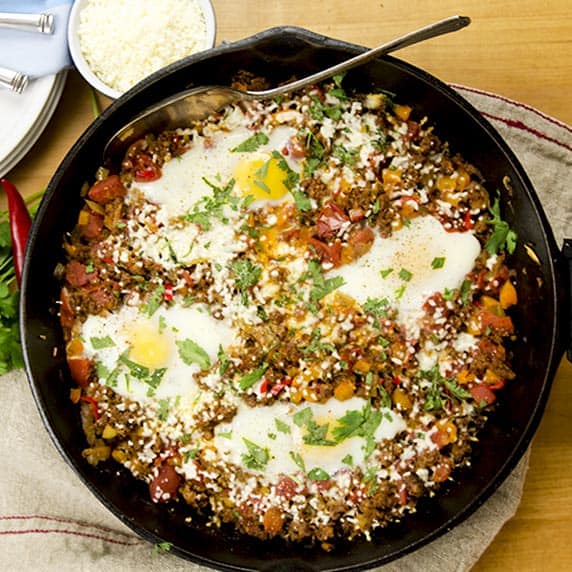 Print Recipe
Spicy Chorizo Egg Skillet
Warm up in the morning with this wonderful spicy egg skillet. Packed with layer upon layer of goodness, you'll wonder where this recipe has been your whole life.
Ingredients
1

LB

Chorizo Sausage

1/2

Spanish Onion

Diced

1

Fresno Chili

Sliced & seeded

1/2

Bell Pepper

Small dice

1

Tablespoon

Olive Oil

1

Can

Fire Roasted Tomatoes

1

Clove

Garlic

Minced

1

Can

Mild Green Chilis

3/4

Cup

Cotija

4

Eggs

2

Tablespoons

Cilantro

1

Teaspoon

Kosher Salt

1/2

Teaspoon

Black Pepper
Instructions
Preheat the oven to 400F.

In a cast iron or other oven-proof skillet, cook the chorizo according to the instructions or until cooked through. Remove from the skillet and set aside.

Add 1 Tablespoon olive oil to the skillet over high heat. Add in the onions and a pinch of salt. Cook for 2-3 minutes or until the begin to turn translucent.

Add in the peppers, Fresno chili (or jalapeno) and garlic along with another pinch of salt. Stir frequently to avoid burning the garlic. Cook for 2-3 more minutes or until the peppers have begun to soften.

Add in the can of mild diced green chilis. Stir to incorporate.

Add in the can of fire roasted tomatoes, remaining salt and pepper. Make sure to include all the juice from the can of tomatoes. Mix well.

Add the cooked chorizo back into the pan. Mix well.

Create 4-6 small wells (depending on the number of eggs you are using) in the chorizo and veggies.

Sprinkle the cotija on top of the chorizo and veggie mix. If you are paleo, omit this step.

Add the eggs to the wells.

Sprinkle the cilantro over top of the dish.

Place the skillet into the oven for 5-7 minutes, or until the eggs are set to the desired temperature.

Serve directly from the skillet. If you have extra cotija around, sprinkle on top and serve hot.
Notes
This recipe serves four to six people. If you need to serve six, make six wells and add in six eggs. If you are serving really hearty eaters, this will serve four as shown in the pictures. Want less heat? Swap out the Fresno Chili for an Anaheim and serve with a dollop of sour cream. Want more heat? Use HOT diced chilis and top with a spicy salsa. Leftovers: The eggs don't like to reheat very well in this recipe... so if you have leftovers I would discard the eggs before storing in the refrigerator. It's really easy to add the eggs back in when you reheat later in the week.
Nutrition
PLEASE NOTE: The nutritional data is provided by NutriFox and may not be 100% accurate. Additionally, there will be less sodium if you use homemade chorizo vs. store bought.