If you love roasted brussels sprouts, give this recipe a try. If you have never had them before… you're going to love them after trying this recipe! We're going to add in some shallots, bacon and garlic to really intensify the flavors.
This roasted brussels sprouts recipe is gluten free, paleo, low carb and tastes so good it should be illegal.
Not all roasted brussels sprouts are equal.
As you know by now, I'm a huge fan of the brussel sprout. I'll tell you a quick story as to why. When I was growing up we ate frozen brussel sprouts that were typically steamed right out of the package. They were gummy and really quite nasty. Then one day I tried a wonderful roasted brussels sprout at a restaurant. It was caramelized to perfection with a wonderful saltiness and that subtle sweetness you can only get from a sprout. I was hooked.
This recipe has a lot of things going for it. First, it is extremely easy to make. Chop, mix and roast. Second, it is so full of complimentary flavors.  These flavors are intensified through the roasting process. The result is that you're going to flip over how good it tastes. My suggestion is to make more than you think you'll need because these aren't going to hang around the table for long.
Oven Roasted Brussel Sprouts
We are going to cook the brussel sprouts in the oven for this recipe. I moved my rack to the second position from the top in the oven. I did this for a couple reasons. First, it is consistently hotter at the top of the oven which will allow for the brussels sprouts to cook more quickly. Second, I want the brussels sprouts to caramelize but do NOT want the shallots to burn. If we move the rack toward the bottom, we'll get a better caramelization on the brussels sprout, but the shallots will most likely burn.
When making oven roasted brussels sprouts, you can turn the heat up to 400 degrees safely, but I kept it at 375 for this recipe. The reason for this is tied to why I put the rack near the top of the oven. I don't want the shallots to burn. If we were cooking these with an ingredient like thick sliced spring onions (which are also delicious with brussel sprouts!), I would roast them at 400 degrees without fearing the onion would burn too quickly.
QUICK COOKING TIP: Don't let these little dudes sit around too long. My wife and I ate a bunch of them right off the sheet pan and they were absolutely and ridiculously delicious. However, I wasn't ready to take the final pictures of them yet (I was in the middle of cooking another recipe) so they sat. I reheated them for the photo shoot and they were still delicious. Then they sat until it was time for dinner and I reheated them again. This time they felt a little tired. The moral of the story: eat them right out of the oven for the best results.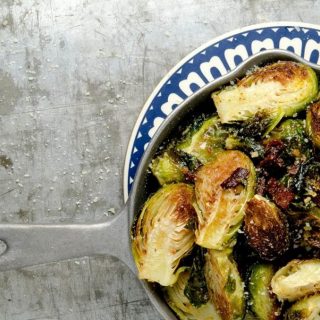 Print Recipe
ROASTED BRUSSELS SPROUTS WITH BACON
This oven roasted brussels sprouts recipe is made with bacon, shallots, garlic and a little bit of love. It is the perfect, full-flavored side dish.Author: Scott G
Ingredients
1

LB

Brussels Sprouts,

trimmed and sliced in half

1

TSP

Kosher Salt

1/2

Shallot,

diced fine (approximately ¼ cup)

2

Strips

Cooked Bacon,

diced fine

1

TSP

Granulated Garlic Powder

3

TBSP

Olive Oil

1

TBSP

Grated Parmesan

(optional, but delicious)
Instructions
Preheat your oven to 375 degrees. Line a rimmed baking sheet with foil.

In a bowl, combine all the ingredients EXCEPT the parmesan (if you are using it). Mix well. You want the oil to really coat the cut side of the sprout.


Lay the brussels sprouts cut-side-down on the baking sheet. Toss the other ingredients onto the sheet as well. If there is some bacon or shallot under some sprouts, don't worry about it.


Roast in the oven for 25 minutes or until soft on the top and caramelized on the cut side.


Serve immediately and enjoy!

Notes
Roasting times may vary based on the size of your brussels sprouts. Expect shorter cook time for smaller sprouts and longer for larger. I've seen HUGE sprouts out there!   Placing the sprout cut-side-down will prevent it from drying out and provide a wonderful caramelization. It is worth the extra 30 seconds it takes to turn them all over.   If you have a lot of green leaves laying around before you start cooking (not the yellow or damaged ones), go ahead and add them into the mixture with the oil. They will be crispy and delicious once they are roasted.
Nutrition