Check out this baked brussel sprouts gratin recipe - it's an amazing low carb side dish for any holiday gathering!
We're going to give a couple options for an amazing gratin crumble that is keto, low carb and gluten-free. No bread, no problem! This recipe has a bunch of yummy ingredients that'll win over even the toughest brussel sprout critics at your next holiday gathering.
The ultimate cozy side dish brings rich, amazing flavor to your holiday feasts.
This baked brussel sprouts recipe is: gluten-free, Low Carb, Keto-Friendly and Sensational.
CREAMY BAKED BRUSSEL SPROUTS WITH MELTY CHEESE
I've said it before and I'll say it again... I love brussels sprouts! At my house they are a staple of our fall and winter diets. It's funny because when I first met my wife she HATED brussel sprouts. I'm not sure exactly how she tried them previously, but it's a safe bet that they were either steamed or boiled.
There are some tricks to make boiled or steamed sprouts taste pretty good... but if you're looking to really make a brussel sprouts statement at the table you're better off trying a different method.
For a real side dish statement, my suggestion is to make baked brussel sprouts au gratin. Particularly if they are dressed up with a divine cream sauce, some yummy bacon and luscious melty cheese. Yes, we are going to make a flavor bomb that everyone will love.
But we're not done there... oh no... we are going to add on some crunchy cauliflower crumbles with a touch of spice, butter and fresh herbs. When everything comes together in that first, scrumptious bite my bet is that you will be thoroughly satisfied.
Keto and Low carb AU GRATIN RECIPE
So the definition of "Au Gratin" is that it is either covered with bread crumbs OR grated cheese which is then browned. If we are to follow this definition it is technically easy to make a gratin... just don't add the bread crumbs. How boring. I give that definition a huge double-thumbs-down.
The bread crumbs add texture, flavor and visual interest to the dish. When you see some crunchy, buttered breadcrumbs your mouth should start to water. They are just delicious.
Substituting gluten free bread isn't the answer as it is not keto or low carb. I'm not a huge fan of gluten free products in general. They are loaded with starches and other ingredients which I don't want to eat. So what is the answer? I have two: grated cauliflower or homemade almond breadcrumbs.
With either choice, your taste buds will never know the difference. We're going to add in some butter, red pepper flakes, fresh thyme along with some salt and pepper. To make sure they brown nicely, we're going to start them in the oven while we are sauteing our brussels sprouts.
Trust me. This is one delicious cheesy baked brussel sprouts recipe.
Are Baked Brussel Sprouts Low Carb or Keto?
Wondering if baked brussel sprouts fit into your low carb or keto lifestyle? Good news – they absolutely do! Brussel sprouts are a fantastic vegetable choice for anyone following a low-carb or ketogenic diet. They are naturally low in carbs yet high in fiber, vitamins, and minerals, making them a nutritious addition to your meals.
When baked, they take on a delightful texture and flavor, perfect for spicing up your diet without the carb overload. So go ahead, include this baked brussel sprouts gratin in your meal plan – it's a delicious, low-carb-conscious choice!
Over the last year, I've fallen off the low carb way of eating and I know I'm not the only one. I've gained back over 50lbs and have tried desperately to kick-start myself back into ketosis... but it hasn't worked so far.
It's been a long and painful journey gaining so much weight back. I've learned that restarting low carb is so much harder than I'd ever imagined, but I have a plan that I want to share.
I will be documenting my return to the low carb lifestyle on this site. If you're interested in following along, be sure to subscribe below.
BAKING BRUSSEL SPROUTS
I've made this recipe a lot. My first couple attempts were not met with success for a number of reasons. First, I needed to learn how to bake brussel sprouts in a cream sauce. In my first couple attempts, I added in the brussel sprouts raw. I found that the brussels sprouts were either undercooked or didn't have enough of a "seasoned" flavor. Bland and hard. Extending the cook time just made a dried out mess.
What I learned is this: when baking brussel sprouts for a savory dish you need to either steam or sautee them first. Steaming the sprouts for five or six minutes (still cut in half) worked great, but the dish didn't have the flavor I wanted. I went back to my favorite method of preparing brussel sprouts... in the saute pan. With this method I was able to add in some much needed seasoning to the sprouts. They also picked up a really nice caramelization, enhancing the overall flavor of the baked brussel sprouts dish.
How to Make Baked Brussel Sprouts Correctly:
Please be sure to combine the cream with the butter before baking. Here's the scoop: if the butter isn't combined with the cream, the dish will be runny. Making a baked brussel sprouts gratin is different than a potato gratin for couple reasons:
There are lots of nooks and crannies with the brussels sprouts. With a potato gratin you can add dollops of butter everywhere and they seem to spread more evenly, combining well with the cream. Not so much with the sprouts.
Potatoes have lots of starch in them. Starch is a natural thickener. Brussels sprouts are non-starchy vegetables. Making the cream sauce before adding it to the dish will allow you to thicken it just a bit in the pan first.
Brussel sprouts need less time to cook. With a potato gratin, slow and low is the rule. With a brussel sprout gratin, that's not the case. Too slow and low will result in a mushy mess. We want to cook them at a reasonable temperature in a reasonable amount of time.
Ok. We've talked a lot about this baked brussel sprouts dish so far. Let's get to the recipe!
Making Baked Brussel Sprouts in your kitchen:
Follow along with me as I highlight some key steps in the process for making baked brussel sprouts.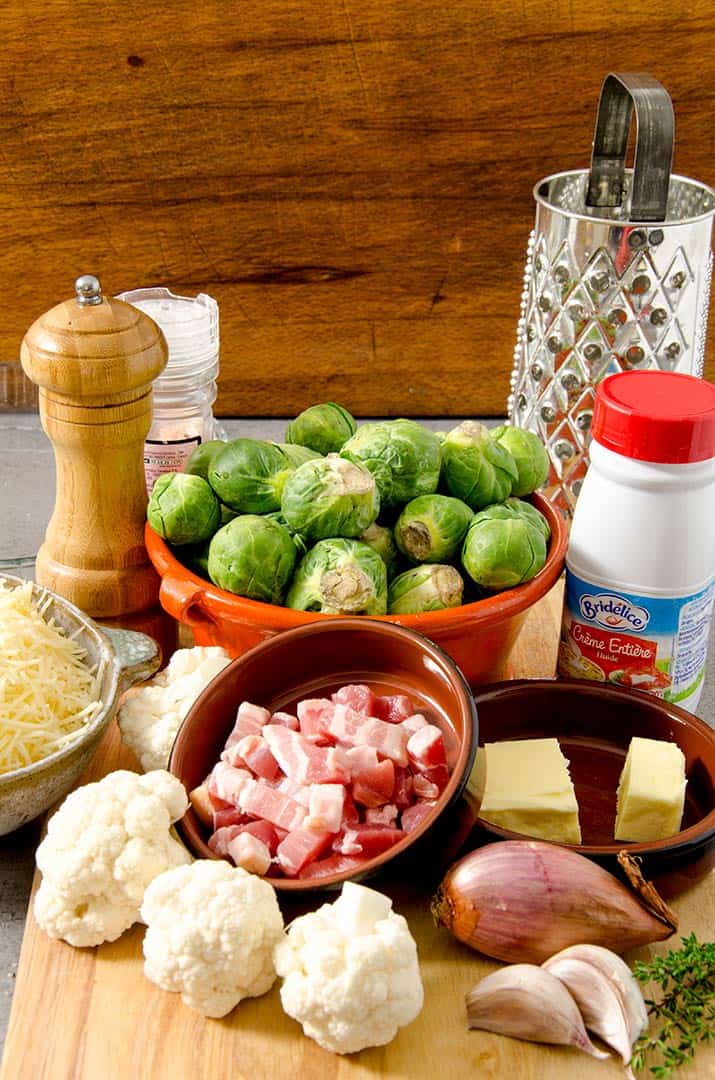 How do you bake brussel sprouts?
To bake brussel sprouts, preheat your oven to 400°F (200°C). After cleaning and trimming the sprouts, slice them in half. Toss with olive oil, salt, and pepper, then lay them on a baking sheet in a single layer for even cooking. This is a different process than we are using in this recipe!
Can baked brussel sprouts be crispy?
Yes, baked brussel sprouts can definitely be crispy. The key is to bake them at a high temperature and make sure they are not overcrowded on the baking sheet, allowing each sprout to crisp up nicely.
How long to bake brussel sprouts?
Bake brussel sprouts for about 20-25 minutes. This duration is usually enough to make them tender inside and crispy on the outside. For even crispiness, consider flipping them halfway through the baking time.
THOUGHTS ON THE BAKED BRUSSEL SPROUTS RECIPE:
You'll find that this recipe goes really well with chicken, pork, beef or even lamb. It works equally well with grilled dishes as it does with slow cooked proteins. It has enough flavor and body to really stand out on the plate.
We recently served this at a dinner party. When people walked into the house they were commenting on how wonderful it smelled. When asked what was cooking, I said "Brussels Sprouts!" Half of our guests were not fans of sprouts. After the first bite, they were reaching for seconds. I love hearing "I've never liked brussel sprouts before... these are delicious!"
How do you like to eat your sprouts? Have any special preparations you'd like to see here on the blog? Let me know... and in the meantime I hope you love this recipe. Happy eating.
This website provides approximate nutrition data and information for convenience and as a courtesy only.