If you're looking to step up your kitchen game, you've got to try this avocado lime dressing. Made with straightforward ingredients like ripe avocado, fresh cilantro, and zesty lime juice, it's an uncomplicated yet flavorful addition to your meals. A splash of coconut milk adds a smooth finish, making it versatile for salads, grilled foods, or even as a dip. Stick around to find out how to whip this up in minutes.
This recipe is GLUTEN FREE, LOW CARB and KETO FRIENDLY.
The Backstory of This Avocado Lime Dressing
I've been whipping up a Mexican salad dressing for years—it's a simple yet zesty mix of lime juice, Chipotle hot sauce, cilantro, and olive oil. It's good, but after having it time and again, my family and I needed a change of pace.
One day, I found myself staring at a ripe avocado and a fresh bunch of cilantro on the kitchen counter. That's when the idea hit me: why not create a dressing that offered something different? Something that had body, richness, and a smooth texture. My usual dressing is more of a vinaigrette… this dressing is thick and delightful.
That's how this avocado lime dressing came to be. What surprised us was its versatility. Beyond salads, it adds a flavor punch to grilled meats like chicken, pork, and fish. We've even served it as a dip at parties, and it's been a hit—thick enough to cling to veggies and chips, yet flavorful enough to stand on its own.
So, if your regular dressing or sauce is starting to feel a bit monotonous, this avocado lime dressing might be the fresh twist you're looking for. It's straightforward to make and adds a new layer of complexity to a variety of dishes.
Is Avocado Lime Dressing Low Carb or Keto?
If you're following a low carb or keto lifestyle, you'll be pleased to know that this avocado lime dressing fits right in. The primary ingredient, avocado, is a low carb favorite known for its healthy fats. Lime juice brings zest without adding significant carbs, and the same goes for cilantro and garlic.
Now, let's talk about that added richness—the coconut milk or heavy cream. Both options are keto-friendly and low in carbs, giving the dressing a luxurious texture without spiking the carb count.
If you're considering the optional jalapeño, rest easy. It adds a hint of heat but is negligible in carbs.
So, to answer the question: Yes, this dressing is both low carb and keto-compatible. It's a flavorful way to keep macros in check while enjoying a diverse range of foods.
The Ingredients and Their Roles
Avocado
The star of the show, avocado brings creaminess and body to the dressing. Its natural fats make the texture incredibly smooth, and it's a low carb staple that adds substance without guilt.
Cilantro
Fresh cilantro lends a vibrant, herbal note that complements the richness of the avocado. It brings complexity without overwhelming the palate.
Lime Juice
The zing of lime juice cuts through the creamy base, balancing the flavors and adding that bright, citrusy kick we all crave.
Garlic
For me, this is the ingredient where a little goes a long way. A single clove adds depth and warmth to the dressing, but sticks to me for a week. If you're not a fan of the strong punch that raw garlic can deliver, consider using roasted garlic. It offers a milder, almost sweet flavor profile that's easier on the taste buds. For this recipe, I've opted for ½ teaspoon of dried, granulated garlic. It is consistent in its flavor profile and not overpowering.
Coconut Milk or Heavy Cream
Whether you choose coconut milk or heavy cream, this ingredient elevates the dressing's texture to something truly luscious. Both are low carb options that add a touch of indulgence without overdoing it.
Salt and Pepper
These two basic seasonings are crucial for enhancing all the other ingredients. Salt brings out the flavors, and pepper adds a little edge.
Optional: Jalapeño
If you're in the mood for heat, a small jalapeño (or even a half) does the trick. Seeds removed, it adds just the right amount of spice without being overpowering. If you don't have jalapeño, and want that spicy kick, use a dash of cayenne or for a smoky flavor: add some ground chipotle.
Each ingredient plays a unique role in making this avocado lime dressing something special.
Cilantro Lime Sauce for Fish Tacos
One of the best parts about this avocado lime dressing? Its incredible adaptability. If you're a fan of fish tacos, you're in luck. This dressing doubles as a phenomenal cilantro lime sauce that pairs exceptionally well with any fish—be it grilled, fried, or baked.
The creaminess of the avocado and coconut milk (or heavy cream) complements the flaky texture of the fish, while the lime juice adds that much-needed zesty kick. The cilantro and garlic round out the flavor profile, making each bite a symphony of tastes. And if you opted for that jalapeño, its subtle heat will give your fish tacos an extra oomph.
So next time you're serving up fish tacos and want something to elevate them from good to unforgettable, look no further. This avocado lime dressing is exactly what is needed. And here's a pro-tip: add some crumbled cotija and pickled red onion… WOW!
Building a low-carb community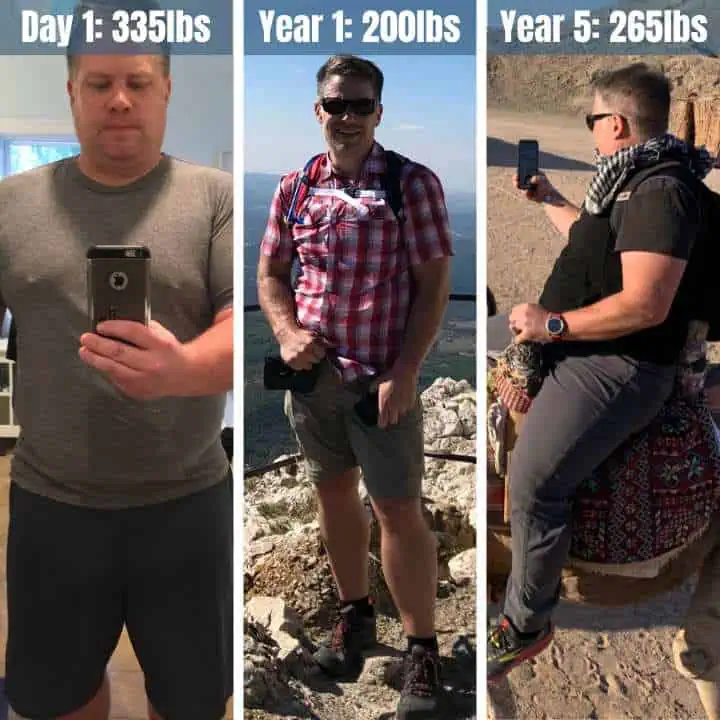 I thought this journey could be done alone. I thought I was strong enough to maintain the weight loss for the rest of my life.
I was wrong.
Subscribe below and keep in touch. Join the conversation. I'm here to support your journey too.
Here are the only updates I'll ever send: New Recipes with Low-Carb Tips. That's it. For updates on my Journey, expanding community etc... please visit my subscriptions page.
Unsubscribe at anytime from anything I send.
How to Make Lime and Avocado Dressing
Start by tossing a pitted and peeled ripe avocado into your blender or food processor. Add in fresh cilantro leaves for that herbal kick. Add the granulated garlic— or roasted garlic if you prefer a milder taste—and throw it in too. Remember, fresh garlic can be added here, but be cautious how much is used to not overpower the dressing.
Squeeze in the juice of one lime for zest and pour in half a cup of full-fat coconut milk or heavy cream for richness. Add salt and pepper to taste. Feeling spicy? Chop a small, seedless jalapeño and include it.
Blend everything until smooth, adjust seasoning if needed, and you're done. This quick and versatile lime and avocado dressing is perfect for salads, grilled meats, and yes, even as a cilantro lime sauce for your fish tacos. Enjoy!
A Visual Guide to Creamy Cilantro Lime Dressing:
In just a few easy steps, we can create this dressing together. It is easy and ready in just a few minutes.
Additions to the Avocado Cilantro Lime Dressing
Greek Yogurt: A dollop of Greek yogurt gives extra tang and thickness, making it ideal as a low-carb dip for veggies.

Smoked Paprika: Add a smoky kick with a pinch of smoked paprika. Excellent as a rub for grilled meats like chicken or pork.

Nutritional Yeast: For a cheesy, umami flavor without the carbs, add some nutritional yeast. This version pairs well with roasted cauliflower or as a cheese substitute in salads.

Sesame Oil: A small amount will give it an Asian flair. Use this variation as a dressing for a cabbage or zucchini noodle salad.

Fresh Basil: For an Italian touch, swap some cilantro for fresh basil. Great for drizzling over a chicken Caprese salad or as a marinade for grilled vegetables.
These additions keep your avocado cilantro lime dressing keto and low-carb friendly while offering new flavor experiences. Feel free to mix and match to find your perfect blend.
Storing the Creamy Cilantro Lime Dressing
Once you've made this creamy cilantro lime dressing, transfer it into an airtight container—glass jars are perfect for this. Store it in the fridge, and aim to use it within a few days. Because it contains avocado, the dressing can brown relatively quickly, so it's best consumed sooner rather than later for maximum freshness and flavor.
For longer storage, consider freezing it. Portion the dressing into ice cube trays and freeze. Once frozen, move the cubes into a zip-top bag for easy access whenever you need a flavor burst. Remember that these need to thaw when you want to use them, so pre-planning is a must.
Also, if this creamy lime dressing is frozen, keep in mind that when it is refreshed it may have a slightly different texture. Avocado tends to have this happen!
While it keeps well when stored properly, remember that fresh is best. The dressing contains perishable ingredients like avocado and lime juice, so for the tastiest experience, consume it within a couple days.
Recipes That Pair Well with My Creamy Avocado Lime Dressing
Keto Taco Salad: I've got to say, this salad is perfect for me on taco night. So many layers of flavor and goodness. Just yes.
Southwestern Salad Bowl: This one's not low-carb, but it is satisfying. A little drizzle of my Avocado Lime Dressing, and it's like a flavor fiesta in your mouth.
Oven Baked Chicken Tenders: These tenders are juicy and perfectly seasoned. Dip them in the Avocado Lime Dressing, and even the kids will be asking for seconds.
Crispy Baked Chicken Wings: I love using my Avocado Lime Dressing as a dip for game day. Trust me, these wings and this dressing are a match made in heaven.
Simple Caprese Salad: Take it from me, a dollop of this creamy, tangy dressing over fresh tomato and mozzarella takes this classic Italian dish to a whole new level.
Get creative and make your own recipe easily. Try this dressing as a marinade over chicken, pork, fish, scallops and more.
Other Salad Dressings You've Got to Try
You've got to check these dressings and sauces out… they are really delicious.
Over the last year, I've fallen off the low carb way of eating and I know I'm not the only one. I've gained back over 50lbs and have tried desperately to kick-start myself back into ketosis... but it hasn't worked so far.
It's been a long and painful journey gaining so much weight back. I've learned that restarting low carb is so much harder than I'd ever imagined, but I have a plan that I want to share.
I will be documenting my return to the low carb lifestyle on this site. If you're interested in following along, be sure to subscribe below.
This website provides approximate nutrition data and information for convenience and as a courtesy only.