There's something incredibly magical about this Hot Bacon Dressing recipe. The moment it drizzles over your salad greens, you know you're not just eating a salad but indulging in a culinary experience. Delightful. It's the kind of dressing that transforms the simplest plate of greens into a symphony of flavors and textures, warm and cozy, yet refreshing all at once.
You may have first encountered a warm bacon vinaigrette drizzled over a classic spinach salad at a high-end restaurant. Guess what? You can recreate it right in your kitchen—and it's easier than you think.
This recipe is GLUTEN FREE, LOW CARB and KETO-FRIENDLY.
The Inspiration behind the recipe
About a decade ago, long before I became a permanent fixture in the French landscape, I was vacationing in the land of wine and cheese. Dining at a Brasserie, I discovered something utterly delightful—a frisée salad drenched in a hot bacon vinaigrette, adorned with massive thick-cut bacon bits and crowned by a perfectly poached egg.
The experience was, in a word, magical. I was so enamored by the dish that I bought a Brasserie cookbook to replicate that warm bacon vinaigrette. Since then, this easy hot bacon dressing has transported me back to that quaint Brasserie with each mouthful.
Fast forward to last night as I was taking pictures of this warm bacon dressing recipe for this post. My mouth was watering as I was drizzling this amazing dressing—perfected over years of tinkering—over a decidedly American-style salad.
The romaine lettuce provided the crisp backbone, while cherry tomatoes, crumbled hard-boiled eggs, and a scattering of blue cheese crumbles added layers of flavor and texture. The result? Absolutely outstanding. Let's move on to the other goodness this recipe deserves.
Is the Hot Bacon Salad Dressing Low Carb or Keto?
Now, you might wonder if this sumptuous Hot Bacon Dressing fits into a low-carb or keto lifestyle. The answer is a resounding yes!
Unlike many store-bought dressings that contain hidden sugars and carbs, this homemade version is both low-carb and keto-friendly. It's made with simple, clean ingredients—most notably, the rendered bacon fat that's naturally low in carbs.
So not only do you get a dressing that's rich in flavor, but you also get one that aligns with your dietary goals. It's like having your cake and eating it, too, but in this case, it's having your simple salad and savoring every delicious, guilt-free bite.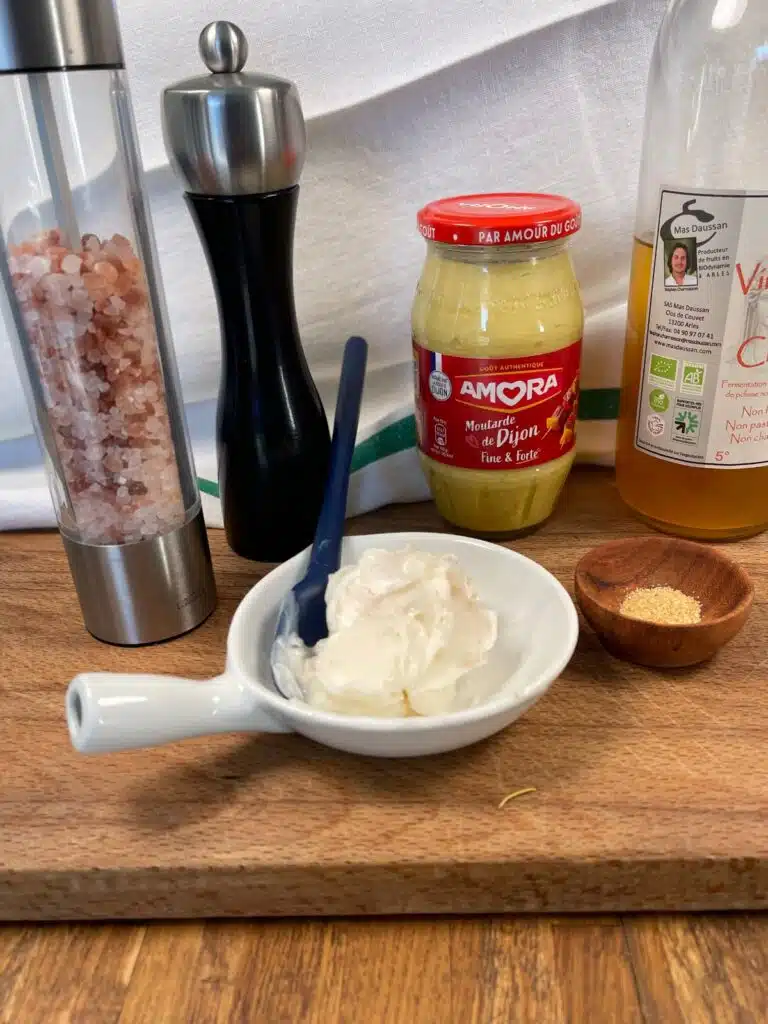 THE INGREDIENTS
For this Hot Bacon Dressing, every element does more than make an appearance—they set the stage for the final act to steal the show.
Rendered Bacon Fat: This isn't just cooking oil; it's liquid gold. Capturing the essence of cooked bacon in its purest form, this fat adds depth, richness, and a touch of smokiness that you can't get from anything else. And remember, we get this glorious substance (sometimes called bacon grease or bacon drippings) from our post on making fantastic bacon bits (crumbles).
Apple Cider Vinegar: To cut through the richness of the bacon fat, you need something tangy. That's where apple cider vinegar comes in. It provides that critical zing that makes the dressing come alive. You can substitute with red wine vinegar or even white wine vinegar, but I like apple cider the best.
Dijon Mustard: Ah, the French touch. Dijon brings a smooth, sophisticated sharpness that melds seamlessly with the other ingredients.
Garlic: A classic for a reason. Just a little garlic gives our dressing that aromatic kick that takes it to the next level. I use garlic powder rather than fresh garlic. For some reason, it just works better for this recipe.
Salt and Black Pepper: Essential for highlighting all the other flavors. Sometimes, the basics are the crucial part. DO NOT USE SEA SALT! The residual water could make it pop in the warm bacon grease!
Optional Add-ins: If you want to add a touch of sweetness without the carbs, consider a keto-friendly sweetener. Or perhaps a dash of smoked paprika for an extra layer of smokiness.
Each ingredient contributes its unique qualities to make a salad dressing that's comforting yet surprisingly sophisticated. So, gather your ingredients, and let's make some magic happen!
How to Make the Warm Bacon Vinaigrette Dressing
If this is your first time making this dressing, rest assured that it is a straightforward process. The key is heat control. Start by heating your small saucepan or skillet over medium heat, and add in your rendered bacon fat. You'll want this fat to be just between warm and hot... but nowhere near smoking; the aim is to have the bacon drippings fully liquefied.
Meanwhile, in a medium bowl, whisk together the rest of the ingredients, including the apple cider vinegar, Dijon mustard, garlic, and any optional add-ins you desire. This is your vinegar mix, which will give your dressing its tangy kick.
Once your bacon fat is warm/hot, reduce the skillet to low heat, allowing the bacon drippings to cool slightly. This is crucial because adding the vinegar mix to hot fat can cause it to splatter if the heat is too high. Slowly add the vinegar to the hot fat, whisking continuously to emulsify the ingredients into a harmonious blend. Taste and adjust the seasoning with salt and pepper as needed.
The result is a warm bacon vinaigrette that pays homage to the one that inspired it at my French Brasserie but also fits perfectly within a low-carb or keto diet. So grab those ingredients and make a new comfort food.
Building a low-carb community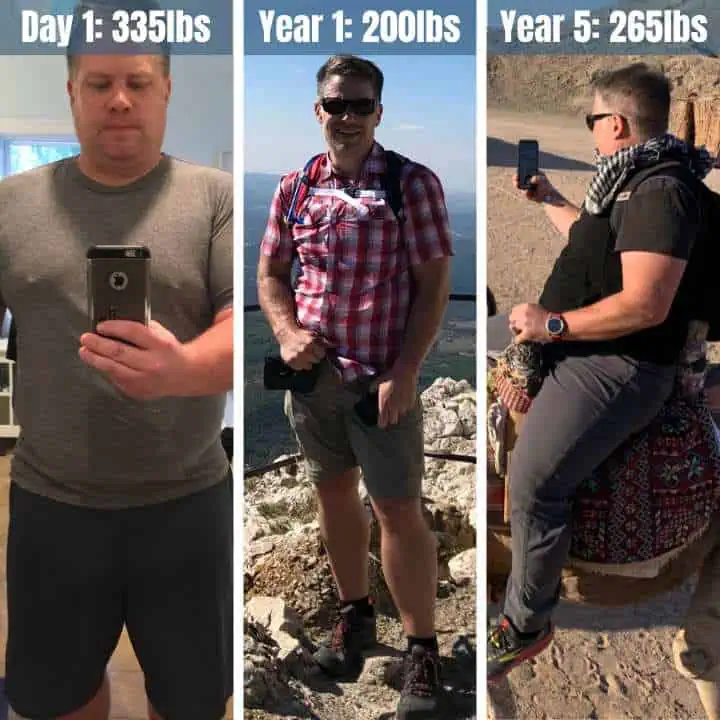 I thought this journey could be done alone. I thought I was strong enough to maintain the weight loss for the rest of my life.
I was wrong.
Subscribe below and keep in touch. Join the conversation. I'm here to support your journey too.
Here are the only updates I'll ever send: New Recipes with Low-Carb Tips. That's it. For updates on my Journey, expanding community etc... please visit my subscriptions page.
Unsubscribe at anytime from anything I send.
How to Make Rendered Bacon Fat (Bacon Grease or Bacon Drippings)
Making your own rendered bacon fat is a simple process that adds immense flavor to various recipes, including our star of the show—warm bacon vinaigrette. Start by taking slices of bacon and chopping them into small pieces. The smaller the better, as they'll render out more fat.
Place a large skillet on the stovetop and set it to medium-high heat. Add your chopped bacon into the skillet and begin cooking. As the bacon cooks, it releases its fat, turning it into a liquid form. Keep an eye on it; the process is quick.
Once the bacon is crispy and you see a decent amount of liquid fat in the skillet, reduce the heat to low. This will stop the cooking process and allow the bacon bits to settle to the bottom of the pan, making it easier to separate the solid bits from the liquid fat.
Using a fine-mesh sieve or a slotted spoon, carefully strain out the bacon bits, reserving the rendered fat. Store the rendered bacon fat in a separate container for future use. And be sure to visit my Amazing Bacon Bits recipe for an easy way to kick up the flavor from outstanding to unbelievable!
Tips for Mastering This Dressing
What If It Separates?
Don't sweat it if your hot bacon dressing starts to separate. It happens! The fat can sometimes split from the vinegar mix, especially if stored for a bit. To fix this, give it a vigorous whisk or shake in a jar. If you're dealing with a more stubborn separation, a quick buzz in a blender will bring it back together.
About Reheating
So you've noticed the dressing starts to solidify when left to cool or stored in the fridge? Yep, that's the bacon fat doing its thing. To return your dressing to its liquid glory, gently reheat it over low heat on the stovetop, whisking occasionally.
Storage Know-How
This dressing is too good to waste, so if there is any leftover dressing, store it in an airtight container in the fridge. The bacon fat will cause it to solidify a bit, but don't worry—that's totally normal. Follow the reheating tips above, and it'll be as good as new. Stored properly, it should last up to a week in the fridge.
Culinary Journey Through Pictures
If you're a visual learner like me or love a good foodie photo journey, then you're in for a treat. This section will guide you through each pivotal step of creating our irresistible hot bacon dressing, from rendering that golden bacon fat to whisking together the vinegary goodness that makes this dressing a game-changer; it's all here.
These step-by-step pictures will ensure you nail the recipe every time, taking the guesswork out of the process. So sit back and feast your eyes—then get ready to feast for real!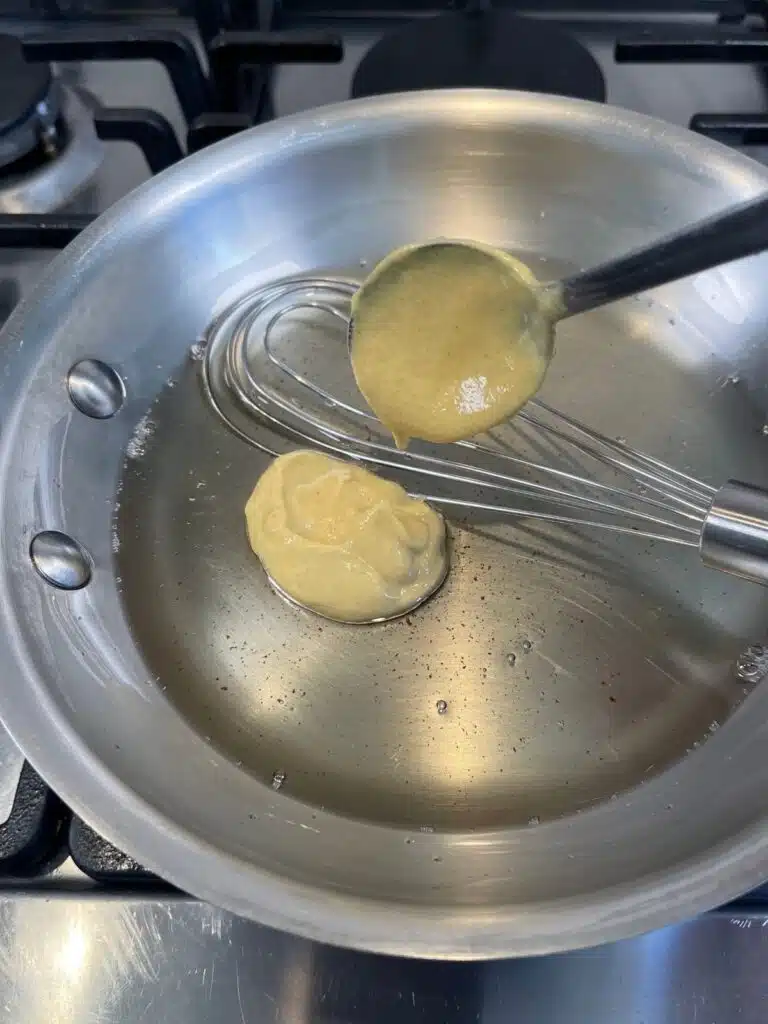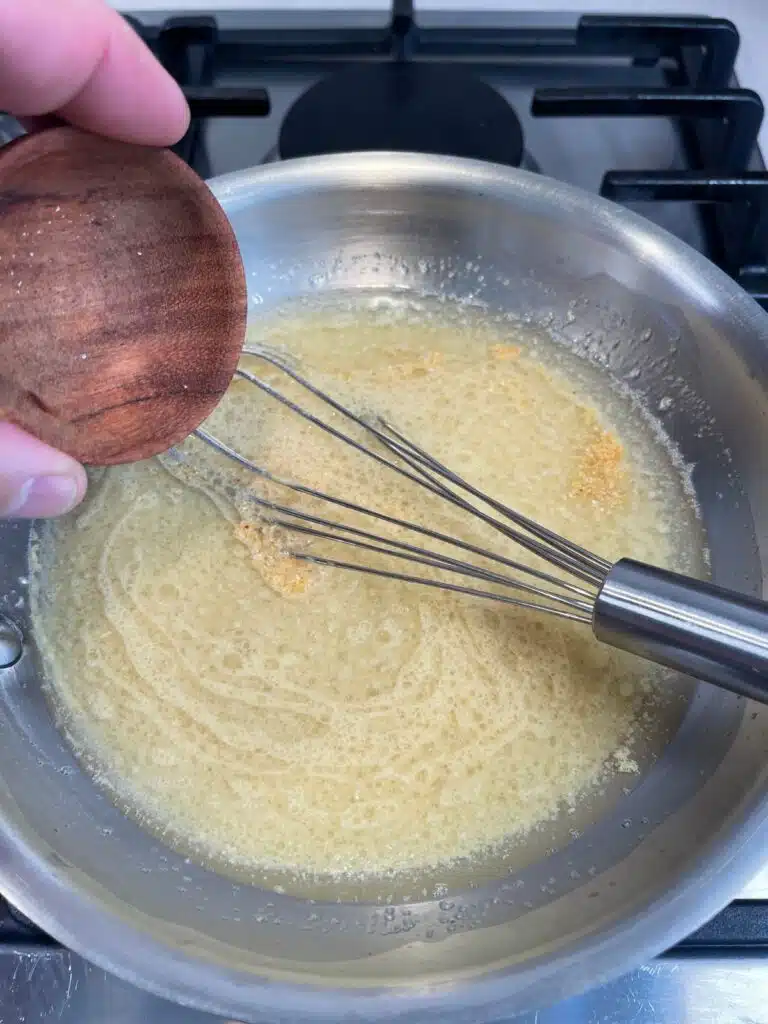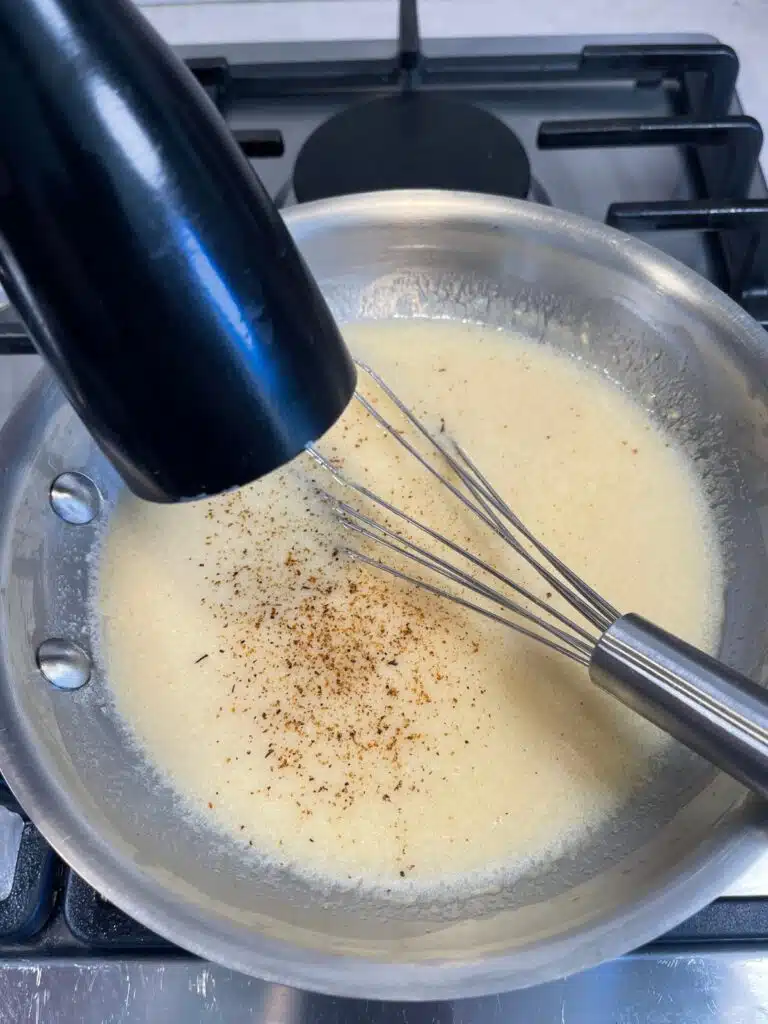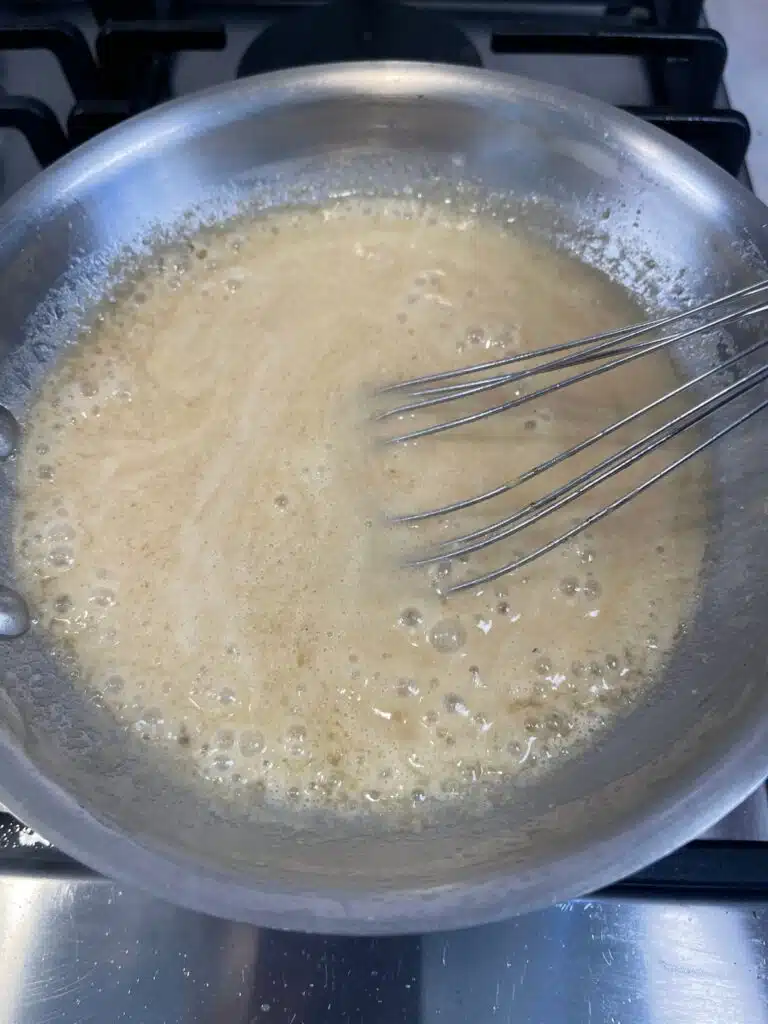 Dishes That Love This Hot Bacon Vinaigrette Dressing
Look, this dressing is a showstopper—there's no two ways about it. But it shines when it's paired with the right dishes. Here are some absolute winners that this dressing takes from zero to hero.
Ah, the French know their way around a salad, don't they? Drizzle this hot bacon dressing over a bowl of frisée lettuce adorned with those amazing bacon bits and a poached egg, and you're basically in a Parisian brasserie. Transportive is an understatement.
French Green Beans (haricot verts)
Think green beans are boring? Think again. A little splash of this dressing, and you've got yourself a side dish that's stealing the limelight.
​Brussels sprouts can be a love-'em-or-hate-them-kind of thing, but trust me—add some of this hot bacon dressing, and even the skeptics will be asking for seconds.
Simple Spinach Salad
This dressing and baby spinach are a match made in culinary heaven. A handful of walnuts, a sprinkle of goat cheese, and you've got yourself a salad that's anything but basic.
Iceberg Lettuce or Romaine
Who said iceberg lettuce is only good for wedge salads? A pour of this hot bacon dressing is like you've elevated this crunchy green to gourmet status.
Bottom line: This hot bacon vinaigrette dressing isn't just versatile. It's transformative. It's the kind of dressing that makes any savory dish stand out.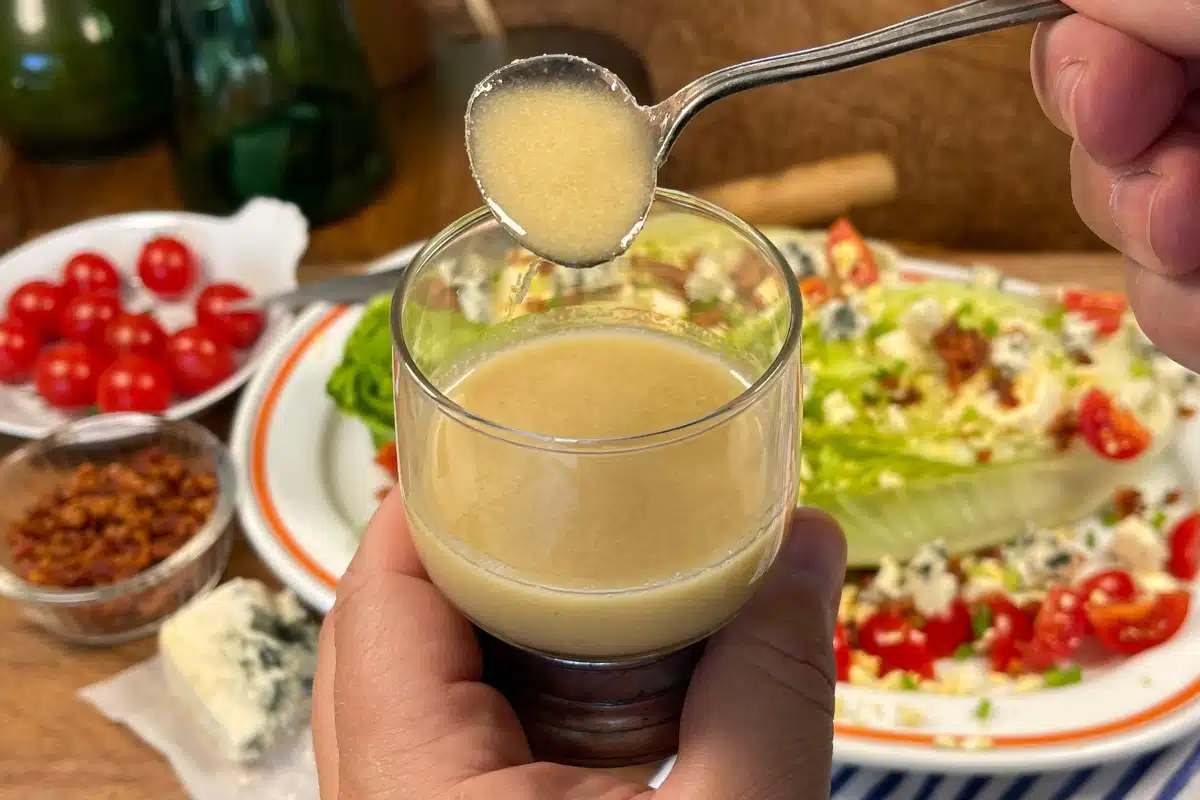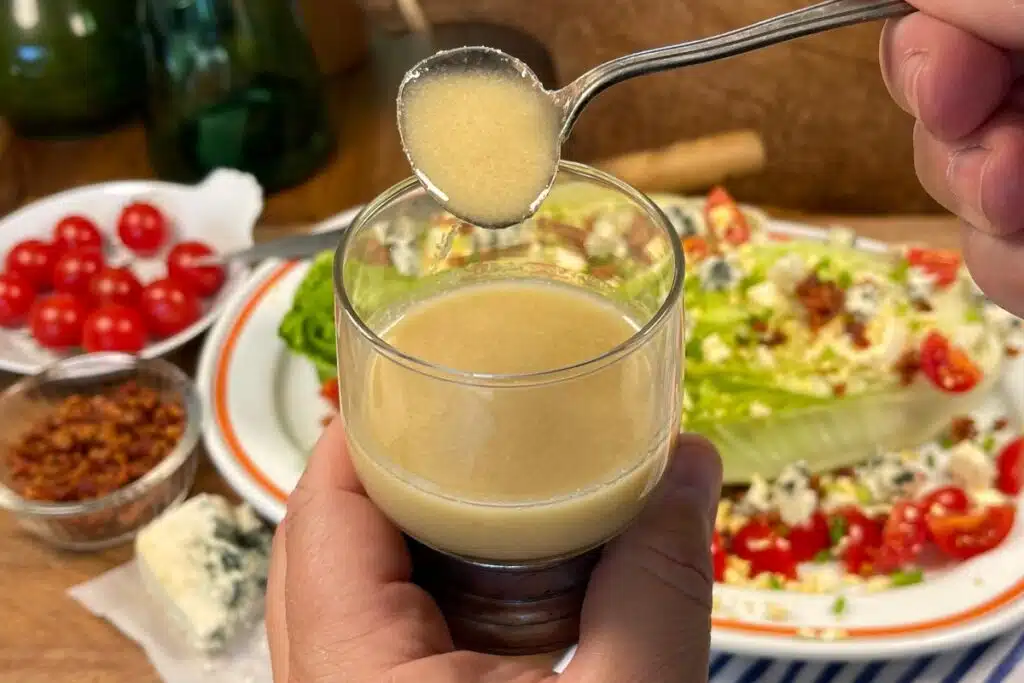 If You Love This Hot Bacon Dressing, Try My Other Salad Dressing Recipes!
If this hot bacon dressing has you doing a happy dance, I have a couple more dressing recipes that will make your taste buds sing. Trust me, these aren't your run-of-the-mill bottled dressings; we're talking homemade magic here.
Craving that tangy, rich, and creamy goodness that only blue cheese can deliver? Then you've got to try my Homemade Blue Cheese Dressing. It's a decadent mix of crumbled blue cheese, buttermilk, and a few other simple ingredients that come together to create something truly memorable. Perfect for my Ultimate Iceberg Wedge Salad recipe or as a killer dip.
Creamy Avocado Lime Cilantro Dressing
If you're in the mood for something a bit lighter but still packed with flavor, then my Creamy Avocado Lime Cilantro Dressing is calling your name. Imagine the creamy texture of ripe avocados blended with the zesty kick of lime and the aromatic punch of fresh cilantro. It's a Tex-Mex salad's dream come true!
Creamy Garlic Parmesan Wing Sauce
Okay, so you might be thinking, "Wing sauce as a salad dressing? Really?" Heck yeah! My Creamy Garlic Parmesan Wing Sauce isn't just for dousing wings (although fantastic for that, too). This sauce is so versatile it can pull double duty as a salad dressing. Imagine the intense garlicky goodness, the nutty Parmesan, and the velvety creaminess all drizzled over fresh greens. You'll be wondering why you didn't try it sooner. And speaking of wings—this sauce is a game-changer. It turns your average grilled wing recipe into something extraordinary.
From classic vinaigrettes to creamy wonders, these dressings are must-tries that will seriously level up your kitchen game. Why settle for store-bought when you can create something far more flavorful at home?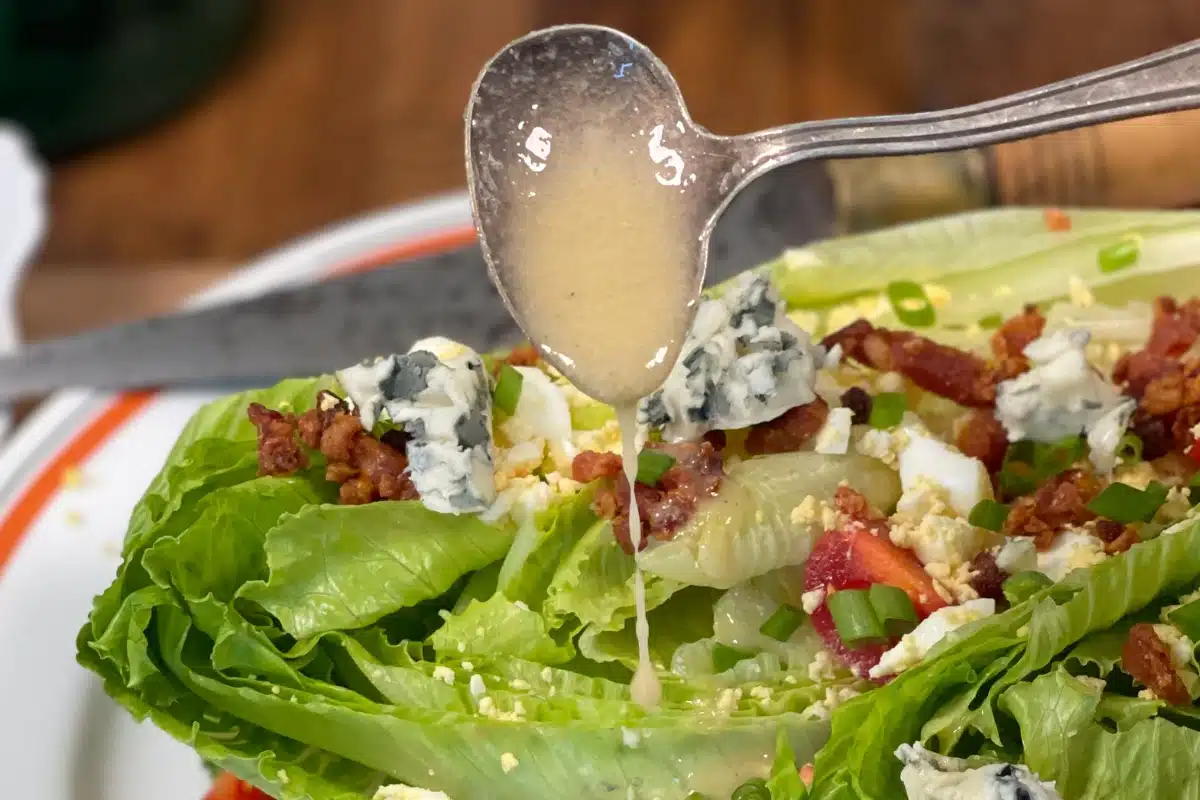 Over the last year, I've fallen off the low carb way of eating and I know I'm not the only one. I've gained back over 50lbs and have tried desperately to kick-start myself back into ketosis... but it hasn't worked so far.
It's been a long and painful journey gaining so much weight back. I've learned that restarting low carb is so much harder than I'd ever imagined, but I have a plan that I want to share.
I will be documenting my return to the low carb lifestyle on this site. If you're interested in following along, be sure to subscribe below.
This website provides approximate nutrition data and information for convenience and as a courtesy only.