There's something almost magical about homemade tomato sauce—the rich aroma of San Marzano tomatoes simmering on the stove, the heady scent of fresh basil filling the kitchen, and that subtle kick from a sprinkle of red pepper flakes. These are more than just ingredients; they're transformative elements that elevate your favorite Italian recipes from good to Italian Grandma level.
Welcome to the culinary journey of creating a homemade tomato sauce that will become the heart and soul of your Italian cooking.
This recipe is Low Carb, Keto, Vegetarian and Gluten Free.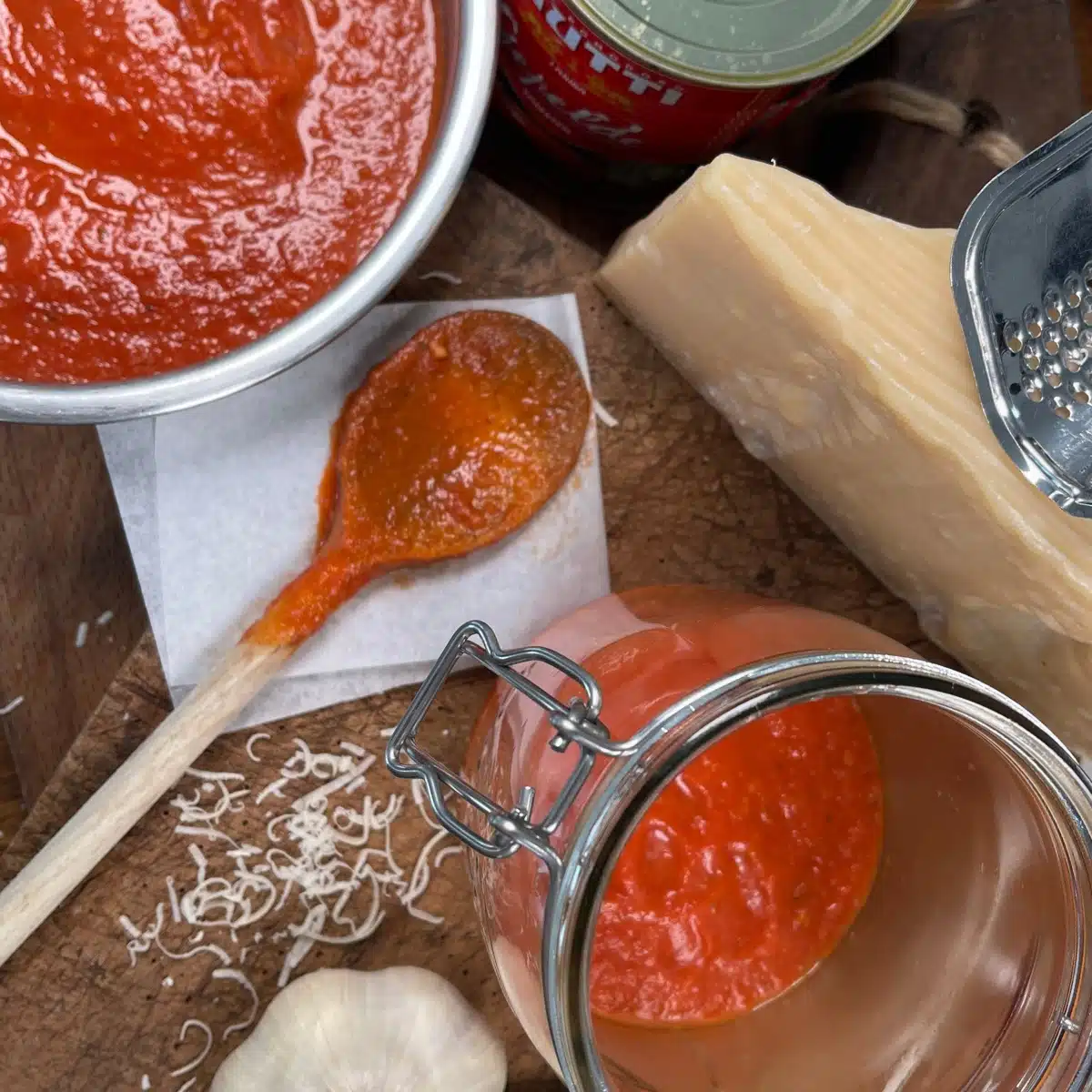 Inspiration for this Homemade Tomato Sauce recipe
If you've ever found yourself staring at the rows of store-bought tomato sauces in the grocery store, wondering why it's so hard to find one without added sugar, preservatives, or a laundry list of ingredients you can't pronounce, you're not alone. That very frustration served as the starting point for this homemade marinara sauce.
I was on a mission to create the best tomato sauce recipe that was not only sugar-free but also an easy recipe anyone could make at home. I needed a basic tomato sauce that, in just a few simple steps, would be fantastic for pasta dishes, homemade pizza, baked ziti and more. I was on a mission to create a sauce that was delicious to eat and utilized only a handful of high-quality ingredients. No fillers, no artificial nonsense, just the natural goodness of tomatoes and the aromatic flair of fresh herbs.
This recipe embodies a combination of many attempts to make an easy homemade tomato sauce. I put in the hard work for each element, from the kind of tomatoes (fresh tomatoes, canned tomatoes, plum tomatoes, cherry tomatoes and more!) to capturing the essence of what a great sauce should be: smooth, flavorful, and versatile. Whether you're choosing to eat low carb or keto doesn't matter... this recipe is for anyone who appreciates real, honest food. This easy sauce has so much flavor and is designed to impress without anyone stressing in the kitchen.
Is this Homemade Tomato Sauce Low Carb or Keto?
The answer is easy peasy: Yes, it is! One of the hidden ingredients in traditional, store bought tomato sauces that can derail a low-carb or keto lifestyle is sugar. Not in this recipe. The reason, aside from those listed above, that I believe this is the best homemade tomato sauce is the simple fact that there is NO SUGAR NEEDED. We will keep the rich, deep flavors intact, thanks to the natural sweet flavor of high-quality tomatoes and aromatic spices.
You might be wondering if skipping the sugar really makes a big difference. Absolutely. Besides cutting down on unnecessary carbs, the absence of added sugar allows the true flavors of the tomatoes and fresh basil to shine through. This creates a sauce that not only complements but elevates whatever dish you add it to.
Going keto or sticking to a low carb lifestyle doesn't mean compromising on taste. This batch of fresh tomato sauce is proof of that.
What are the ingredients and equipment needed for this recipe?
Ingredients:
2 lb can of tomatoes (preferably San Marzano): These tomatoes are renowned for their rich flavor and velvety texture, making them a top choice for authentic Italian cooking.

1 small white onion, finely diced: The onion adds a layer of natural sweetness and complexity to the sauce.

2-3 garlic cloves, minced: Garlic provides a robust, aromatic punch that complements the sweetness of the tomatoes.

2 tablespoon extra virgin olive oil: This oil serves as the base of your sauce, imparting a rich, fruity aroma and smooth texture.

Handful of fresh basil leaves: Fresh basil offers aromatic notes and a hint of peppery sweetness to the sauce. If you choose, dried oregano adds depth and that classic Italian flavor profile.

Salt to taste: Self-explanatory—season to your own liking!

Optional: red pepper flakes: For those who like a bit of heat, these add a subtle but noticeable kick.
Equipment:
A large saucepan or Dutch oven
Wooden spoon for stirring
Cutting board and sharp knife for prepping veggies
Can opener for the tomatoes
Measuring cup for the olive oil
Recommended: immersion blender, blender, food mill or food processor if you prefer a smooth sauce.
Armed with this list, you're all set to create a tomato sauce that'll not only elevate your Italian dishes but also be in harmony with your health goals.
Let's Talk About Missing Ingredients...
You may have noticed some classic ingredients missing from our list, and there are good reasons for each omission. Let's dive into it.
Fresh Tomatoes: Ah, the allure of fresh, ripe tomatoes—whether they're Roma tomatoes, plum, or even cherry tomatoes—can be tempting. But let's look at this from the perspective of time and effort; skinning tomatoes is a chore. Also, the quality of summer tomatoes vs. winter tomatoes is astounding. Even the best tomatoes in the winter are bound to be mealy and water logged. On the other hand, canned tomatoes, particularly high-quality San Marzano ones, offer consistent flavor and texture year-round without the labor-intensive prep work. They also have a lower acitidy point and less water content, making for a rich, savory sauce.

Tomato Paste: Often added to deepen the flavor profile, tomato paste comes with a caveat—it can add a lot of acidity to the sauce. This is usually balanced out with sugar, which we're intentionally avoiding in this low carb and keto-friendly recipe.

Red Wine: While red wine can enhance the sauce's richness, it also adds extra carbs and sugars. Plus, the wine's flavors can sometimes overpower the natural goodness of the tomatoes and basil, so we've chosen to keep things simple and let those key ingredients shine on their own. Keep in mind that when the wine cooks down, it adds residual acitidy to the sauce... another reason so many sauces have sugar as an ingredient to balance out this high-acid liquid.
Building a low-carb community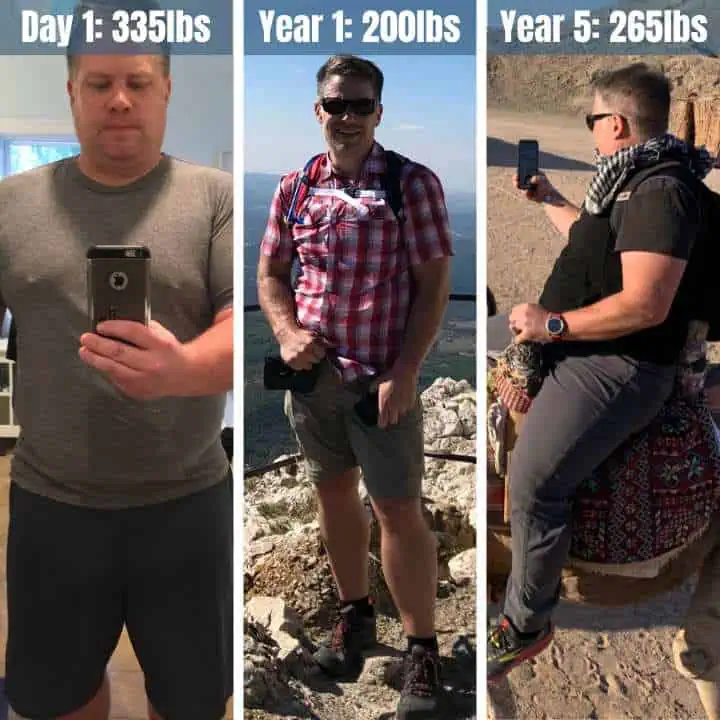 I thought this journey could be done alone. I thought I was strong enough to maintain the weight loss for the rest of my life.
I was wrong.
Subscribe below and keep in touch. Join the conversation. I'm here to support your journey too.
Here are the only updates I'll ever send: New Recipes with Low-Carb Tips. That's it. For updates on my Journey, expanding community etc... please visit my subscriptions page.
Unsubscribe at anytime from anything I send.
How to make homemade tomato sauce
First things first, let's get those ingredients prepped to start the cooking process. Dice your onions, mince a couple to a few cloves of garlic, and have your torn basil leaves ready to go. Now, fire up your stovetop to medium-high heat and pour those 2 tablespoons of olive oil into a saucepan. Toss in your diced onions and let them cook until they're soft and translucent, which should take about 5 minutes.
Next up, stir in your garlic. After it's had a couple of minutes to mingle with the onions, you'll want to dial back the heat to low. Time for the star of the show: those glorious canned tomatoes. Dump them into the pan, juice and all, and break them down a bit with a wooden or slotted spoon.
Seasoning is key, so sprinkle in some salt to taste. Cover the pan and let the sauce simmer on low for about 30-40 minutes. This is where the magic happens—the flavors meld and your kitchen smells like an Italian grandmother's.
Near the end of the simmering time, toss in those fresh, torn basil leaves. If you prefer a smoother texture, this is the moment to whip out your immersion blender and carefully blend the sauce to your liking.
Last but not least, give it a taste test. Need more salt? Add it. For best results, and if you're feeling a little daring, this is when you could stir in some optional red pepper flakes.
Voila! You've got yourself a Italian tomato sauce that not only tastes amazing right off the stove, but even better the next day when those flavors have had time to get to know each other even better.
Culinary Journey Through Pictures
For a foolproof cooking experience, make sure to follow the step-by-step instructions illustrated in these photos. These process shots designed to make every stage of creating your fresh homemade tomato sauce as straightforward as possible.
Whether you're dicing onions, simmering the sauce, or making final adjustments with a sprinkle of red pepper flakes, these pictures will serve as your visual guide to this simple recipe.
Storage, Freezing and Reheating this Homemade Sauce
So you've made this amazing homemade tomato sauce, and it's so good you're considering saving some for another culinary adventure—smart move! Let's dive into how to properly store, freeze, and reheat it.
Storage:
Once the sauce has cooled down a bit—it usually takes about 30-45 minutes—transfer it to an airtight container and stash it in the fridge. The sauce keeps well for up to a week. This gives you ample time to plot out those future Italian feasts!
Freezing:
Got more sauce than immediate plans? No worries! Portion it into Ziploc bags or freezer-safe containers and chuck it into the freezer. It should hold up nicely for up to three months. Remember to leave a little room in the container for expansion as the sauce freezes. This is particularly important for plastic containers as they may break in the freezer without any headspace.
Reheating:
The best way to reheat your frozen sauce is a little advanced planning. Just move it from the freezer to the fridge the night before to thaw. Reheat it in a saucepan over low heat, stirring occasionally. If you stored it in the fridge, a brief stint on the stovetop will get it back to its warm, comforting self.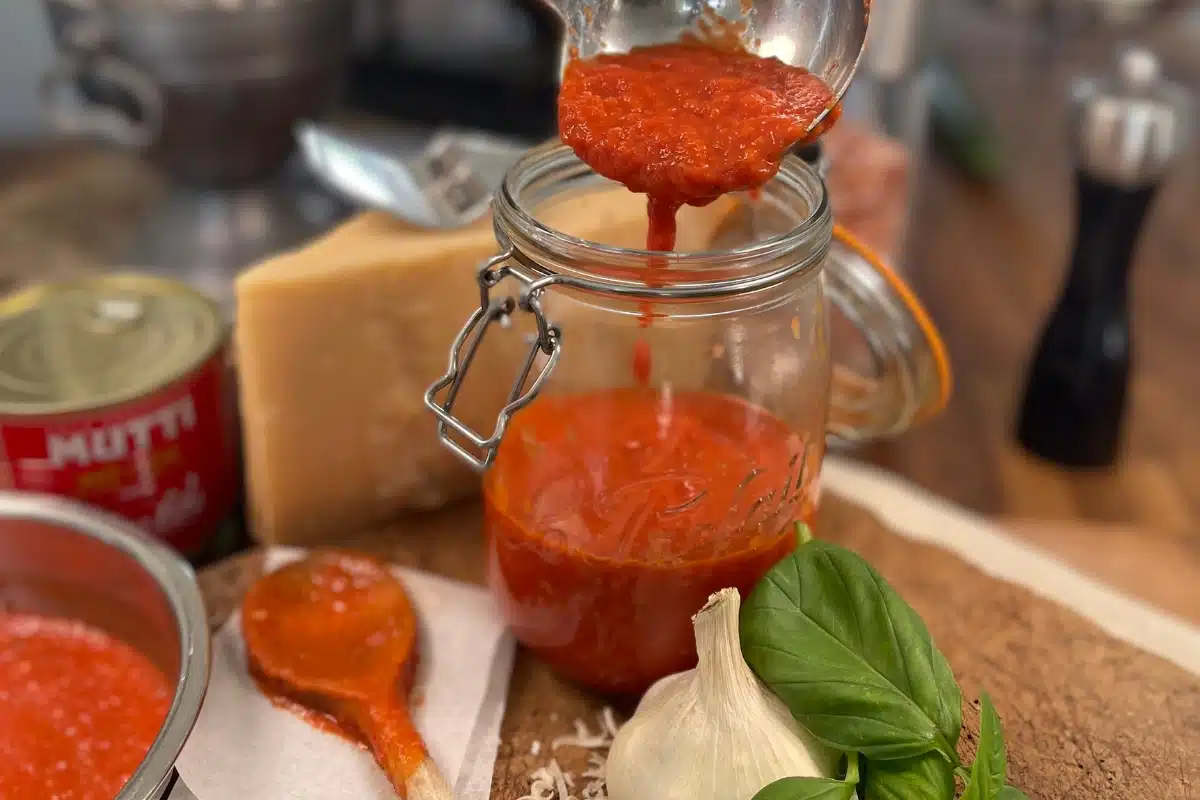 What This Sauce Would Love to Be Used With
A sauce this good deserves to shine in as many recipes as possible. Whether you're craving something classic or looking to shake things up a bit, here are some killer pairings where this luscious red sauce shines:
This fresh sauce is practically begging to be layered between slices of tender eggplant and gooey cheese in our Keto Eggplant Lasagna recipe. Trust us; the melding flavors will have you loving the concept of leftovers for lunch!
Got some of those Keto Cheesy Breadsticks on hand? This homemade tomato sauce turns into an irresistible dipping sauce that's a match made in heaven with that cheesy goodness.
Last but not least, let's talk meatballs. Our Low Carb Meatball recipe is just begging to be simmered in this sauce. It's a classic combo that, quite frankly, never gets old.
Over the last year, I've fallen off the low carb way of eating and I know I'm not the only one. I've gained back over 50lbs and have tried desperately to kick-start myself back into ketosis... but it hasn't worked so far.
It's been a long and painful journey gaining so much weight back. I've learned that restarting low carb is so much harder than I'd ever imagined, but I have a plan that I want to share.
I will be documenting my return to the low carb lifestyle on this site. If you're interested in following along, be sure to subscribe below.
This website provides approximate nutrition data and information for convenience and as a courtesy only.