Happiness is a dry riesling and my tandoori style grilled chicken recipe at the same table. I love how the high acidity and fruit forward wine cuts through the richness of the tandoori style chicken. You'll love it too. Give this recipe a try. It is so easy to make and tastes just incredible.
This Tandoori Style Grilled Chicken recipe is: Low Carb and Gluten Free.
Tandoori Style Grilled Chicken Legs
Before leaving for France, I was turned onto tandoori chicken at a restaurant in Cleveland. It was so good that I had to get it again. And again. There's just something about it which is addicting to my palate.
While we were living in France, I was playing around with different ways to make tandoori style chicken without an actual tandoori oven. Well, the grill is as close as I could come to the tandoori… so that's how this recipe was born.
We're going to use greek yogurt as the base for the marinade and load it up with wonderful spices. Keep in mind that it doesn't actually take 2 hours to make this recipe, but that is how long we are going to leave the legs in the marinade. If you want, load them into the marinade in the morning before leaving for work and they will be good to go when you get home!
How to make Tandoori Style Grilled Chicken
It couldn't be easier to make tandoori style grilled chicken. Here are the steps:
Combine greek yogurt, grated ginger, paprika, fresh garlic, ground cumin, turmeric, cayenne powder, salt and olive oil together in a large bowl.
Place your chicken legs or thighs into the marinade, mix well to cover all the chicken.
Allow to marinate for at least 2 hours.
Preheat your grill for 10 minutes on high heat.
Cook the legs for 10 minutes on one side. Flip and repeat for another 10 minutes.
Remove the chicken legs from the grill to a platter.
Sprinkle with cilantro and some fresh squeezed lime.
Enjoy!
Chicken Recipes
If you love the look of my tandoori style grilled chicken, then you should definitely check out some of my other fantabulous chicken recipes:
The Best Damn Pesto Chicken Wings
Scrumptious Chicken Saltimbocca
Gluten Free Chicken Cordon Bleu
Cheese & Herb Stuffed Chicken Breasts
Fantastic Baked Chicken Leg Quarters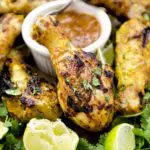 Print Recipe
Tandoori Style Grilled Chicken
Whether you use thighs or legs, this recipe won't disappoint. We're going to use the grill in the place of a tandoori oven, but have no fear- it is going to be delicious!
Ingredients
10

Chicken Legs

1

Cup

Plain Greek Yogurt

1

Tablespoon

Fresh Ginger

Grated

1

Tablespoon

Paprika

1

Tablespoon

Garlic

Minced

1

Tablespoon

Ground Cumin

1

Teaspoon

Turmeric

1/2

Teaspoon

Cayenne

2

Teaspoons

Coarse Salt

1

Tablespoon

Olive Oil

2

Tabelspoons

Cilantro

Chopped

1

Lime

Cut in wedges
Instructions
Measure out the dry spices, garlic and ginger.

Combine with the plain yogurt and olive oil.

Add in the chicken legs to the yogurt mixture. Coat well and allow to marinate for 2 hours.

Turn your gas grill to high and allow to heat for 10 minutes.

Add the marinated chicken to the grill and either spoon any remaining marinade over the chicken or discard.

Cook for 10 minutes on one side. Flip and cook an additional 10 minutes or until the internal temperature of 175F is achieved.

Remove from the grill and add to a platter with lime wedges and cilantro.
Notes
For this recipe, you're going to want to take the temperature to 175F for one reason only: the texture of the chicken. The chicken leg will be cooked at 165F, but will be a bit stringy. Take it another 10 degrees (or even 15 degrees) to firm up the chicken a little bit.   To reheat, either place back on a warm grill for 10 minutes or place on a rimmed baking sheet, cover with foil and reheat at 375F for 15 minutes. 
Nutrition
PLEASE NOTE: The nutritional data is provided by NutriFox and may not be 100% accurate.