Say hello to your new favorite dinner dish: our keto eggplant Parmesan. Picture this: roasted eggplant slices, perfectly coated in a mix of almond flour and coconut flour, smothered in savory marinara, and topped off with melty mozzarella and sharp Parmesan cheese. This isn't just food; it's an experience. Plus, it's an easy recipe that keeps you cruising on your low carb journey without missing a beat.
This recipe is low carb, keto and gluten free.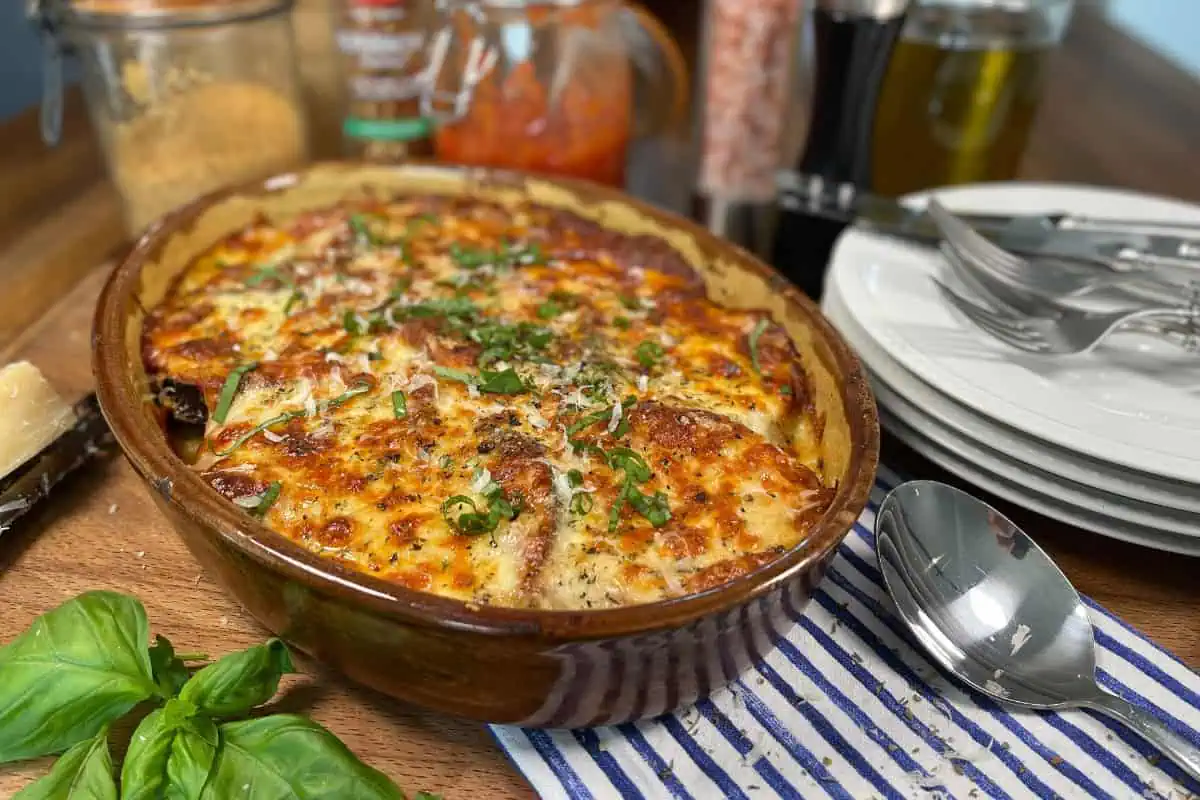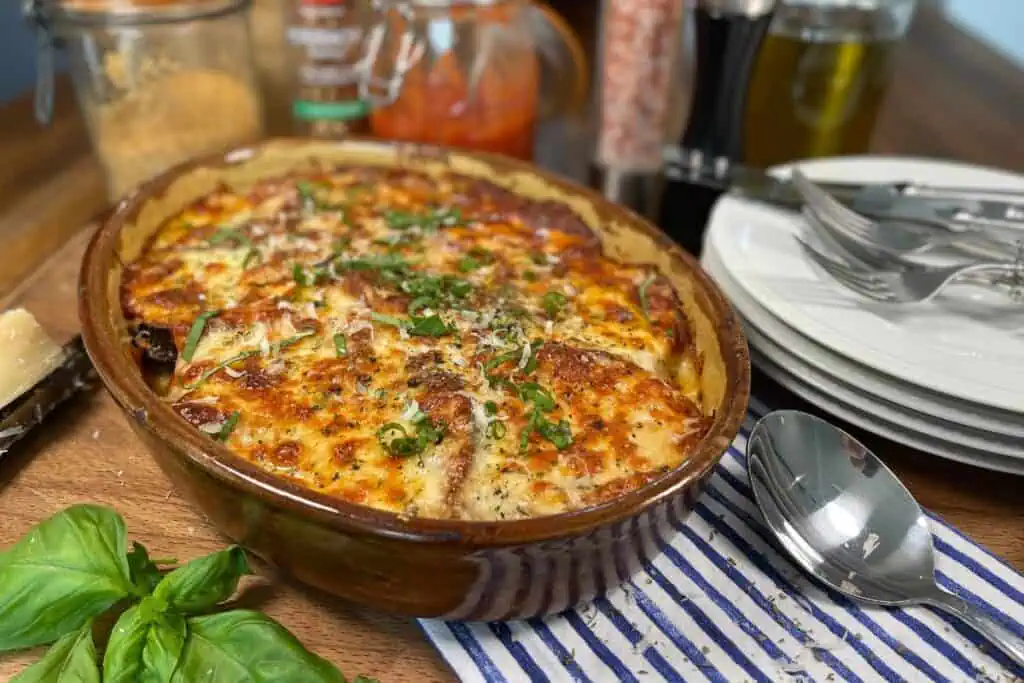 Inspiration for this Keto Eggplant Parmesan Recipe
About a year ago, I whipped up an eggplant Parmesan dish for a gathering with friends. I soaked the eggplant slices in olive oil, sautéed them to perfection, and then lovingly layered them into what I thought would be an epic creation. Don't get me wrong, it was delish—rich and flavorful in every sense. But it was also dense and lacking that certain "oomph" you get from breaded eggplant slices.
Since then, I've been experimenting and perfected the keto-friendly "breadcrumb" mixture. That's when the lightbulb went off.
What if I took my original eggplant parmesan recipe and dialed it up a notch with the crunch and herbs? Enter my keto breadcrumb mixture—a game-changing blend of almond and coconut flours that brings that much-needed texture into the mix. The result? Breaded, baked eggplant slices elevate this dish from just good to knock-your-socks-off great.
This recipe made a repeat appearance for my friends... and they agreed it is so much better than the original. Enjoy!
Is Eggplant Parmesan Keto? And What About Gluten-Free?
Is eggplant Parmesan keto? Good question! The answer really depends on how you make it. Traditional versions of this Italian favorite often feature breadcrumbs, which can easily kick you out of ketosis. But this recipe with breadcrumbs made from almond and coconut flour is not just tasty; it's keto-friendly.
The big win? This recipe has an estimated 6-8 net carbs per serving (dependent on serving size), allowing you to indulge while still nailing your carb goals for the day.
But hey, what if you're also on the hunt for gluten-free options? You're in luck. Our breadcrumb alternative is naturally gluten-free, so whether you're dodging gluten due to sensitivity, Celiac disease, or just personal preference, this recipe checks that box, too. In short, whether you're keto, low carb, gluten-free, or a combo of these, this dish is your golden ticket to a satisfying meal without the guilt.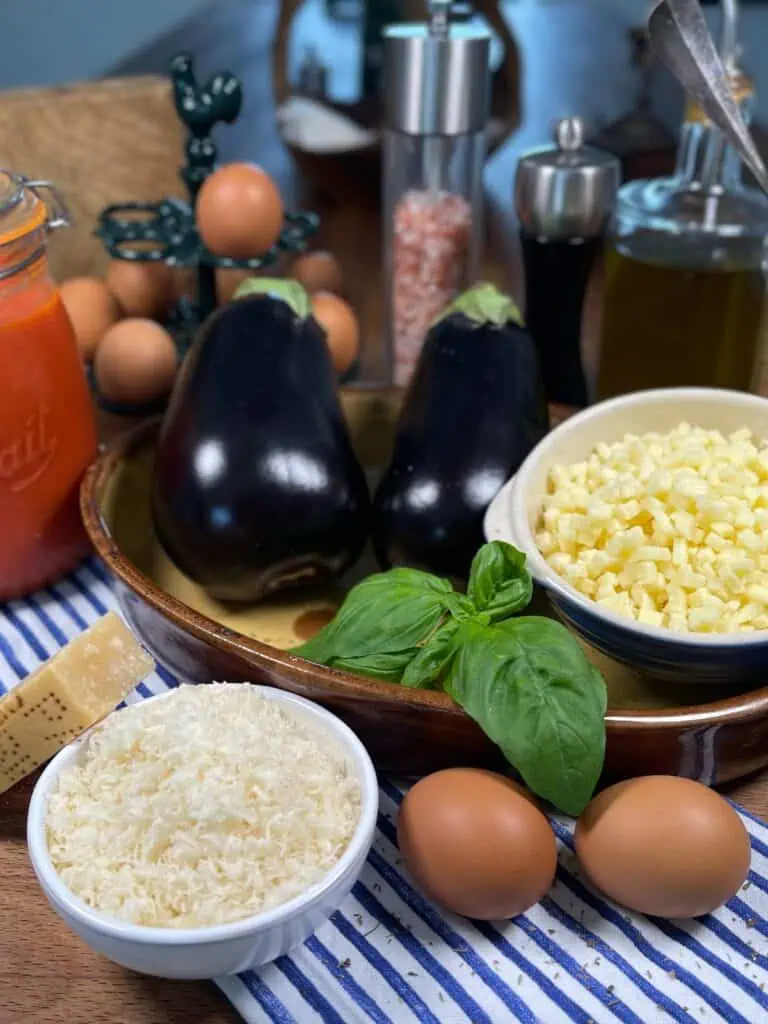 The Ingredients for Keto Eggplant Parmesan
Before we dive into the "how-to," let's talk about the "what." Knowing your ingredients and why they're in the recipe can make a world of difference in both cooking and eating. So, let's break down what goes into this scrumptious keto eggplant Parmesan:
Medium Eggplants: The main attraction, serving as a hearty, flavor-absorbing base. Small eggplants won't be enough to layer and large eggplants might have too many seeds and a higher water content.
Keto Breadcrumbs (or Almond and Coconut Flours): For that breaded texture we crave, without the carb guilt. Using the breadcrumb mixture adds true depth of flavor.
Beaten Eggs: The glue that holds the breadcrumbs to the eggplant.
Marinara Sauce (Sugar-Free): Adds a lush tomatoey layer while staying keto-friendly. Try either my Homemade Tomato Sauce recipe or Marinara Sauce with Pepperoni... heck yes.
Shredded Mozzarella Cheese: For that irresistible, gooey cheese everyone wants to have with this traditional dish.
Grated Parmesan Cheese: Adds a sharp, nutty kick that rounds out the flavors.
Fresh Basil: For garnish and a pop of herbal freshness.
Olive Oil: For drizzling, adding a touch of richness.
Dried Herbs: A blend of oregano, basil, garlic powder, and optional red pepper flakes to spice things up.
Alright, now that we've got our all-star lineup ready, let's get into the nitty-gritty of putting this bad boy together.
How to make Keto Eggplant Parmesan
Fire up that oven to 400°F and get a baking sheet ready with parchment paper. Season your eggplant slices with a little salt to prep them for the flavors that are about to come. Mix together some almond flour and a bouquet of dried herbs to create a keto-friendly breading that's full of taste.
After a quick dip in beaten eggs, coat the slices and lay 'em out on the baking sheet. A drizzle of olive oil and about 20 minutes in the oven will have them golden and ready for layering.
Grab a baking dish and start building—marinara sauce on the bottom, followed by your herbed eggplant slices, and then a sprinkle of mozzarella and Parmesan cheese. Once you're all layered up, pile on the remaining cheese... and pop it into the oven until that top layer turns into an irresistibly cheesy wonder.
Don't forget a garnish of fresh basil and a drizzle of olive oil to seal the deal.
Building a low-carb community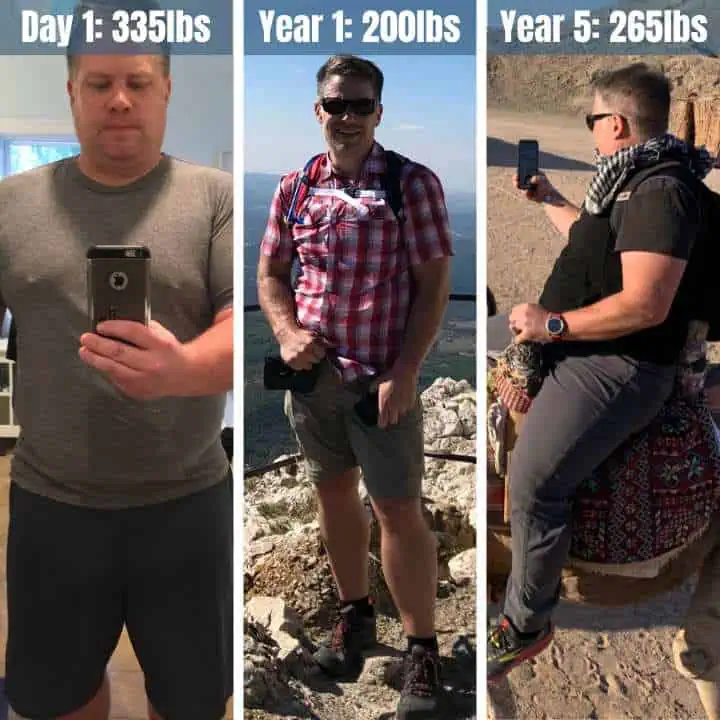 I thought this journey could be done alone. I thought I was strong enough to maintain the weight loss for the rest of my life.
I was wrong.
Subscribe below and keep in touch. Join the conversation. I'm here to support your journey too.
Here are the only updates I'll ever send: New Recipes with Low-Carb Tips. That's it. For updates on my Journey, expanding community etc... please visit my subscriptions page.
Unsubscribe at anytime from anything I send.
Culinary Journey Through Pictures
If you're a visual learner or just enjoy a good foodie snapshot, you're in for a treat. This section takes you through the making of this keto eggplant parmesan with step-by-step photos. From seasoning to layering to that glorious, cheesy crust—see it all come together in vivid detail.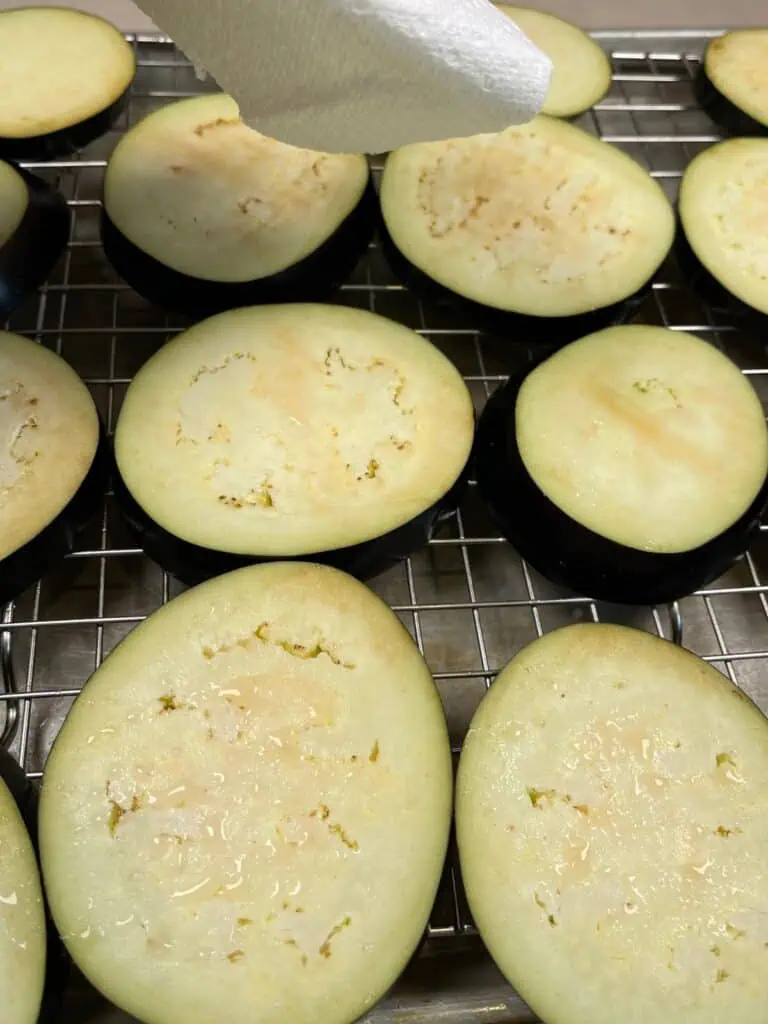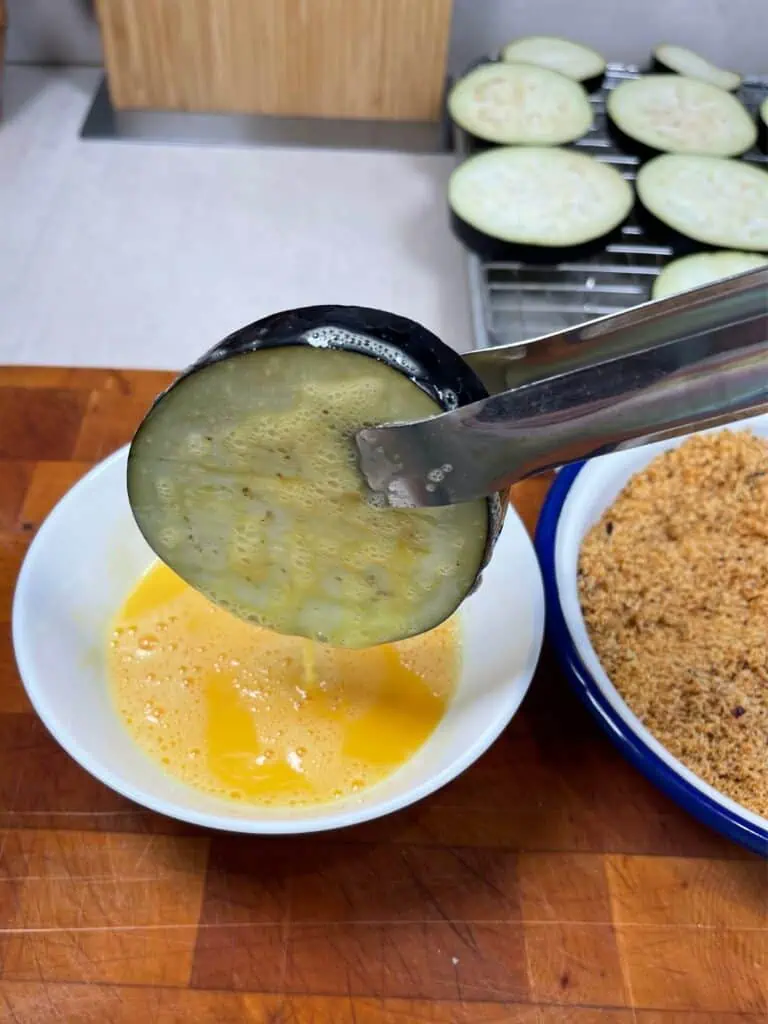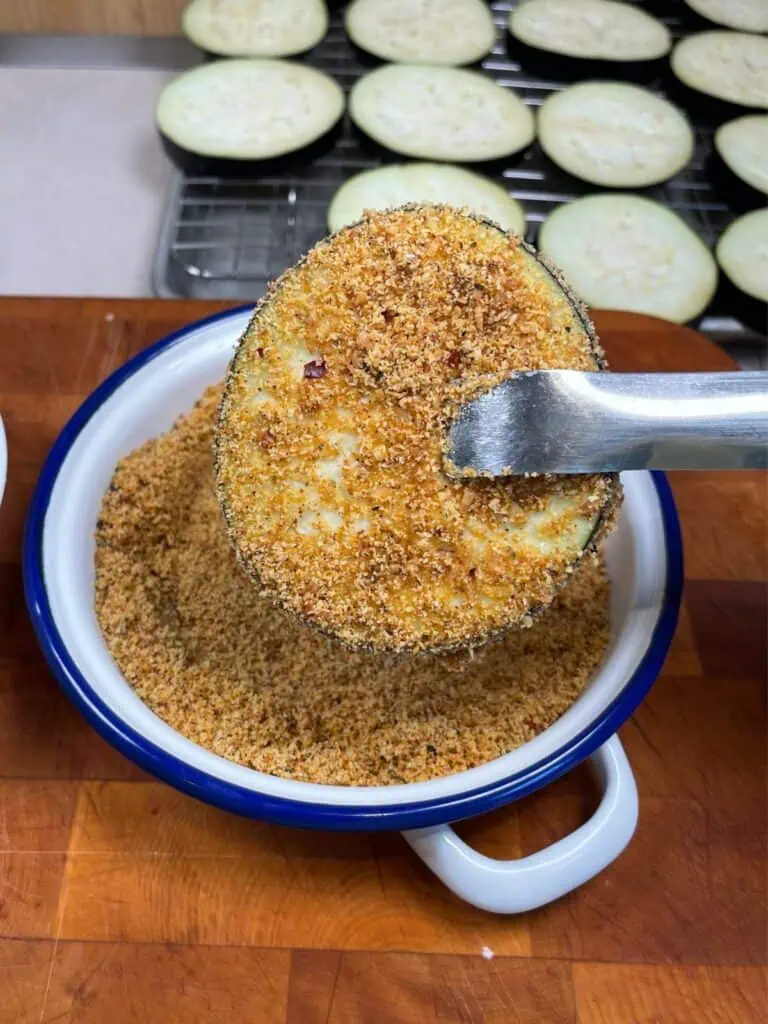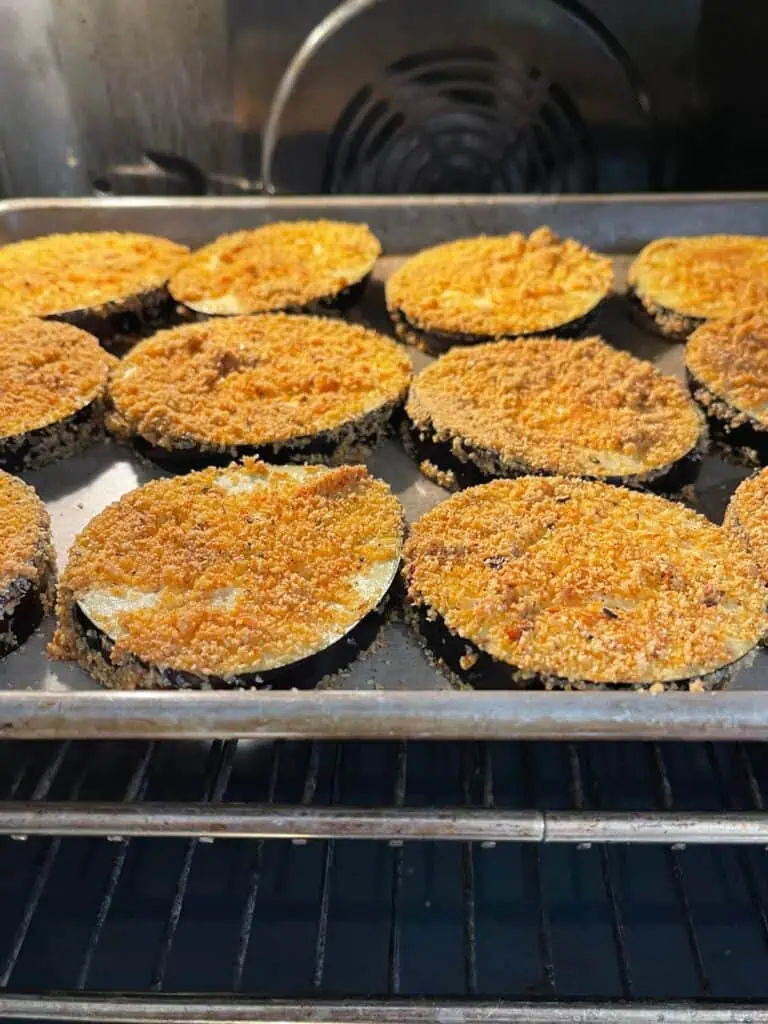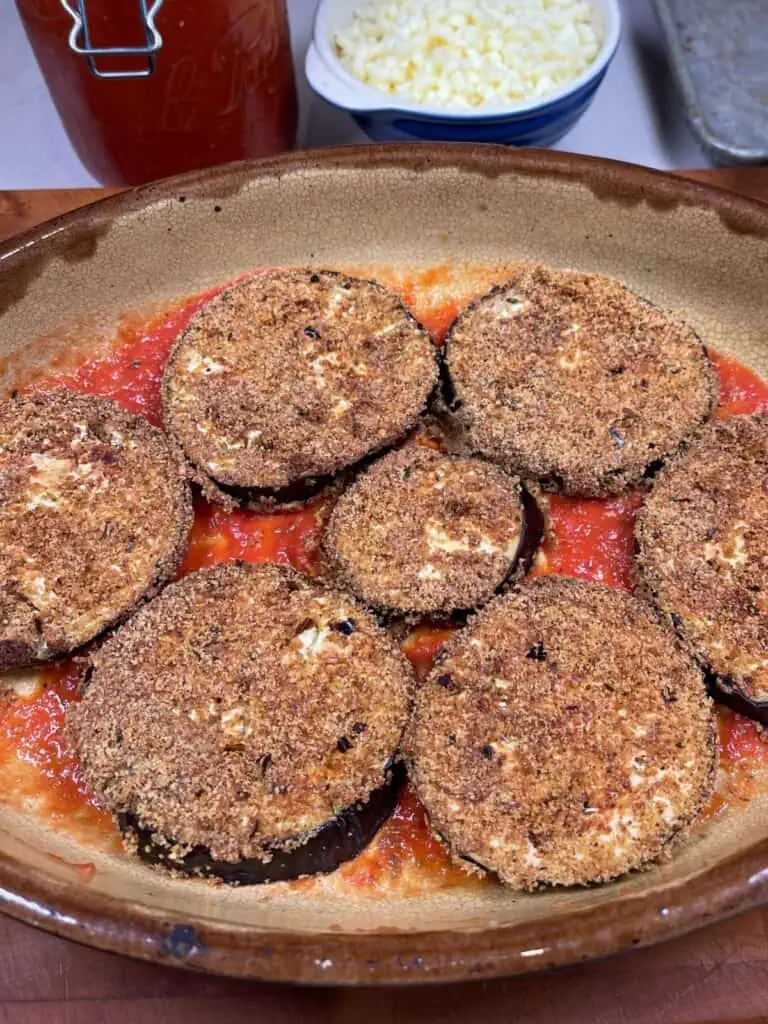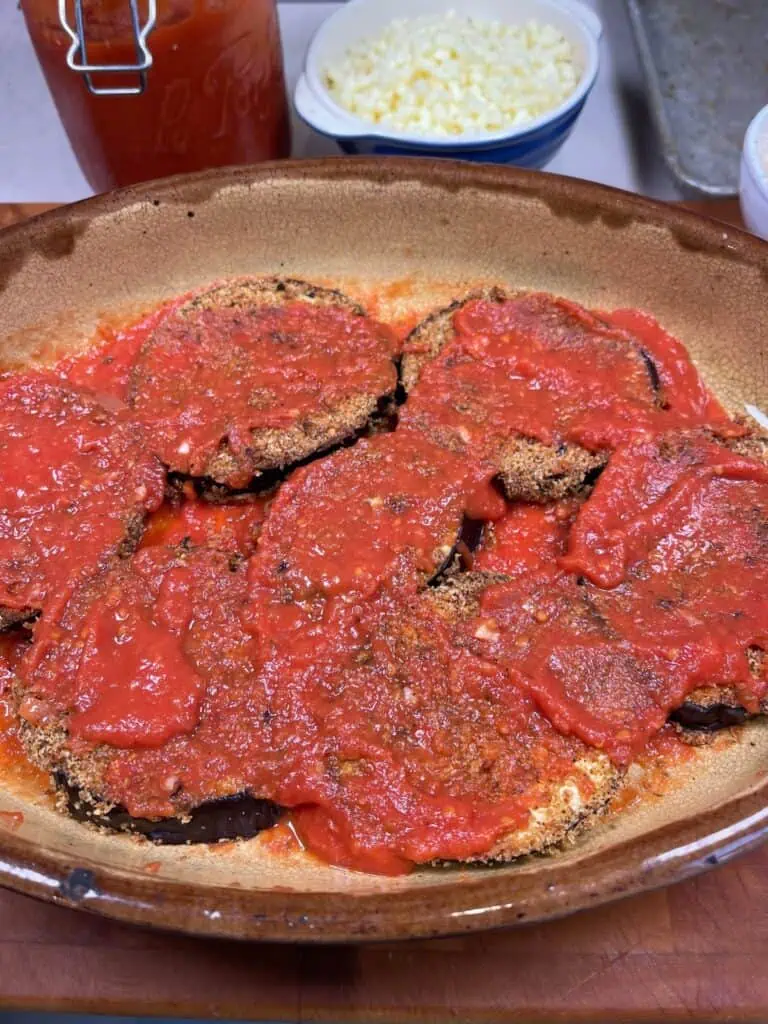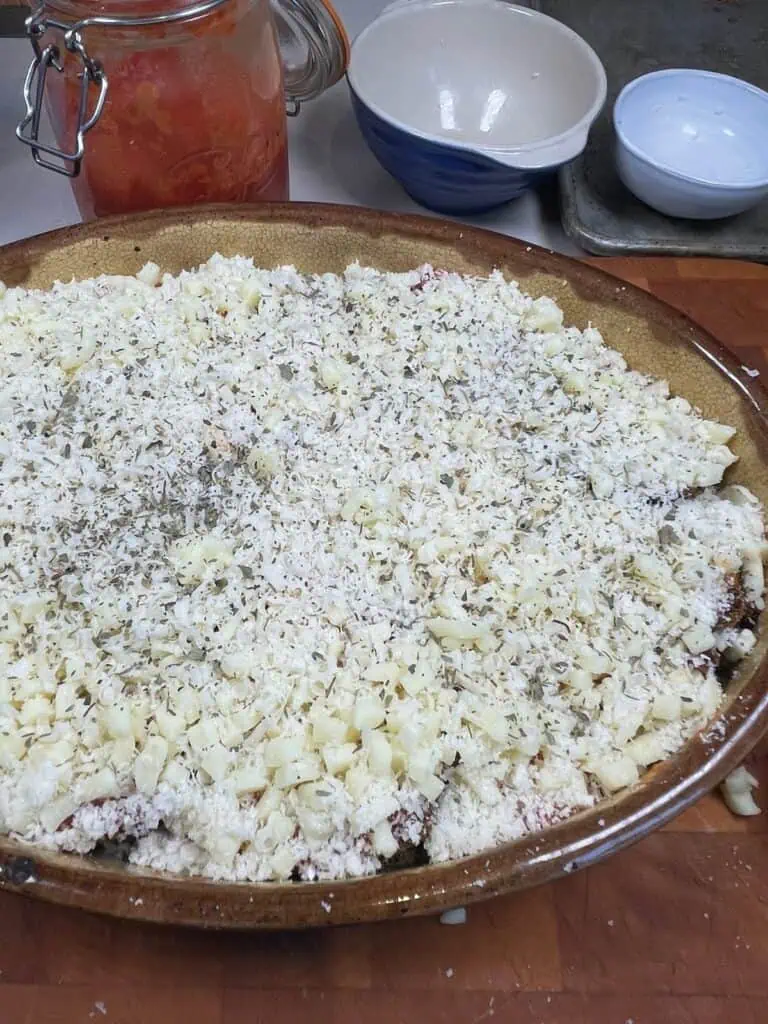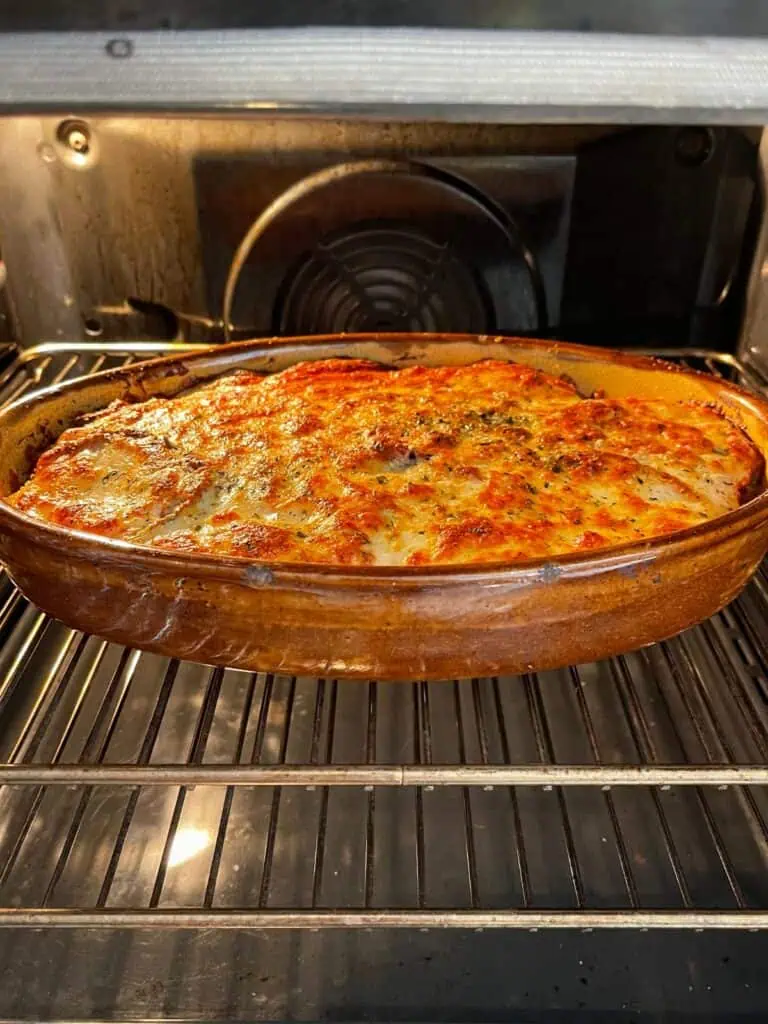 Alternate Ingredients for a Keto-Friendly Eggplant Parmesan
Looking to mix things up a bit? You're in luck—this recipe is as versatile as they come. Here are some ingredient swaps to consider:
Pork Rinds: A popular keto substitute for breadcrumbs. However, be warned: they can get a bit soggy when baked with high-moisture ingredients like eggplant.

Ground Beef: Want to add some protein punch to your dish? Layer in some cooked, seasoned ground beef between your eggplant slices. Season with oregano, basil, marjoram, garlic and onion... oh so good!
Ricotta Cheese: For a creamier texture, you could opt to use ricotta in place of some of the mozzarella. To ensure even distribution, use a spatula to spread the ricotta over the eggplant slices before adding the next layer.

Mascarpone Cheese: Want to kick it up a notch? Try swapping out some of the Parmesan for mascarpone. Again, using a spatula to spread this velvety cheese over the eggplant will make sure every bite is a creamy dream.
So, whether you're in the mood for something a little different or you're accommodating different dietary needs, these swaps offer plenty of room for culinary creativity.
Storage, Freezing and Reheating Eggplant Parmesan
Not devouring the whole dish in one sitting? No problem—this keto eggplant parmesan is just as delightful when reheated. For those of you looking to meal-prep or simply enjoy the goodness for another day, here's what you need to know:
Storage: Pop your leftover parm in an airtight container and it'll stay happy in the fridge for up to 4 days.

Freezing: You've got two solid options here. Freeze individual portions after the final bake in airtight containers for up to 2 months. Or, if you're really planning ahead, assemble the layers but skip the final bake—freeze it at this stage for a just-like-fresh experience later on.

Reheating: Whether it's from the fridge or freezer, preheat your oven to 350°F and bake until it's heated through. Microwaving works in a pinch, but the oven helps keep that crust crisp.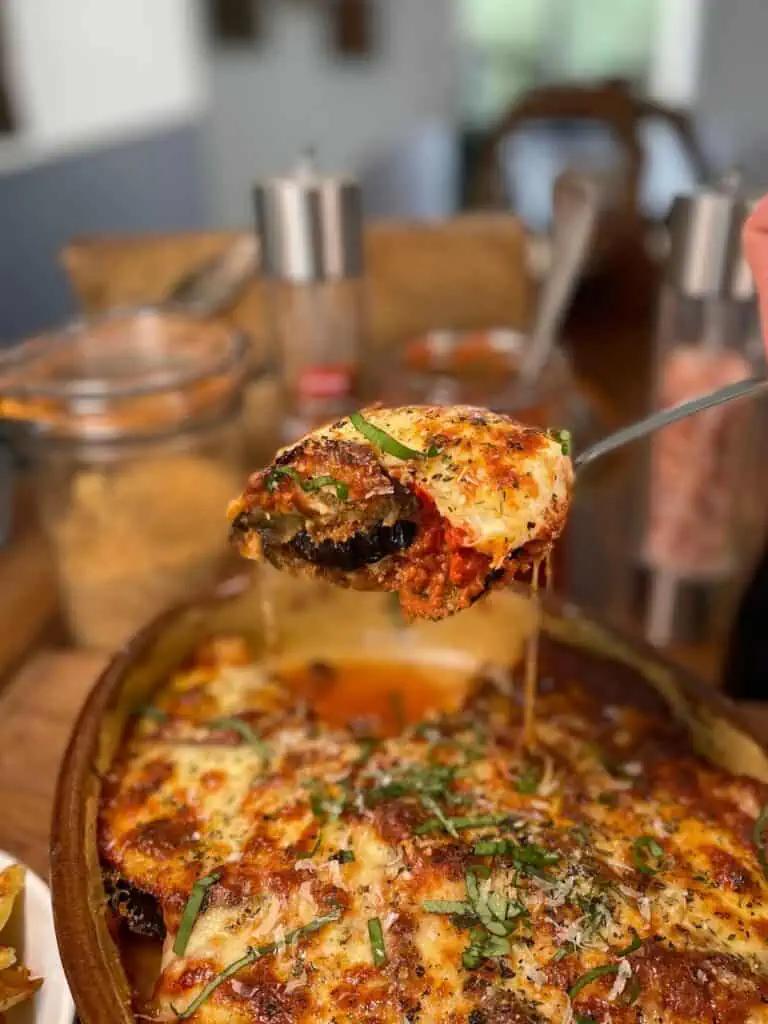 What Does Eggplant Parmesan Pair With?
Wondering how to complement this mouthwatering main? Here are some stellar side options to complete your dinner tableau:
Keto Cheesy Breadsticks: Imagine dipping a crunchy, cheesy breadstick into that leftover marinara sauce. Yep, it's as good as it sounds.

Spicy Italian Broccoli Recipe: Keep with the Italian theme and bring in some greens—this dish brings a nice kick of spice to the table.

Sautéed Zucchini with Thyme: Light, flavorful, and quick to make, this zucchini dish is a great palate cleanser between those heavenly bites of eggplant parm.
And now for a bit of a culinary culture clash:
Traditional French Frisée Salad: The French and Italians might exchange a skeptical "eyebrow raise" over this pairing, but trust me—it's delightful. The light, slightly bitter greens offer a refreshing contrast to the richness of the eggplant.
Looking for More Italian-Themed Recipes?
Can't get enough of the Italian flavors? Don't worry, I've got your back with these tempting recipes that'll make you say "Mamma Mia, that's good!"
This is your passport to an Italian culinary journey right from your kitchen. Keep coming back for more mouthwatering recipes that tick all the right boxes.
Over the last year, I've fallen off the low carb way of eating and I know I'm not the only one. I've gained back over 50lbs and have tried desperately to kick-start myself back into ketosis... but it hasn't worked so far.
It's been a long and painful journey gaining so much weight back. I've learned that restarting low carb is so much harder than I'd ever imagined, but I have a plan that I want to share.
I will be documenting my return to the low carb lifestyle on this site. If you're interested in following along, be sure to subscribe below.
This website provides approximate nutrition data and information for convenience and as a courtesy only.