You've just found a rotisserie chicken recipe that's delightfully delicious, brimming with Mediterranean flavors like zesty lemon, aromatic garlic, and fresh herbs. If this sounds good to you, stick around because here's the kicker—it's practically foolproof. No joke.
The beauty of this recipe is its simplicity. You'll only need a handful of ingredients and very little prep time. Whether you're just starting out in the kitchen or you've been cooking for years, this one's a win. Just a quick note, you will need a rotisserie device, but trust me, it's more than worth it for the flavors you're about to experience.
This recipe is GLUTEN FREE, LOW CARB and KETO.
The inspiration for this recipe:
A couple years ago, I found myself on the patio of a little restaurant in Cadaqués, Spain, overlooking the Mediterranean. Typically, I would have ordered a seafood lunch, but the chicken dish caught my eye for some reason. It was just a simple lemon-rosemary rotisserie chicken and a side of braised fennel. When it arrived, I knew it was something special. Each bite was better than the one before.
After finishing, I wrote down some notes in my phone so I could try and recreate this exceptional recipe at home.
I've been doing my own rotisserie chickens for years, and they've been good, but not always great. What's different about this recipe? It's the lemons. They do more than add flavor; they help keep the bird juicy and seem to tenderize the meat a little. Best part? It's a straightforward recipe. Took me a few tries, but I finally got it down, and now you can, too.
Give my Leftover Rotisserie Chicken Soup a try too... it's the perfect way to use up any remaining chicken in a delicious, low carb soup!
How to rotisserie chicken:
Note: a rotisserie oven or a rotisserie accessory for the grill is mandatory to make this recipe!
In the Oven:
Preheat the Oven: Aim for about 375°F (190°C). You want a hot oven to ensure crispy skin.
Prepare the Chicken: Season it well and tie the legs together with kitchen twine. This helps it cook evenly.
Set Up the Rotisserie: If your oven has a rotisserie setting, now's the time to use it. Skewer the chicken onto the rod.
Cook: Place a drip pan under the chicken to catch the juices. Turn on the rotisserie setting and let it cook for about 1.5 hours. Keep an eye on it and make sure the internal temperature reaches 160°F (74°C) before removing from the oven. As the chicken rests, it will continue to rise in temperature to

165°F

Rest and Serve: Once it's done, let the chicken rest for about 10 minutes before cutting into it. This helps keep it juicy!
CHEF TIP: If the skin isn't turning as crispy as you would like, turn on the broiler toward the end of the cooking process. Be careful as it will brown quickly!
On the Grill:

Preheat the Grill: Aim for a medium-high heat, around 375°F (190°C).
Prepare the Chicken: Just like the oven method, season well and tie those legs together.
Set Up the Rotisserie: Many grills have a rotisserie attachment. Skewer your chicken onto the rod and secure it to the rotisserie mechanism. Ensure that the chicken will not hit the lid or the warming rack!
Cook: Place a drip pan underneath to catch any drippings. Close the lid and let it cook, making sure to maintain the temperature. Again, aim for an internal temperature of 160°F.
Rest and Serve: Let it sit for about 10 minutes to lock in those juices and allow the bird to "carryover" cook to a safe internal temperature of 165°F as it rests.
And there you have it, two methods for a tasty, juicy rotisserie chicken. Whether you're using the oven or taking it outside to the grill, you're in for a treat.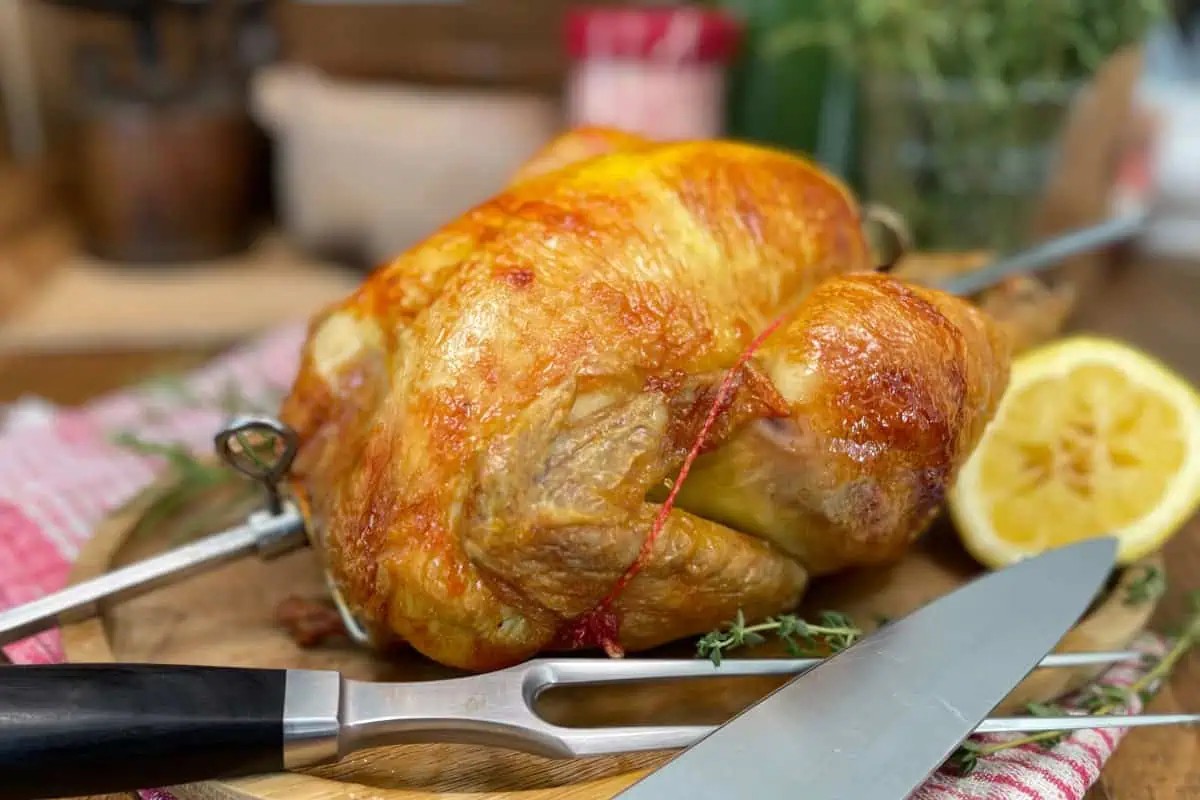 Is rotisserie chicken healthy?
The Mediterranean diet is balanced, full of veggies, leans heavily on healthy fats like olive oil, and, yes, it includes lean protein like chicken. When you're loading up your rotisserie bird with Mediterranean staples like lemon, garlic, and fresh herbs, you're ticking all the boxes for a healthy meal. Another point worth mentioning is portion control. A rotisserie chicken is great for this. You can easily divvy it up into balanced portions and even use the leftovers for other meals or recipes. In a nutshell, rotisserie chicken isn't just comfort food—it's a smart choice for anyone looking to eat a little better without sacrificing taste.
Is this recipe low carb or keto?
The short answer? Yes and yes. Rotisserie chicken fits like a glove in both low carb and keto eating plans. When you're on a low carb or keto diet, protein and healthy fats are your best friends, and this dish delivers on both fronts. What makes this recipe particularly well-suited is its focus on simple, natural ingredients. We're talking chicken, lemon, garlic, and herbs—nothing processed or sugar-laden here. Plus, when you're controlling the ingredients, you're also controlling the carbs. One more thing worth mentioning: if you're on a keto diet and looking for higher fat content, don't overlook the dark meat. The thighs and legs of the chicken have more fat than the breast, making them an even better fit for your keto goals. Plus, many people find dark meat to be juicier and more flavorful. Whether you're keeping it low carb or going full-on keto, this rotisserie chicken recipe is a solid choice that is packed with amazing flavors too! Be sure to read this article for all the information about
if rotisserie chicken is keto or low carb
, including tips on portions, which parts to eat and more.
The ingredients for rotisserie chicken:
When it comes to cooking, especially something as seemingly simple as rotisserie chicken, the quality and freshness of each ingredient matters. Let's take a look at what makes this recipe special:
Whole Chicken: When it comes to cooking a rotisserie chicken, not all birds are created equal. While any whole chicken will do in a pinch, for the best results you'll want a "roasting chicken," which is generally plumper and juicier than a "fryer chicken." Ensure that the bird is fresh and not marinated!

Lemon: It's not just for taste—lemon also keeps the meat tender and juicy. Wash the skin well before inserting into the bird.

Garlic: Infuses the chicken with a rich, aromatic flavor.

Fresh Rosemary: Adds earthy, piney notes that stand up well to the roasting process.

Fresh Thyme: Rounds out the herb profile, giving the dish an extra layer of complexity.

Kosher or Sea Salt: Crucial for proper seasoning and for getting that skin perfectly crispy.
Each ingredient adds something to the recipe. If you want to experiment, try switching things up… maybe add some lime and cilantro for a more Mexican flair.
Special equipment needed for this recipe:
While this recipe is straightforward, you do need some specific equipment to nail that perfect rotisserie chicken. Here are the essentials:
Rotisserie Device: Whether it's an attachment for your grill, incorporated into your oven or a standalone unit, this is non-negotiable for this recipe.

Kitchen Twine: You'll need this to truss the chicken, which helps it cook evenly and keeps it intact while rotating. Some birds are now sold pre-trussed… look for these to save time and effort!

Meat Thermometer: Don't leave the doneness to guesswork. A good meat thermometer will tell you exactly when your bird is perfectly cooked. This is essential to ensure doneness.
Typically, I like making recipes with equipment that most kitchens already have. For this recipe, however, there are some out-of-the-ordinary requirements.
Building a low-carb community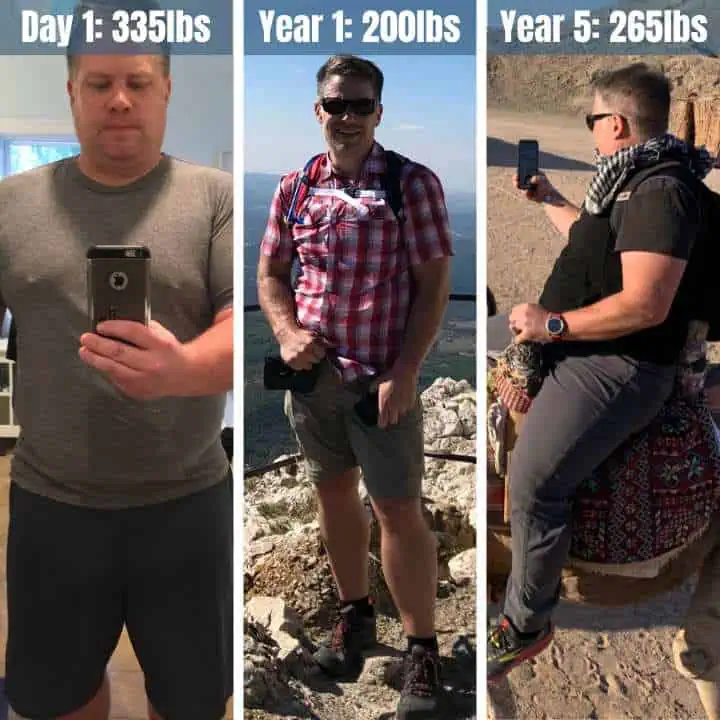 I thought this journey could be done alone. I thought I was strong enough to maintain the weight loss for the rest of my life.
I was wrong.
Subscribe below and keep in touch. Join the conversation. I'm here to support your journey too.
Here are the only updates I'll ever send: New Recipes with Low-Carb Tips. That's it. For updates on my Journey, expanding community etc... please visit my subscriptions page.
Unsubscribe at anytime from anything I send.
How to Make Rotisserie Chicken
First things first, you'll want to start with a quality roasting chicken. Take it out of the fridge about an hour before cooking to bring it closer to room temperature. While the chicken is resting, go ahead and preheat your rotisserie device, whether it's an oven attachment or a grill setup, to the recommended temperature.
Next up, the flavor prep. Quarter a lemon and peel some garlic. Tuck these, along with sprigs of fresh rosemary and thyme, into the chicken cavity. This infuses the meat with a medley of Mediterranean flavors as it cooks.
Don't forget to season the outside of the chicken generously with kosher or sea salt. For an even cook and to keep the bird intact while it's spinning, truss it up tightly with some kitchen twine.
Attach the chicken to the rotisserie rod, making sure it's well-balanced to avoid any wobbles during cooking. Pop it into the preheated device and let it do its thing. Keep an eye on the time, but more importantly, use a meat thermometer to check for an internal temperature of 165°F in the thickest part of the thigh.
Once it's done, carefully remove the chicken from the rotisserie rod (I use tongs to unscrew the rotisserie prongs) and let it rest for about 10 minutes. This allows the juices to redistribute throughout the meat, ensuring each bite is juicy and flavorful. Then, you're ready to carve it up and serve.
Follow along in this visual guide on how to make rotisserie chicken:
If you have all the appropriate equipment needed to rotisserie a chicken… the process is really simple! Once you have made it once, you'll never buy store bought rotisserie chicken again.
How long does it take to rotisserie a chicken?
The cooking time for a rotisserie chicken can vary based on several factors, so let's break it down:
Temperature of the Bird: Starting with a room-temperature bird can shave off some cooking time. If your chicken is straight out of the fridge, you'll need to add a few extra minutes.

Size of the Chicken: Generally, a 3-4 pound chicken will take about 1 to 1.5 hours. Bigger birds will obviously take more time, smaller ones less.

Oven or Grill Temperature: If you're doing this in the oven, 375°F (190°C) is a good mark to hit. On a grill, aim for a medium heat. Different temperatures will affect the cooking time, but those are good starting points.

Equipment Variability: Believe it or not, some rotisserie devices cook faster than others (rotations per minute, proximity to the heat source etc). So it's a good idea to start checking for doneness a little earlier than you think you'll need to.

Altitude: If you're cooking at a high altitude, you may also need to adjust your cooking time slightly.
A meat thermometer is your best friend here. Regardless of these factors, aim for an internal temperature of 165°F (74°C) in the thickest part of the thigh to know your chicken is done.
So, there's no one-size-fits-all answer, but these guidelines should help you gauge your cooking time more accurately.
Rotisserie Chicken Salad Recipe:
One of my favorite recipes where rotisserie chicken is the star of the show is my Rotisserie Chicken Salad Recipe.
This isn't your run-of-the-mill chicken salad. We're talking a medley of fresh herbs, zesty radishes, crisp celery, and a blend of spices that'll make your taste buds dance. And let's not forget the mayo, which ties everything together in a creamy embrace.
This salad is perfect for lunches, picnics, or even as a filling for lettuce wraps and sandwiches. It's another fantastic way to enjoy the mouthwatering flavors of our rotisserie chicken recipe. Trust me, you'll want to either make or buy a rotisserie chicken just for this salad!
Perfect Pairings: What to Serve with Rotisserie Chicken
Each of these recipes will add to the overall deliciousness of your rotisserie chicken, whether you made it at home or opted to buy it from the grocery store!
More Chicken Recipes to Love
Chicken is a staple in our house. Here's a sampling of some other chicken recipes I've created over the years:
If you have any recipes you would like to see on the site, make a note in the comments and I'll figure it out!
Over the last year, I've fallen off the low carb way of eating and I know I'm not the only one. I've gained back over 50lbs and have tried desperately to kick-start myself back into ketosis... but it hasn't worked so far.
It's been a long and painful journey gaining so much weight back. I've learned that restarting low carb is so much harder than I'd ever imagined, but I have a plan that I want to share.
I will be documenting my return to the low carb lifestyle on this site. If you're interested in following along, be sure to subscribe below.
Storing, Freezing, and Reheating Rotisserie Chicken
If you have leftover rotisserie chicken, here's how to properly store, freeze, and reheat it:
Storing: Place the leftover chicken in an airtight container and refrigerate it. It will be good for up to 3-4 days.
Freezing: For longer storage, freezing is an option. However, avoid putting the chicken directly into a container as it will quickly develop freezer burn. Instead, wrap individual portions in plastic wrap, then place in a zip-top bag, removing as much air as possible. This method allows for up to 3 months of storage without loss of quality.
Reheating: When it comes to reheating, you have two options. For non-frozen leftovers, either warm the chicken in a covered pan with some water over low heat on the stovetop, or place it in a covered baking dish in the oven at 350°F until it reaches an internal temperature of 165°F. If the chicken has been frozen, it should be thawed prior to using either of these methods.
This approach ensures that your leftover chicken maintains its quality for future meals.
This website provides approximate nutrition data and information for convenience and as a courtesy only.