Oh what a delicious sweet potato fries recipe.  Cooked to perfection with a crispy crunch and delicate, sweet potato flavor.  When you eat these sweet potato fries with the roasted garlic and lemon aioli… Wow.  It's just incredible.  Give it a try!
This sweet potato fries recipe is: Gluten Free, Paleo, Vegan and Vegetarian.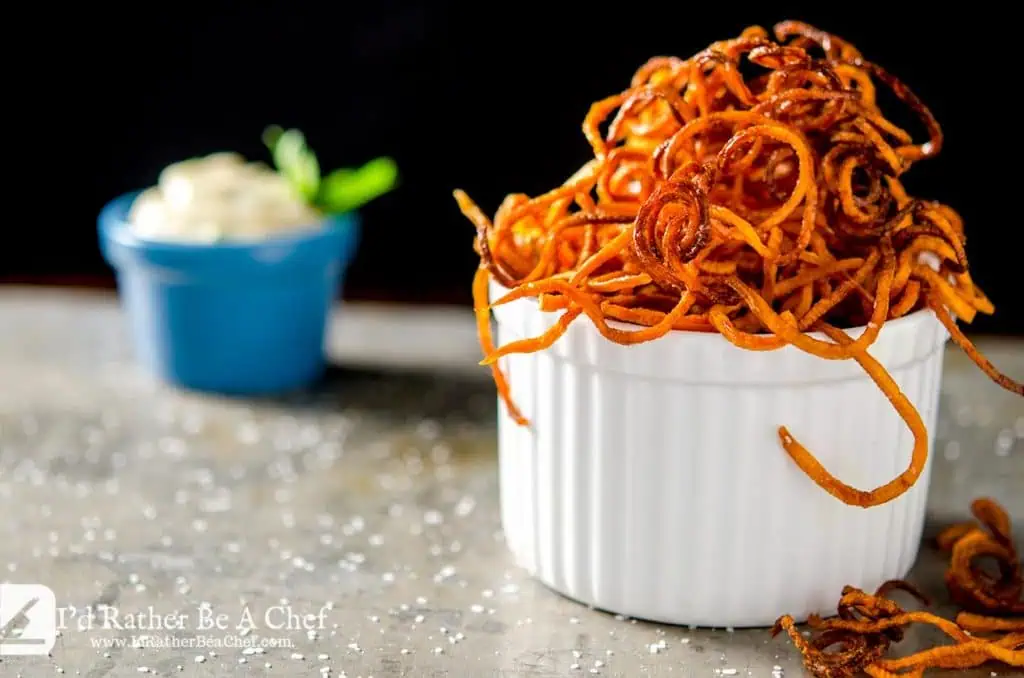 Shoestring Sweet Potato Fries Recipe with Lemon Garlic Aioli
Over the years I have made a ton of baked sweet potato fries.  I have to admit that they are pretty good.  But I have been CRAVING some CRUNCH since going mostly paleo so I decided to fry up some shoestring sweet potato fries to satisfy the urge.  Wow.  Not only did it satisfy, but exceeded my expectations with huge flavor.  The sweet potato with the lemon garlic aioli work wonderfully together.  Let's take a closer look.
Using a Spiralizer for Sweet Potatoes
You are going to need a couple special pieces of equipment to execute this sweet potato fries recipe properly.  The first is a spiralizer of some sort.  I use this Vegetable Spiral Slicer
 in my kitchen on a regular basis.  Not only is it a workhorse (I've used it for over 5 years) but it is super easy to use.  The only issue I have found with it is cleaning it, but a good brush helps with that.
Now when you are going to spiral slice sweet potatoes, it's your choice on whether to peel them or not.  I have chosen to peel the sweet potato that I used for this recipe, but keeping the peel on will give them a bit more of a rustic feel.  It will be hard to tell on shoestring fries, but you'll see darker patches where the skin was left on.  Just make sure you wash the potato and completely dry it before use.  Water and hot oil don't play well together.
If you don't have a spiralizer, you can use a mandolin with the julienne blade inserted.  I have used my V-Slicer Mandolin
 for years and stand by it.  I've got a couple others, but for some reason this little mandolin just keeps going when the others have failed.  You won't get any curly fries, but they will be more like matchsticks which are equally delicious.
Using a thermometer for frying
Ok.  Here's the second piece of equipment that you will need for this recipe.  A good candy / deep fry thermometer.  Here's a good one (Taylor Precision Thermometer
) that is just about the same as the one I use.  This thermometer is inexpensive (under $9) and has a clip which will allow it to be suspended from the side of your pot.
The thermometer clip is important for a couple reasons.  First, it keeps your hands away from super hot oil by clipping the thermometer right to the side of the pot.  Safety first, right?  Second, it keeps the thermometer off the bottom of the pot.  You want the thermometer to be suspended in the oil so you can take the proper temperature of the liquid vs the bottom of the pot.
When I fry things, once the oil comes up to temperature, I remove the thermometer BEFORE putting any food into the pot.  This comes from experience.  I have pushed a thermometer or two into the boiling oil by accident in the past.  It is no fun fishing it out with tongs.  This is also why I don't use digital thermometers.  I am notoriously hard on kitchen equipment.
Whatever you do, make sure you are using a thermometer to get the temperature of the oil correct.  Oil which is too cold will make soggy food.  Oil that is too hot will scorch the food.  For thin fries like these, we are looking for about 375 degrees to start.  If you are making larger fries, start at 350 degrees.
QUICK COOKING TIP: Here's are some HUGE tips about frying at home, not just for this sweet potato fries recipe.
Use a high sided pot and only fill 1/3 of the pot with oil.  The oil will expand when you add food into it.  The only way that oil can expand is to come up and over the top of the pot if you have too much oil.  If your oil expands over the top of the pot, the first thing to do is turn off your burner, then deal with the oil.
Don't just throw the food into the oil.  This will make the hot oil expand rapidly.  Add a little bit in at a time.
Building on Tip #2, fry in small batches.  You will have more controllable results.  Unless you are using a dedicated deep fryer, you won't be able to fry the entire sweet potato at once.  If you were to add the entire load of sweet potatoes into the pot of hot oil, a couple things will happen:

The pot will most likely boil over.  Not good.
The temperature will fall significantly and not be able to recover fast enough, creating soggy potatoes.

Allow the oil to come back up to temperature before adding in your next small batch.  It is amazing just how quickly oil loses temperature and it takes a couple minutes to get it back.
Be careful when deep frying.  Use the back burner on your stove.  Keep little hands clear of the cooking area.  Make sure you have everything ready to go before you start frying including your thermometer, something to get the food out of the pot, a paper lined baking sheet or racked baking sheet etc… having it all ready will help immensely!
Ok.  Now that we are ready, let's jump into the frying pan for this sweet potato fries recipe.
Print Recipe
Sweet Potato Fries Recipe
Delicious and crisp sweet potato fries recipe goes wonderfully with a big, juicy burger. Don't forget to try the lemon garlic aioli too- so good to dip the fries into!
Ingredients
Special Equipment Needed
Vegetable Spiralizer

High Sided Pot

Candy / Deep Fryer Thermometer
For the Sweet Potato Fries
1

Large Sweet Potato

peeled and spiral sliced

4

Cups

Olive Oil

or other frying oil of your choice

Kosher Salt

To season after frying
For the Lemon Garlic Aioli
1

Cup

Olive Oil Mayo

8-10

Cloves

Roasted Garlic

smashed

2

TBSP

Lemon Juice

1

TBSP

Lemon Zest

1

TBSP

Fresh Parsley

chopped fine

1

Pinch

Kosher Salt

1

Pinch

Fresh Cracked Pepper
Instructions
Add the oil to the high sided pot, ensuring the oil does not go more than 1/3 of the way up the pot wall. Heat over medium-high heat to 375 degrees. Once it has reached 375 degrees, increase the heat to high.

Add the spiralized sweet potato slowly and in small batches to the oil, being careful not to splash or cause a boil over.

Cook for 1 minute 25 seconds and then remove from the oil. Place on a paper towel lined or racked rimmed baking sheet. Sprinkle with salt.

Clip the thermometer back onto the pot and bring back to temp. Repeat the earlier steps with remaining sweet potato.
For the Lemon Garlic Aioli
Add all ingredients to a bowl. Mix well with a fork.

Serve the aioli with the fries and enjoy! Happy eating.
Nutrition
Final thoughts on the Sweet Potato Fries Recipe:
I haven't talked at all about the roasted garlic and lemon aioli.  Normally, I would make my own mayo but I just ran out of time and the kids were hungry.  So, I cheated and used olive oil mayo.  Let's be honest, a hungry family trumps homemade mayo.  I love a really flavorful aioli, so I used a lot of roasted garlic, a good helping of lemon zest and lemon juice.  The lemon juice also works to thin out the sauce a little.  If you find your aioli is too thick, just add in a tablespoon or two of water to thin it out.  Not too much though or it will thin out too quickly!
Last night I made this recipe to go alongside some hand packed roasted garlic burgers.  Not only did the aioli go well with the sweet potato fries, it went really well on the burgers too.  This sweet potato fries recipe would go great with a pan seared steak or some juicy pork burgers.  There really is no better combination than a good burger with some crispy fries.  I hope that you love this sweet potato fries recipe as much as my family does.  Enjoy and happy eating.