The perfect seared ahi tuna recipe with crunchy sesame crust, a delightfully playful wasabi mayo and a mirin ginger dipping sauce. The best part of this recipe is looking through the translucent pink, stained glass window-like tuna after it has been seared and sliced. So beautiful it almost makes you not want to eat it... Almost.
THIS SEARED AHI TUNA RECIPE IS: GLUTEN FREE, PALEO AND LOW CARB. IT IS KETO WITHOUT THE MIRIN DIPPING SAUCE.
SEARED AHI TUNA RECIPE
I first fell in love with seared ahi tuna with a sesame seed crust in Nantucket. Caroline and I were there with her brother, some friends and a beautiful, fresh caught piece of tuna.
I remember clearly that the tuna was ruby red and perfect. Our friends pulled out some sesame seeds, wasabi and soy sauce. Within minutes, we were eating a mind blowing, simple and delicious appetizer.
This is the same recipe that I would like to share with you today. I hope that you enjoy it as much as we did.
Tips on Buying Ahi Tuna
One of the reasons I don't make this recipe very often is due to limited supply. It seems as though the tuna in the seafood cases just don't excite me, particularly with their extreme price tag.
When buying Ahi, you will either be buying yellowfin, bluefin or big eye tuna. They all fall under the Ahi category. What you are looking for is freshness. Ask the following questions:
Ask when the fish arrived and if it was fresh or frozen. If it was frozen, ask when it was defrosted.
Ask to smell it before you buy it as well. If it smells fishy, don't buy it.
Ask if you can touch it before buying. It is okay- they can wash the fish before packaging. If it is slimy, don't buy it.
Ahi tuna should be fresh looking with a nice sheen to the steak. My one piece of advice: never buy Ahi tuna on sale.
You are looking for freshness because you're not going to be cooking it all the way through!
How to Sear Ahi Tuna
It's really easy to sear ahi tuna. Just follow these simple steps:
Step 1: Buy the best tuna you can find.
Step 2: Trim the tuna to allow as much of the protein to contact the pan as possible. See the image below on how I trimmed my ahi tuna for this recipe.
Step 3: Season the tuna. Salt and pepper is fine, or you can add sesame seeds like I've done below.
Step 4: Heat a heavy bottom pan over high heat. Add in the oil of your choice. When the oil is hot, add the Ahi tuna to the pan.
Step 5: Sear each side for 20-30 seconds dependent on the thickness of your tuna. The tuna shown is quite thick so adjust the cooking time accordingly.
Step 6: When seared on each side, remove the tuna from the pan and slice into ¼" pieces.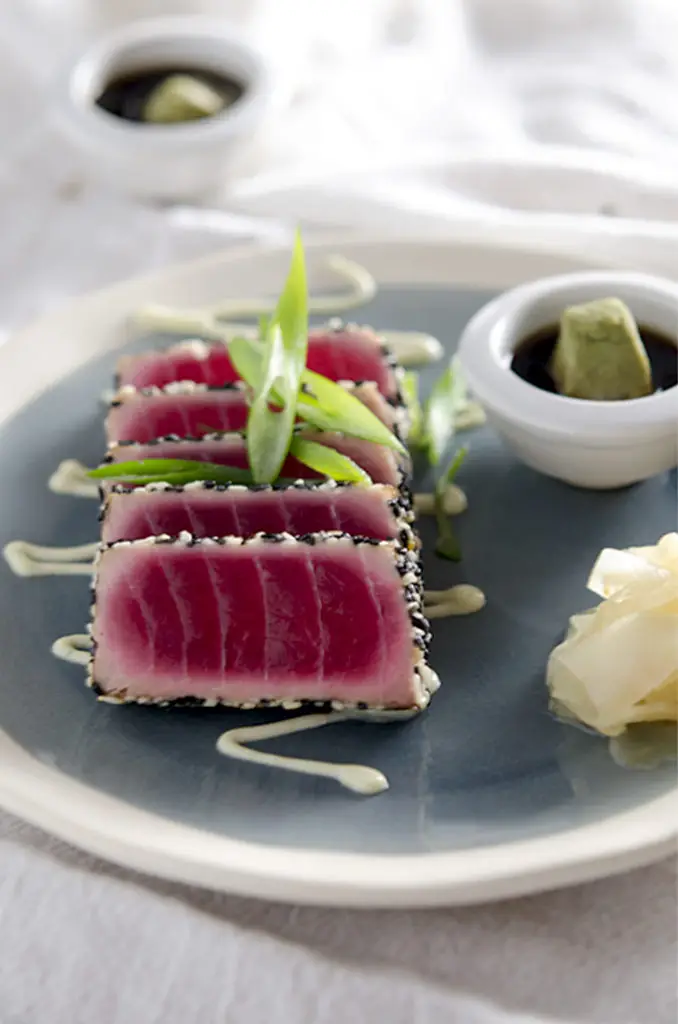 Other Gluten Free Asian Style Recipes:
Remember that my site started as a Gluten Free blog and has moved into a Low Carb, Keto and Gluten Free blog.
I've got more Asian inspired low carb recipes coming out soon, but in the meantime check out some of these Gluten Free Asian Style recipes:
Gluten Free Stir Fry Noodles With Chicken