Bacon wrapped jalapeño poppers are more than just an appetizer; they're a conversation starter, a mood-setter, and frankly, a reason to celebrate.
Imagine biting into a perfect harmony of spicy jalapeño, luxurious cream cheese, and that crispy bacon that just seals the deal. It's a trio that dances on your palate, each element elevating the others to create an unforgettable bite.
Perfect for game days, gatherings, BBQ's and more.
This recipe is GLUTEN FREE, LOW CARB and KETO-FRIENDLY.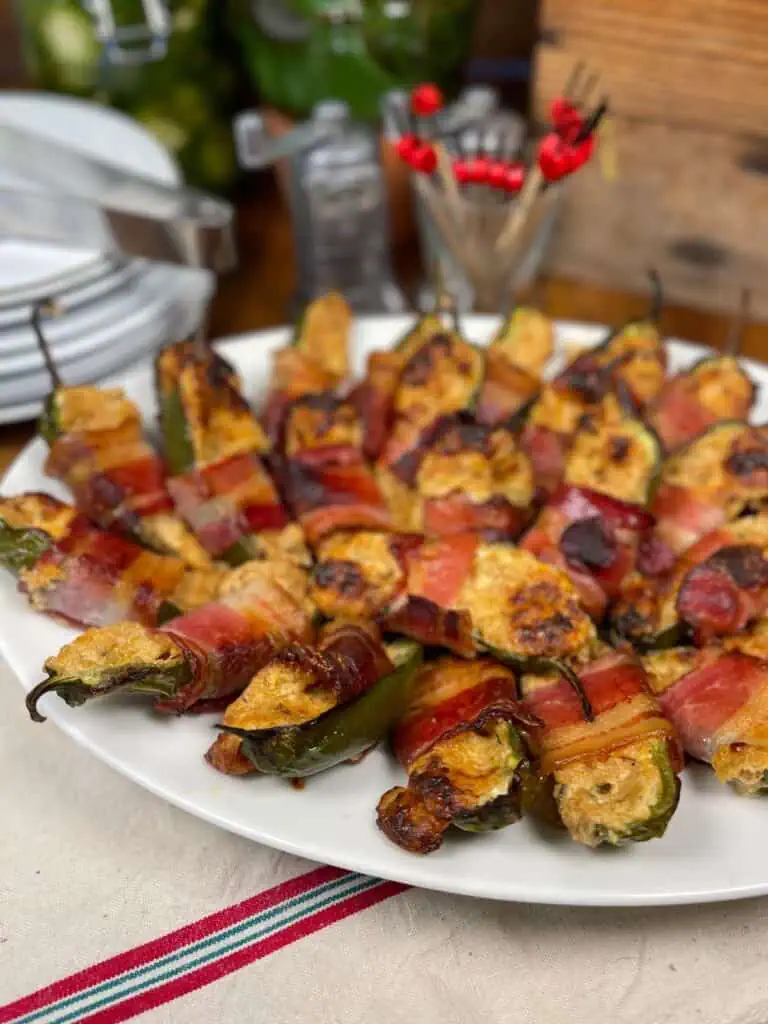 Inspiration for this amazing appetizer:
Want to know the real reason I made these bacon wrapped jalapeño poppers? They were born out of a 'jalapeño overload' situation. I found myself the proud owner of a a flat of seventy jalapeños—each one looking fresher than the last—and knew I had to do something before they went to waste.
After knocking out some pickled jalapeños and adding a spicy kick to my keto taco salad, my jalapeño stock was still abundant.
A scan of the fridge revealed cream cheese, cheddar, and some thin-sliced bacon—basically screaming 'jalapeño poppers.' What started as a way to use up excess jalapeños became a family favorite appetizer.
Seriously, the end result exceeded all my expectations and now I'm stoked to share this jalapeno poppers recipe with you.
What are jalapeno poppers?
Jalapeño poppers are an appetizer made from hollowed-out jalapeño peppers filled with a creamy cheese mixture. The beauty of this dish lies in its adaptability—you have options for how to prepare them:
Sliced and Stuffed: You can slice the jalapeños in half lengthwise, remove the seeds, and stuff each half.

Cored and Stuffed Whole: Alternatively, you can core the jalapeños to keep them whole, and then stuff them.
As for cooking methods, you're not limited to just one:
Baked in the Oven: A popular and easy-to-clean method, baking makes for a great, crispy texture.

Cooked on the Grill: Grilling adds a smoky flavor that pairs well with the spiciness of the jalapeños.

Deep-Fried: If you're looking for a crunch, deep-frying the poppers delivers on that front.
However you choose to prepare them, jalapeño poppers offer a pleasing combination of spicy, creamy, and crunchy elements that make them a hit at any gathering.
Are jalapeno poppers keto?
If you're following a keto diet and wondering whether jalapeño poppers fit the bill, the answer is a resounding yes—well, mostly.
Traditional jalapeño poppers are already quite keto-friendly since they primarily consist of low-carb ingredients like jalapeños and cheese. Where you might run into trouble is if the poppers are breaded or battered, as that adds unnecessary carbs to the equation.
However, the recipe we're focusing on here skips the breading, sticking to bacon, cream cheese, and jalapeños as the main ingredients. Each of these is low in carbs but high in fats and moderate in protein, aligning well with a ketogenic diet.
So if you're keto-conscious, rest easy. This jalapeno popper recipe keeps your carb count low while delivering big on deliciousness.
For your next social gathering or a random Tuesday night when you're craving something extraordinary, nobody will know it is keto-friendly.
What are the ingredients to make this Jalapeño Poppers Recipe:
Jalapeños: The star of the show. These bring the heat and a vibrant green color that's visually appealing. Their spiciness is balanced out by the other ingredients.

Cream Cheese: The smooth and creamy counterpart to the jalapeños' heat. It serves as the base for the filling and adds a rich, velvety texture.

Cheddar Cheese: Adds depth of flavor to the cream cheese filling. It brings a slight sharpness that complements the creaminess.

Bacon: Wrapping the poppers in bacon adds a smoky, salty layer that's crisp when cooked. It's the finishing touch that brings everything together.

Spices: While optional, adding a sprinkle of garlic powder, paprika, or your favorite spice mix can elevate the flavors even further.
Each ingredient has its own role, but when combined, they create a harmony of flavors and textures that make these jalapeño poppers unforgettable.
Why are jalapeño poppers wrapped in bacon?
Wondering why adding bacon to jalapeño poppers is so popular? Bacon serves multiple purposes in this recipe:
Flavor: The smoky, salty goodness of bacon enhances the overall flavor profile, adding a complexity that makes each bite delightful.

Texture: A bacon wrap gives the poppers a crispy outer layer, creating a contrast to the creamy cheese and the soft, baked jalapeño.

Balance: The richness of bacon complements the spiciness of the jalapeño and the softness of the cream cheese, creating a well-rounded flavor experience.

Visual Appeal: Let's face it, bacon-wrapped anything just looks appetizing. The golden, crispy bacon makes anyone just want to grab one and chow down.

Practicality: Bacon also helps to hold the cheesy filling inside the jalapeño.
While you could make jalapeño poppers without bacon, wrapping them in bacon truly takes them to the next level, both in terms of flavor and presentation.
Building a low-carb community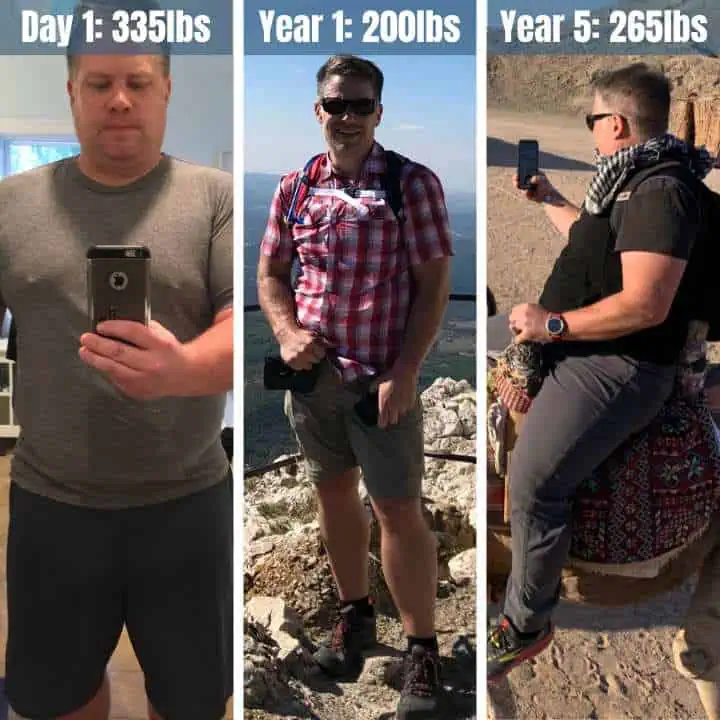 I thought this journey could be done alone. I thought I was strong enough to maintain the weight loss for the rest of my life.
I was wrong.
Subscribe below and keep in touch. Join the conversation. I'm here to support your journey too.
Here are the only updates I'll ever send: New Recipes with Low-Carb Tips. That's it. For updates on my Journey, expanding community etc... please visit my subscriptions page.
Unsubscribe at anytime from anything I send.
HOW TO MAKE YOUR OWN BACON WRAPPED JALAPEÑO Poppers:
Making jalapeño poppers at home is pretty simple. Start by washing the jalapeños, cutting them in half lengthwise, and scooping out the seeds and membranes. Then, mix cream cheese with some cheddar and the spices to create your filling. Spoon this mixture into the jalapeño halves, filling them up but not overflowing.
PRO TIP: Use gloves to avoid getting the capsaicin on your hands... this can be easily transmitted to the eyes or other sensitive areas on the body, even after hand washing!
Now for the bacon. Wrap each stuffed jalapeño with a slice of bacon. If it doesn't stay put, you can use a toothpick to secure it. Once all the jalapeños are wrapped, place them on a baking sheet and put them in the oven. Bake until the bacon is crisp and the cheese has melted, usually around 20 to 25 minutes.
And there you have it—a straightforward way to make your own baked jalapeño poppers. They're a great addition to any gathering or just a nice way to treat yourself.
See how to make this jalapeno poppers recipe:
Take a look at just how easy these poppers can be made right in your own kitchen.
Jalapeño Poppers with Cheddar Cheese:
In this recipe, cheddar cheese plays a pivotal role by bringing a sharp and tangy flavor that beautifully contrasts with the smooth cream cheese and the spicy kick of the jalapeños. While this recipe uses a blend of cream cheese and cheddar for a creamy yet robust filling, some might wonder if going with cheddar alone is an option.
Pure cheddar cheese could technically be used to stuff jalapeño poppers, but there are a couple of considerations. Cheddar melts differently compared to cream cheese; it's oilier and less creamy when melted, which could result in a greasier and less stable filling. It also lacks the adhesive quality that cream cheese has, so the melted cheddar might not stay neatly inside the jalapeño halves while baking.
Furthermore, the flavor of cheddar, especially if it's aged, can be quite strong and may overpower the jalapeño rather than complementing it. The beauty of blending cheddar with cream cheese lies in achieving that perfect harmony where the sharpness of cheddar shines through but doesn't overshadow the pepper's piquant flavor.
So while you could experiment with all-cheddar jalapeño poppers, my approach balances textures and flavors for a delicious bite every time. Stick with the duo of cheeses for poppers that hold together and taste just as good as they look.
Jalapeño Poppers with Cream Cheese:
The classic foundation for jalapeño poppers is often cream cheese, thanks to its rich texture and ability to meld flavors together. In this recipe, it certainly utilizes cream cheese, but it's kicked up a notch by adding cheddar to the mix, lending the filling an extra depth with its bold taste.
While cream cheese could stand alone as a filling, and often does in many recipes, pairing it with cheddar provides that "oomph" factor – a tangy punch that complements the cream cheese's smoothness and the jalapeño's heat. It's about balance and that extra touch of flavor complexity that makes each bite delish.
Alternatively, for those who might prefer a more distinctive taste, goat cheese presents itself as an excellent solo filling for jalapeño poppers. Its creamy yet crumbly texture and unique tangy flavor can elevate the poppers to a gourmet level. It's an option for anyone looking to experiment with a different taste profile that still delivers on creaminess and flavor intensity.
Whether it's the tried-and-true cream cheese or the tangy twist of goat cheese, the choice of filling can transform jalapeño poppers from a familiar favorite to an exciting new dish.
Can Jalapeno Poppers be made on the grill?
Certainly, jalapeño poppers can be taken from the kitchen to the grill for an extra hint of smokiness. However, when you wrap them in bacon, keep a watchful eye out. The dripping fat can cause grill flare-ups, which you'll want to avoid for both safety and to prevent burning the poppers.
If you know your grill has a tendency to flare, you might want to consider making the poppers without bacon when cooking them this way. Grilling the jalapeños still imparts a nice smoky flavor, especially if you get a bit of char on them, which can be just as satisfying.
Use a grill basket or aluminum foil to contain the poppers and manage any melting cheese. This method also allows for more even cooking and can reduce the risk of flare-ups. Be attentive and turn them occasionally to ensure they're cooked through and the cheese is melted just right.
In summary, grilled jalapeño poppers are a great option, just be cautious of your grill's temperament and adjust your preparation accordingly.
Storing and Reheating Jalapeño Poppers
After the party winds down and you find yourself with leftovers, jalapeño poppers are pretty easy to store and reheat.
Storing: Let the poppers cool to room temperature first. Then, place them in a single layer in an airtight container, separating layers with parchment paper to prevent sticking. They'll stay good in the fridge for up to three days.
Freezing: If you want to keep them longer, you can freeze jalapeño poppers. Arrange the cooled poppers on a baking sheet, freeze them until solid (about 1-2 hours), and then transfer them to a freezer-safe bag or container. They'll last for up to a month without losing much of their texture or flavor.
Reheating: To bring back that just-cooked taste, the oven is your best bet. Preheat it to 350°F (175°C). Place the poppers on a wire rack over a baking sheet to allow air to circulate and crisp them up. Heat them for about 10-15 minutes if refrigerated, or 20 minutes if frozen.
For a touch-up to restore a bit of the original texture and taste, consider popping them under the broiler for a minute or two at the end of the reheating process, just keep an eye on them to prevent burning.
Remember, the key to enjoying leftovers is safe storage and patient reheating.
Prepare an amazing party with these delicious appetizers:
From cheesy delights to smoky bites, here's a roster of delicious starters:
Love bacon? Me too…
If you like bacon as much as I do, you know it's more than just a breakfast side. Here are some tried-and-true recipes where bacon plays a starring role, without going over the top.
Over the last year, I've fallen off the low carb way of eating and I know I'm not the only one. I've gained back over 50lbs and have tried desperately to kick-start myself back into ketosis... but it hasn't worked so far.
It's been a long and painful journey gaining so much weight back. I've learned that restarting low carb is so much harder than I'd ever imagined, but I have a plan that I want to share.
I will be documenting my return to the low carb lifestyle on this site. If you're interested in following along, be sure to subscribe below.
This website provides approximate nutrition data and information for convenience and as a courtesy only.