We are going to show you just how much we love this baby back rib recipe in my family. These baby backs will not only fall off the bone but they will be dripping with goodness. Together we will make the best damn braised and grilled baby back ribs!
This baby back rib recipe is: Gluten Free and could be Paleo, Primal and Wheat Belly friendly.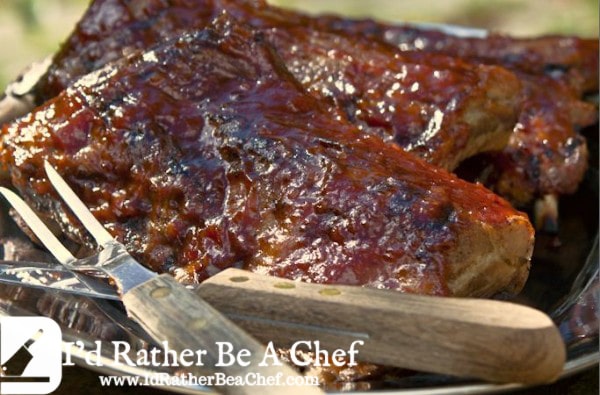 We're cooking up the best baby back rib recipe today!
I'm just going to throw this out to the wind: baby back ribs are awesome when cooked properly.  They are tender, juicy and full of flavor… and I love when they are cooked to "fall-off-the-bone" perfection.  But then you have the flip-side where the ribs are tight and dry, filling my eyes with tears with every terrible bite.  What a tragedy when this happens.  All that hard work for a mouth full of sawdust.  Yuck.
Well, this baby back rib recipe really makes it incredibly hard to not end up with the perfectly cooked baby back rib.  Now, don't get me wrong- this recipe takes time.  Rushing ribs is like under cooking chicken… you just don't do it.  You have to make sure that the ribs aren't rushed.  If you're in a hurry, make something else!  Ribs won't forgive impatience, not even for a minute.  But when you give them the attention they deserve, you'll be rewarded with a delicious meal that everyone will love.
Where do Baby Back Ribs come from?
The baby back rib comes from the rib section of the pig. There are three sections to the rib cut:
Baby Back Ribs: This is the very top section of the rib. The muscle is not worked as much in this section, so the meat is more tender.
St. Louis Ribs: Cut from the center of the rib section. These ribs are used a lot more than baby backs so the meat is tougher and the bones are thicker.
Rib Tips: These are cut from the very bottom of the rib section. The tips don't have a uniform rib style, so they often aren't served slab style.
If you ever have wondered where spareribs come from… they are from the section between the St. Louis and Rib Tips.
Braising Baby Back Ribs Before Grilling
So let's talk just a minute about the braising process.  Some of you might be reading this now saying that ribs should only be smoked.  Well, that's like saying eggs should only be scrambled.  There are a lot of ways to cook a protein and in this recipe, the primary method is going to be a braising.  Don't be afraid, braising simply means that we are going to sear this meat at a high temperature and then cook it for a long period of time with liquid in the oven.  It's really pretty easy and you're going to love the end result.
By braising the baby back ribs before grilling, we introduce the opportunity to do the following:
Introduce Flavor: The braising liquid can be made with different stocks, increasing the richness of the meat. We can add acids as well to tenderize the meat while it cooks.
Add Aromatics: We can add aromatics to the braising liquid. Think about garlic, onion and rosemary.
Maintain Moisture: Meat doesn't stay moist because it is cooked in liquid. Meat stays moist when the fat starts turning to liquid. When we braise, we'll be able to take the meat to the perfect temperature to maintain maximum moisture.
Once the ribs are perfectly braise, we'll heat the grill to high temperature and caramelize the sauce for some incredibly tasty ribs.
Can you make a Baby Baby Rib Dry Rub with No Sugar?
Absolutely. There's no need to add sugar to a baby back rib dry rub recipe. Here's how:
Pick your spices. Use bold flavors like granulated garlic, onion, paprika, chili powder, cumin, salt and pepper. Like other spices? Add them in too.
Mix the spices. In a bowl, add all the spices together. Typically you are going to use more garlic and onion powder than the other spices. For example, if you use a tablespoon of onion powder, then perhaps a teaspoon of cumin.
Rub it in. The purpose of a dry rub is to really rub it onto the meat. Get in there and spread it around. If you run out before all the meat is covered, make some more rub.
Let it sit. We want the meat to absorb some of the flavor of the dry rub right into the meat. Let it sit for about an hour at room temperature before cooking.
With this dry rub method, we're going to punch up the flavor in these bad boys to the next level.  When we sear them off in a cast iron (or other heavy duty skilled), the flavors will be amplified. We'll continue to build flavor during the braising process.  Lastly, it's off to the grill where they will get smothered in BBQ sauce that we're going to let caramelize to perfection.  Man, I'm already hungry for more of these.  Let's get started.
QUICK COOKING TIP: When braising, the liquid does not (and typically never will) cover all the meat.  We just need enough to keep enough moisture to help break down the ribs a little bit. Remember that we're not boiling the meat. Braising just needs to introduce liquid to a closed environment.
Print Recipe
BABY BACK RIB RECIPE: SEARED, BRAISED & GRILLED
This is an awesome baby back rib recipe… first we sear in the flavor, then braise to the perfect tenderness and lastly fire them off on the grill to caramelized perfection. Yumm!
Ingredients
Dry Rub Recipe
1

TBSP

Kosher Salt

1

TBSP

Fresh Cracked Pepper

1

TBSP

Garlic Powder

1

TBSP

Onion Powder

1

TSP

Ground Cumin

1

TSP

Spanish Paprika

1/4

TSP

Cayenne Pepper
Baby Back Rib Recipe
2

Slabs

Baby Back Ribs

1

Large

Onion

(Spanish) Halved and Sliced

1/4

Cup

Olive or Avocado Oil

1/2

Cup

Chicken, Beef or Pork Stock
Instructions
Take the ribs out of the refrigerator now. We want them to start warming up as we are getting everything else ready.
Dry Rub
First, mix all the dry rub ingredients into a bowl. Although I've put in exact quantities, you can use more of some and less of others. Like more heat? Toss in more cayenne. This is a guideline, so be creative!
Preparation: Baby Back Rib Recipe
Preheat the oven to 325 degrees


Get a 9X13 baking dish out and coat with non-stick cooking spray. Layer the sliced onions on the bottom and add in the stock. Set aside.


Remove the ribs from the package. Pat dry with paper towels and remove the membrane from the back side of the ribs (the easiest way is to peel about ½ inch away with a knife, then grab with a dry paper towel and pull. It should come right off!)


Slice the rib rack in half. Coat all surfaces with the dry rub. If you run out of rub, make some more.


Heat the skillet over medium-high heat and add the oil. When the pan is nice and hot, begin searing the ribs, meat side down. They should cook for about two to three minutes in the pan. Get them nice and brown! You do not need to sear the bone side. As they get browned, remove from the pan and layer in the prepared baking dish.


While the pan is still hot, deglaze with ½ cup cold tap water. Stir constantly to get the brown bits off the pan. Pour the water from the pan directly into the 9X13 baking dish.


Cover the baking dish with foil and make sure the foil has a good seal. Put the dish in the oven and cook for 2 hours.

This is a great time to make the Super Easy BBQ Sauce Recipe


We are looking for the ribs to be about 200 degrees. When your ribs are done, pull from the oven, remove the foil and let sit for about 15 minutes. This is a great time to start up the grill.

When you grill is hot, put the ribs bone side down on the grate. Slater your favorite sauce over the top and close the lid. Cook for 3-5 minutes, then flip and repeat. Cook for another 3-5 minutes and flip to caramelize the BBQ sauce a bit. Flip back and lightly dab more sauce on. Your delicious, juice baby back ribs are now ready to be devoured.

Nutrition
PLEASE NOTE: The nutritional data is provided by NutriFox and may not be 100% accurate.
Love to grill? Here are some awesome recipes to check out:
Grilling Lamb Chops Like a Pro!
Grilling Pork Chops to Perfection
Final Thoughts on the Baby Back Rib Recipe
So there are a bunch of different side dishes that would go great with this recipe.  Since this is really a finger food, grilled corn on the cob is a great choice simply because silverware is not required.  I love grilled asparagus for the same reason.  For me, picking up asparagus and chomping down the stalk like a french fry is an eating experience.  Looking for something a little different?  Check out this fantastically simple recipe (Gluten Free, Paleo, Primal and Wheat Belly Friendly!) for Pan Seared Brussels Sprouts.
Or, you can choose to do exactly what I did… Sit outside with no side dish, slicing off one rib after another, savoring the awesome flavor of these juicy baby back ribs all by themselves.  Yeah, these are really good.
If you made this Baby Back Rib Recipe or like the way that it sounds, please leave your thoughts or feedback below!